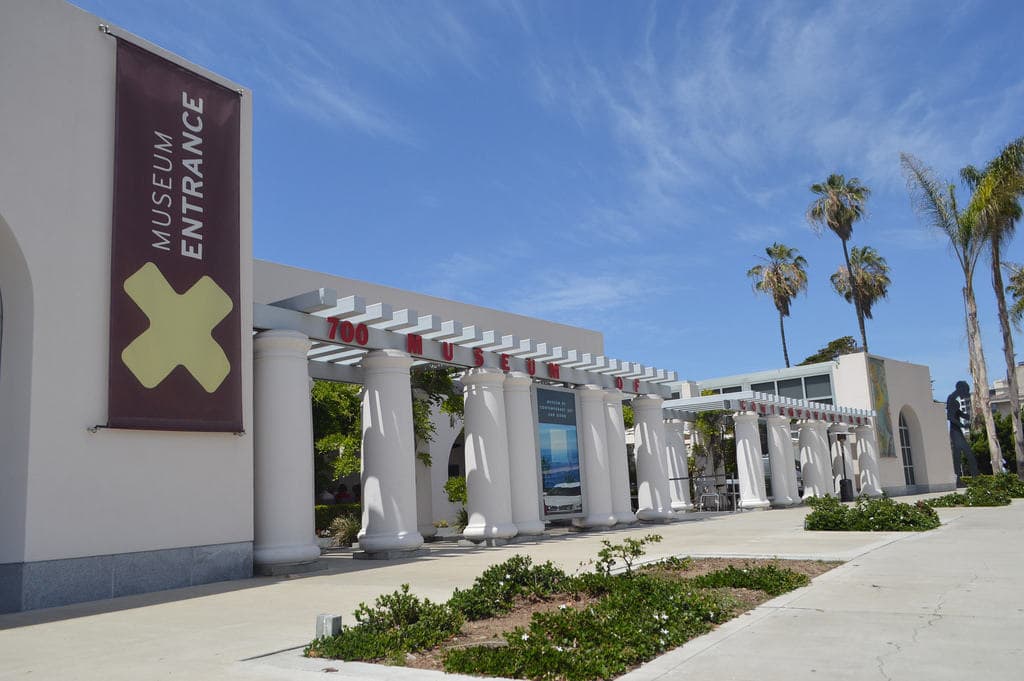 Location

MCASD La Jolla


700 Prospect St. La Jolla, CA
Hours: 11 a.m. to 5 p.m. daily (closed Wednesday)

MCASD Downtown
1100 & 1001 Kettner Blvd.
San Diego, CA
Hours: 11 a.m. to 5 p.m. daily (closed Wednesday)

Price 

Age 25 and under free
General Admission: $10
Seniors: $5
Students 26 and over (with ID): $5

The museum is free for all on the third Thursday of every month from 5 to 7 p.m.
As full-time knowledge seekers, students are seen as a cultured and active bunch. While we all, indeed, try to take advantage of events hosted by UCSD because they are often free and conveniently located, many of us are less knowledgeable when it comes to what the larger San Diego community has to offer. While the absence of a personal motor vehicle — so vital for getting around SoCal — a limited budget or lack of time can discourage a potential explorer from discovering new local wonders, we still have a place that is an absolute must-visit for anyone. All excuses are invalid! The UCSD Guardian now presents to all of our readers the Museum of Contemporary Art San Diego because "students should be learning outside the classroom," duh.
MCASD is a unique museum, not only because it serves as a showcase space for paintings, photographs and art installations, but also because it is used as a place for movie screenings, parties with live music and food, lectures and even weddings. If museum-going has never been your ideal way of spending free time, consider planning your first visit to MCASD on the day of Thursday Night Thing. This event is only held three times a year but is well worth the wait, as it includes artist talks, live music, dancing and cocktails created by professional mixologists. Guided tours of current exhibitions are also an important part of TNT. Taking a tour is a perfect idea for beginner museumgoers, since understanding how and why art pieces are created is the key to appreciating art. And, besides, even if you're not all that into a recently opened exhibition, live music from local performers and a cocktail (or two) should turn your night into a quality one.
If you got past the beginner stage a long time ago and have already lost track of all the museums you've been to, then MCASD has something for you, too. Sure, everyone knows the Museum of Contemporary Art encourages young people like us to support both local and world-famous artists. But what many people don't know is that it also promotes the creation and exhibition of our own art. If you always had that artistic potential and feel like San Diego is your inspiration, you're in luck because this year MCASD organized a "25-and-Under Art Contest" dedicated to the theme "Our City, Our Time." To participate in the contest, all you need to do is take up to two photos of your San Diego-inspired work and submit them together with the online registration form on MCASD's website. Applications are accepted until May 8 at 11:59 p.m., so hurry up if you want the world to see your work, as well as a chance to win a $500 gift certificate to Blick Art Materials, a year-long MCASD X Membership and a curator-led tour of the exhibition.
If you are a professional museum fan, you might even want to upgrade yourself to a MCASD internship. While the deadline for summer internship applications has already passed, it is worth applying for the fall-winter internship term. Positions are open in a variety of departments: communications, grant writing, education, retail, curatorial and more. By working on individual projects, MCASD interns are given an opportunity to gain broader professional experience, get academic credit and find something new that might push them into pursuing a career related to either the museum industry or visual arts in general. This makes MCASD internships a great way to start your professional path. Still not convinced you should give MCASD a try? Well, how about that:
Both locations are open on the weekends.
MCASD La Jolla is located 20 minutes away from campus (by bus), while MCASD Downtown is close to all major downtown spots.
The La Jolla location has the Edwards Garden Gallery with a fabulous Instagram-worthy ocean view.
MCASD in La Jolla also has the X Store gift shop and a cafe.