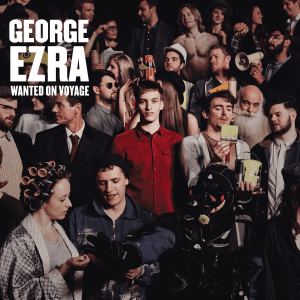 British singer-songwriter asserts his musical diversity with an impressive debut album.
Rating: 4.5/5
Release Date: Jan. 27
Never judge a book by its cover — or in this case, never judge an artist by their appearance. With wavy blonde hair and alluring blue eyes, up-and-coming artist George Ezra would fit in perfectly as a new member of British boyband One Direction until you hear his voice. Ezra's debut album "Wanted on Voyage"suggests that there may indeed be space for yet another artist in the developing "singer-songwriter" category. His deep register and profound lyrics blend with certain aspects of indie, pop and folk music to create a surprisingly delicious musical smoothie.
The album opens with the upbeat tune "Blame It On Me," exhibiting Ezra's youth with playful background instruments and carefree lyrics. He sings of a personal story and repeats each verse with the phrase "What are you waiting for?" to suggest that life is too short to worry about things. In other words, it's a much more innocent take on the #YOLO culture. The lightheartedness continues with his lead single "Budapest," which uses steady clapping and the soft strumming of the acoustic guitar to evoke a more subtle sound as he sings about love and sacrifice.
Ezra's slower tunes also shine, especially the simple yet beautiful tune "Breakaway." It builds gradually with the initial guitar followed by smooth electronica sounds and a powerful gospel choir that complements his deep voice perfectly. He shows off his confidence as he convinces a girl she is in the wrong relationship by singing: "You may think he's a demolition expert when he's finished with your self-esteem," only to encourage her to "find shelter" with Ezra instead.
The folksy "Leaving It Up to You" shows Ezra's sincerity and vulnerability as he asks a girl for a second chance at love. It is introduced by Ezra casually saying "foot stomps and clicks and claps and shakers and all different things like that" in the three seconds before the actual music begins, alluding to the percussiveness of the song. With the soothing acoustic guitar and his falsetto in the chorus, this song shows massive soul and talent.
The difference between Ezra's appearance and his sound is surprising, but the contrast between his lyrics and type of music is even greater. Ezra combines morbid lyrics with upbeat tunes and lighthearted lyrics with slower tunes, possibly implying that not everything is as it seems from the outside. "Wanted On Voyage" takes a risk by fusing together a wide array of sounds and messages that may appear scattered, but an artist as impressive as George Ezra can execute them with sophistication and style.