Prefacing its season opener next weekend, the UCSD swimming and diving team held its annual Blue vs. Gold exhibition this past Saturday at the Canyonview Aquatic Center. The Blue squad, with juniors Colleen Daly and Paul Li serving as captains, bested seniors Summer Bennett and Jack Galvan's Gold team by a combined final score of 286–262.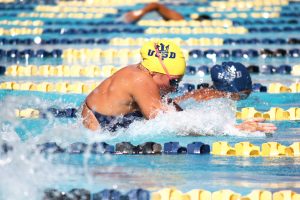 The day featured 27 races and two springboard diving events, pitting Tritons against each other with teams pre-drafted earlier in the week by each squad's pair of captains. Despite the friendly nature of the intrasquad scrimmage, the individual athletes were able to break three meet records during the exhibition.
Junior Cole Heale came in at 20.92 for the men's 50 freestyle, surpassing interim-head coach and five-time national champion Daniel Perdew (20.95 in 2007) for the Blue-Gold record.
Blue's quartet of sophomore Natalie Tang, junior Naomi Thomas and seniors Eva Chen and Jaclyn Amog  broke the women's 200-medley record at 1:47.30, 0.19 seconds faster than the previous record set back in 2012.
Triton newcomer and sophomore transfer from Grossmont College Michael Cohn took no time in making his impression, breaking the men's 150 backstroke record with a time of 1:22.23, a full 1.5 seconds faster than Martin Vanek's 2010 mark. Junior Alex Moshensky also surpassed Vanek's time at 1:22.56, coming in second behind Cohn.
Freshman Stephanie Sin won three individual events for the Blue team to lead all Tritons in race victories. The Chatsworth native was first in the 800 freestyle (8:24.09), the 150 backstroke (1:35.56) and 400 freestyle (4:06.29).
As usual, the annual Blue vs. Gold exhibition offered a glimpse into the upcoming season for UCSD. This season, the Tritons, who finished fifth (women) and seventh (men) at the NCAAs last year, will look to new leaders with the departure of national champions Nicholas Korth and Anji Shakya. With impressive showings this Saturday from rookies and veterans alike, UCSD looks more than capable of maintaining its presence on the national stage.
The UCSD swimming and diving squads will kick off their season this Saturday, Oct. 25, hosting Claremont-Mudd-Scripps at the Canyonview Aquatic Center. Events will commence at noon.