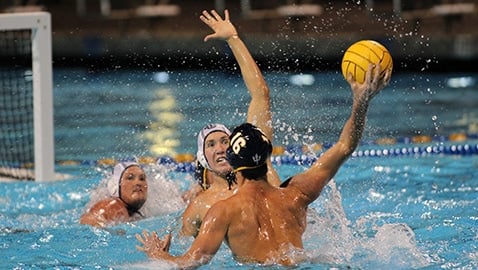 The UCSD men's water polo team claimed its 16th Western Water Polo Association championship at the annual tournament Nov. 23 to Nov. 24.
The Tritons began the tournament with a win against the University of Santa Clara to advance to the championship game against hosts No. 1 seeded UC Davis. On Sunday, Nov. 24, UCSD upset the Aggies 6–4 in the championship bout.
Defeating the Aggies qualified UCSD (14–12 overall) for the NCAA National Championship hosted by Stanford University Dec. 7 to Dec. 8.
"This is really special," UCSD head coach Denny Harper said. "Coming out on top against a very good Davis team, and to do it here in Davis obviously makes it very special for everybody."
Going into the match, the Tritons were wary of containing the Aggies' Bernie Rogers — a Del Mar native who has 47 goals and 32 assists this season. But junior two-meter Matt Michalko effectively controlled Rogers while the Triton defense held the Aggies to 4–32 shooting overall.
"I think it was a masterful game plan on the defensive end," Harper said. "The kids swam hard, and I think Matt Michalko did a phenomenal job on Bernie Rogers."
Junior goalkeeper Cameron Ravanbach contributed 16 saves to the defensive effort, while the Triton offense was led by sophomore utility Chase Cockerill and junior driver David Higginson, who scored two goals apiece.
The win comes a year after UCSD was defeated by UC Davis at the WWPA championship.
"When we lost last year, it was difficult," Cockerill recalled. "We all remembered that feeling and we did everything we could to not let that happen again."
To advance to the championship match, the Tritons beat No. 14 Santa Clara 8–4. The match featured a career-high 21 saves by Ravanbach and tied the school record for saves. Ravanbach — the All-California Collegiate Athletic Association first team selection — was awarded the most valuable player in the tournament for his 37 saves across the two games.
Teammates Higginson and junior two-meter defense Tommy Friedrich also earned All-CCAA first team honors, while junior utility Joe Dietrich made the all-tournament second team.
UCSD can now look forward to the NCAA tournament. This Thursday, Dec. 5, the Tritons will face Saint Francis University — the Central Water Polo Association Champions.
The Tritons' next match will be against Saint Francis (22–10 overall, 9–2 in conference), Thursday, Dec. 5 in the first round of the NCAA tournament. Based in Brooklyn Heights, New York, Saint Francis, which made a Final Four appearance last season, was also this season's Collegiate Water Polo Association conference champion.