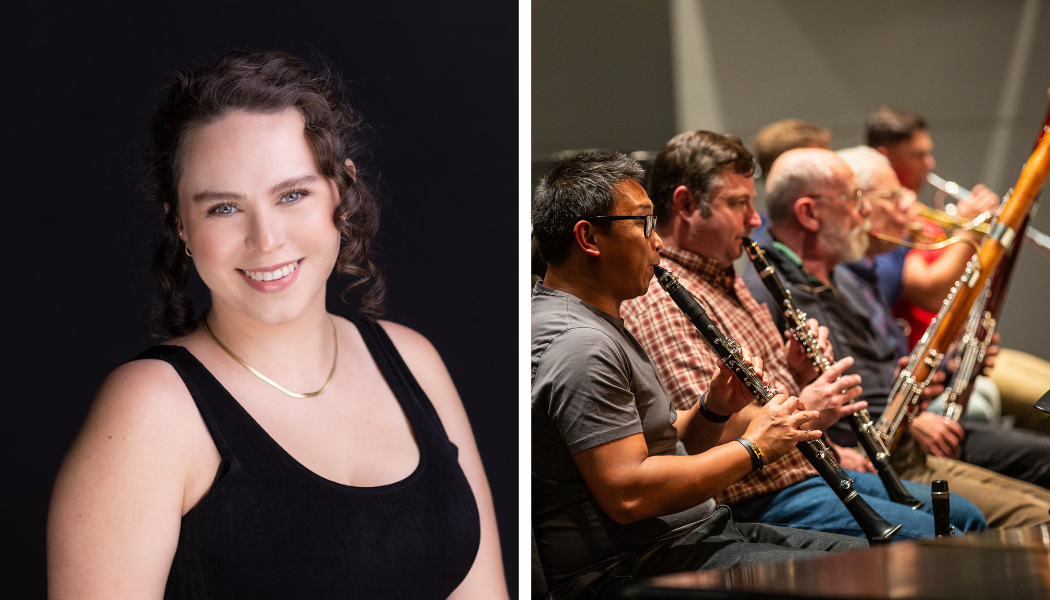 On Nov. 4, the La Jolla Symphony and Chorus kicked off their 2023-24 season "Metamorphosis" with a six-piece show, including the iconic "Symphonic Dances" from "West Side Story." As always, I went into this performance with no expectations, which helps me to experience every art piece with a fresh mind and without comparison to previous shows I have been to. After introductions, I sat in anticipation of the first performance. Then, I was hit with a strong energetic entrance as "Moxie" by Kristen Kuster began. This strong start was maintained throughout the piece's entirety, containing prominent strings and using percussion instruments in the back to give support to the violins and cello. Just as it started, the piece ended with a sudden, strong stop, filling the audience with smiles and excited clapping. "Moxie" was perfect for the start of the performance because it set the tone for the rest of the show. 
Guest vocalist Amanda Olea performed "Knoxville: Summer of 1915" by Samuel Barber, the second piece of the night. This piece was beautifully done. The harp created a whimsical sound, while the violins gave the composition an airy light sound. The only way I could describe this is that it felt like spring when you were lying in the grass with a slight breeze just taking everything in. This piece wouldn't have been complete without Olea, the solo vocalist. She put emotion and soul into this piece, turning it from notes on a page into an entrancing performance. Olea wasn't singing over the music, but rather singing with the music. Her vocals and the instruments intertwined to further enhance the "innocent and childish nature" of the composition, as Olea put it best. 
In my interview with Olea, she mentioned how the lyrics of the piece reminded her of her childhood: "One is an artist, he is living at home. One is a musician, she is living at home. One is my mother who is good to me. One is my father who is good to me." This line resonated with Olea because she felt like the aunt who is the musician. She compared this to watching her nephew grow up and experience life, where everything is innocent and pure. The ups and downs were represented by the tone in her voice, but also within the instruments. When the lyrics started to feel more emotional as they referred to the innocence of childhood and nostalgia, the orchestra would turn from this light, upbeat rhythm to a deep and slow tone where we could feel the pain within the lyrics. Olea perfectly added to this piece by expressing every emotion within the lyrics, making it feel very personal and allowing others to connect with it in a beautiful way.
After Olea's remarkable performance was "Piano Concerto in One Movement" by Florence Price, with guest pianist Leonard Hayes. Hayes immediately was in the zone once he started playing, getting lost in the music while maintaining a technicality so precise and clear. His piano with the orchestra sounded incredible — all I could picture were the many instruments dancing around each other in perfect fluidity because of the way they played off of each other's sounds. Florence Price, the composer of this piece, took us on the journey of a woman who had been through struggle but finally earned her moment and her recognition. This composition displayed the story perfectly, and Hayes carried out her message with grace and passion. Hayes described Price's piece as "technically brilliant" because she went outside the norm and did not follow the classical model for a concerto form that contains three movements: a fast movement in sonata form, a slow and lyrical movement, and then another fast movement. Rearranging this model requires extensive knowledge of music and composition. When asked how he connected with this specific concerto, Hayes answered, "Religious culture [and] regional culture." Hayes growing up in the same area and being surrounded by religion, like Price, gave his performance a level of connection that was felt through to the audience, making the story move in a way that I wish I could experience for the first time again.
Then, it was finally time for the "Symphonic Dances" by Leonard Bernstein. It was clear that this was what the audience was most looking forward to seeing, as the people behind me were whispering about how excited they were to hear this piece. Once it began, I quickly understood their excitement. This wasn't just music that was being played; it was a performance where even the musicians would synchronously snap like how they did in the musical. This piece was lively as it had a fun, rhythmic beat that everyone was nodding to. My favorite part of this piece was its mischievousness, with strings being plucked like they were teasing us. Once it ended, the applause was immense, and the satisfaction from the whole show had a powerful finish that everyone appreciated.
The La Jolla Symphony and Chorus had an impressive weekend with their opening show for this season. I hope to experience many more, as it allows people to come together to share their own cultures and experiences through a common love — art.
Images courtesy of LJS&C