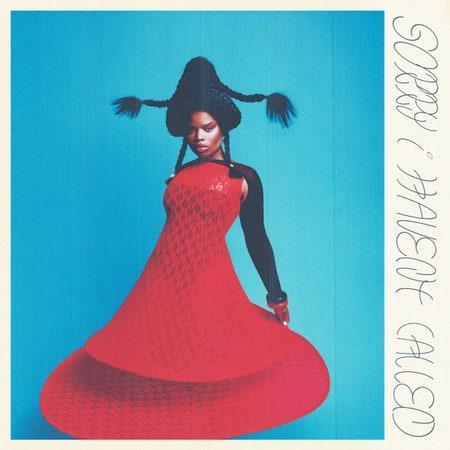 Laetitia Tamko's first project under Vagabon was 2017's "Infinite Worlds," an alternative-leaning rock album imbued with brash guitar and a longing to carve out her own name and identity. Her second and self-titled album dove into softer R&B, touched by vocal reverb and gentle pleas to be heard by those around her. Four years later, in "Sorry I Haven't Called," Laetitia's brightest music endeavor to date, she breezes through as though it's a sound that she was always meant to find. "Sorry I Haven't Called" bears the same amount of heart as her past projects, but with a more easygoing nature as Tamko finds music to be an outlet for her turmoil rather than a solution. 
The opener, "Can I Talk My S—?" is the perfect opener for everything the album will unfold to be. It's a confession to a friend about a sudden overwhelming sensation with one's newfound boldness. All of it unravels over a slick beat, backed by drums and other stable synths. It's hard to even unpack the scene she depicts because of how fun the track is. The air and upbeat confession dip into an intoxicating falsetto and ride the joy of the sound until the end of the track. However, the titular question comes from someone who has found a confidence that was once foreign to them, and now, when they are admittedly "way too high," they can be honest about the inevitable come-down on the horizon. The track is a push and pull with boldness. Vagabon paints a scene in which the person across from her is confessing something, and she proceeds to begin to strip. She notices worry in the eyes of the other person, which she brushes off by saying, "Why're you scared? / It's not precious." She is so confident in her physicality that she can give it freely without it having significant meaning. The chorus then kicks in with a repetition of Vagabon announcing she is ready to go, although it is unclear where she is ready to go: To take the friendship to the next level? To leave the party? To embrace the familiar depressive spiral? The title of the track itself captures this interplay between self-assuredness and fear. She is asking to talk her s—, wondering if the other party will give her the space she wants. 
Sometimes, the album is pure, coy, and fun. After a hazy, lyricless instrumental, the next track, "Made Out With Your Best Friend" borrows from electronic sounds to deliver its sly chorus. Vagabon taunts, "Bet you wanna touch up / Bet you wanna act up," as the song immerses listeners into a drunken bridge between friendship and romance. 
Other times, the album is pure, honest, and sorrowful. "Anti-F**k," the closing track is about trying to mend a relationship that has already been stitched back together countless times. It's about accepting defeat and concluding that sometimes, no matter how desperate both parties are to mend the wounds between them, their relationship is beyond healing. Vagabon asks, "Am I wrong to reply? / The last thing I felt was alone / Am I wrong to decide? / The last thing I want is war for us." The song is titled "Anti-F** k" because it marks the end of a physical connection and how fraught emotions are. It's the last hug or the last kiss goodbye — the closest to closure without becoming too close to someone again. 
Sad, dance-pop is the arbitrary genre I would attempt to ascribe to this album. Joyous, playful beats and silky vocals are propped up against lyrics that encapsulate aimlessness and loss. The lead single, "Carpenter," hides words like, "You're what everybody wants / But I'm not what you would want," amidst sly maraca-sounding instruments and loose clapping. "You Know How" holds the lines: "And now suddenly when it counts / you disappear on everyone without a sound." In the chorus of "Do Your Worst," Vagabon sings, "I don't like myself when I'm with you." Despite the confessional lyrics, sonically, each one of these songs will have listeners peacefully swaying. Tune in or tune out, Vagabon is going to elicit something out of her audience. 
In celebrating the release of the album, Vagabon dedicates it to a late friend. "Sorry I Haven't Called" is a beautiful cathartic dedication because of how honestly it chronicles being human, including the complexities of relationships and self-worth. On top of this, the album is genuinely fun. She embeds all the drama and joy of living life with other people during difficult times into the project. Ultimately, Vagabon shows us how to find joy in things that aren't joyful. Sometimes joy is in the way we sound.
Image courtesy of Pitchfork