Address: 1030 Garnet Ave San Diego, CA 92109
Hours: Monday through Friday 11:30 a.m. to 2 a.m., Saturday through Sunday 10:00 a.m. to 2 a.m.
Happy Hour: Sunday through Friday 3 p.m. to 6 p.m.
Located across the street from a comic bookstore, steak and fries shop, and a tattoo parlor, Bub's at the Beach is an open-air bar and restaurant serving an array of comfort food with a Southern Californian flair. And we would expect nothing less from a bar in Pacific Beach.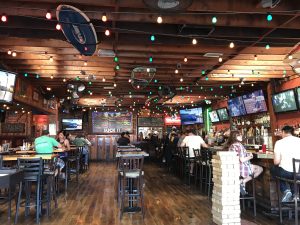 Just like its surrounding neighborhood, Bub's has a bit of everything. Immediately upon entering, the eclectic decorations — including "Stranger Things"-inspired string Christmas lights, surfboards on the ceiling, and tiger print seating — catch the eye, and surround sound of every imaginable genre of music overflow into Garnet Avenue. TVs are noticeably mounted along every inch of wall space and play anything from baseball to poker, but if varsity voyeurship isn't your style, Bub's open space layout offers board games, table shuffleboard, and giant Jenga as well. However, despite it being a Friday night in June, the atmosphere was a bit on the still side.
As for beverages, they offer a wide sample of beers, wines, mules, mixed drinks, and even non-alcoholic options for those who are there simply for the community, which was relatively intergenerational. They also do not provide plastic straws, a major plus for those who are on a fiery crusade against all things unsustainable.
The menu offers signature staples done in SoCal fashion, like Cauliflower "wings," quinoa bowls, and salads for the health-conscious, though we didn't touch any of that on our Friday night visit. We might live in California, but no need to always eat like a local. Plus, their motto is as follows: "Because sometimes you don't feel like going to a nice place to eat," so there was no need for romaine and kale on this occasion.
Instead, we opted for their tater skin tots ($12.50) — deep fried little pockets of potato, topped with bacon bits, blanketed in cheddar and topped with sour cream and scallions. Our arteries were screaming, but the momentary bliss of these crunchy, cheesy bites were well worth the high cholesterol. A word to the wise: eat these first and quickly, because the cheese hardens over time, and the tots can get a bit soggy, for lack of a better word.
Simultaneously, we ordered the good egg and bacon burger ($14) with a side of crinkle-cut fries and a half order of chicken wings drenched in the Archie sauce ($7.50). The burger was none the better than something you would find at In-N-Out, although the fried egg was divine, leaps and bounds beyond a humble Egg McMuffin. However, the fries fall flat in comparison to the tater tots offered at Bub's. The wings however, deviate from traditional cooking methods that make you feel a lot better about eating the tots. Grilled and tossed in a backstabbing sauce that tastes like honey mustard at first and then slowly leaves a flame at the back of the throat, the wings were a bit messy to eat, but then again, you don't always feel like going to a nice place to eat, right?
This finger food, fine-dining experience was capped with a pretzel of epic proportions — the Cinna Fun Pretzel ($9.50) was no bite-sized treat but a marathon of decadent dough paired with a warm Nutella dipping sauce. Just when you think you can't eat anymore, this colossal creation approaches your table and all you can do is take a brief lap around the bar and try your best. (Spoiler alert: we finished it.)
Overall, the food was exactly what would be expected of a beachside bar, with a fun menu serving specials such as Russian Roulette Wings and a Solo Cup Sundae. The service was incredibly warm and friendly; at one point, our dining experience centered around a heated conversation about season two of "Riverdale" with our waitress. Though we aren't exactly the target audience for a "sports bar," Bub's felt inclusive and comfortable and serves as a perfect space to bask in beer (for the 21-and-over crowd) after a day at the beach.