With decent access to public transportation and car services, UCSD students have a bevy of venues within their reach. Every location placates a certain desire, whether one wants to catch a band, a film or a professional play. Some serve the mainstream, while others are a bit off the beaten path, offering a look into the ground floor of independent artists. If your schedule allows you the privilege of going out, make sure to check out one of these places.
Music Venues
C.H.E. Cafe, La Jolla
Despite what many believe of the C.H.E. Cafe's fate, this legendary San Diego all-ages venue is still up and running. It is located right in the outskirts of Revelle College (near Stonehenge) and is best known for its infamous mural-stained walls. The venue upholds a safe/sober space policy — it puts on a wide range of shows, film screenings and art shows with an emphasis on local artists. If you're into hardcore, any variations of punk and/or indie rock, this is the place to be. It may look intimidating from the outside, but this DIY venue is one of the most welcoming spaces on campus. With free or discounted admissions for UCSD students, there really is no reason not to check it out.
— Joselynn Ordaz, Senior Staff Writer
Sleep Train Amphitheater, Chula Vista
Chula Vista isn't exactly near UCSD, but making the trek south is worth the time and money if there's a good show going on at the gargantuan Sleep Train Amphitheater. Tucked in a dusty valley, the amphitheater is only accessible by a narrow two-lane road prone to traffic. Have patience. Once inside, the sheer expanse of the venue becomes apparent in the time it will take you to find your seat. There is standing space at the very front and at the very back of the amphitheater on a large C-shaped strip of lawn. There's also concert-priced food and beer if you're into that. Tickets, while varying in price, aren't exorbitantly expensive. But keep in mind that if you're in the back of the amphitheater, you'll be watching the show through the megatron unless you've got binoculars.
— Matthew Zamudio, Staff Writer
The Observatory North Park, North Park
Since undergoing a recent change in ownership this past January, the Observatory North Park has become the go-to music venue in San Diego. Located in North Park — one of San Diego's hippest neighborhoods — the venue boasts a beautiful theater interior that has been host to an influx of big-name bookings (Blondie) and on-the-rise acts (Shura). Shows are usually all-ages, with prices ranging between $20 to $40 and the occasional $5 show, and a full bar is available for those 21+. For concert aficionados, the Observatory North Park will quickly become a best friend.
— Joselynn Ordaz, Senior Staff Writer
The Casbah, San Diego
Tucked between Interstate 5 and the San Diego International Airport, The Casbah's tight space and energetic shows easily drown out the buzz outside. Being packed into a black square box may deter claustrophobes, but the venue's intimacy allows the audience to become part of the action. Although The Casbah cannot boast star-studded lineups in comparison to larger San Diego auditoriums, it brings fiery shows featuring up-and-coming acts. For anywhere between $10 to $20, The Casbah provides an invigorating and affordable musical adventure for those looking to experience their music up close and personal.
— Peter McInnis, Senior Staff Writer
The Loft, La Jolla
Finding fantastic entertainment doesn't have be difficult. Students looking for a fun show that won't break the bank should look no farther than The Loft. Located in Price Center, The Loft's central location on campus makes shows at the venue easy to attend on a whim. As a smaller venue, The Loft often features undergrou nd artists for affordable prices. Most shows are either free for students or below $10, but make sure to bring your college ID for student discounts. Although the artists performing here may not yet have the star status of those at larger venues, don't underestimate their abilities. The Loft is a great place to find smaller artists who will convert you into fans for life.
— Ayat Amin, Contributing Writer
Music Box, Little Italy
The Music Box, located in Little Italy, is one of San Diego's newest music venues. A bit more upscale than others, the venue is complete with three levels of lounging areas and gourmet food/drink options — which means that there is no shortage of space to view the stage, hang out or enjoy a drink. Shows are typically 18+ or 21+ and tickets go for anywhere between $20 to $60 with many VIP options. Despite its short time in the scene, Music Box has managed to book an impressive mix of shows ranging from riot grrl poster girl Kathleen Hanna (in The Julie Ruin) to British electronic musician Mura Masa. If you're looking for a fun night of live music and drinks with friends, definitely give this place a try.
— Joselynn Ordaz, Senior Staff Writer
SOMA, San Diego
Fear not, freshmen. SOMA is strictly an alcohol-free venue, permitting minors and "adults" alike to enjoy intimate shows in this cozy concert hall. Located in the Midway neighborhood near the San Diego Sports Arena, SOMA inconspicuously resides in the parking lot of a shopping center. Featuring both budding and established artists, SOMA is a great place to bask in the sweat droplets of your musical idol on the cheap. With the most fairly priced shows in town, SOMA allows attendees to jam without receiving a "low balance" alert from their bank. Inexpensive, nearby and exclusive, SOMA is the place to go for an informal night on the town.
— Matthew Zamudio, Staff Writer
House of Blues, Downtown San Diego
Whether it's a sweet sounding acoustic show or an edgy pop-punk concert, The House of Blues is sure to host it. Containing a midsized pit with a tiered restaurant on top and a blues theme, it possesses an intimate environment that has the potential to attract almost any music fan. The location in downtown San Diego draws upon an urban vibe, nicely accentuating the interchanging rock and blues performances it offers. And if you are of age, the fun continues with an added bar right by the stage, giving you an opportunity for a drink break amid the moshing.
— Melissa Palafox, Staff Writer
Playhouses
La Jolla Playhouse, La Jolla
The La Jolla Playhouse is a cluster of three theaters (Mandell Weiss Theater, Mandell Weiss Forum, Jacobs Center and Potiker Theater) located on the west side of campus off La Jolla Village Drive. Surrounded by a forest of tall eucalyptus trees, the multi-venue playhouse evokes unique feng shui as the theaters create a triangular concrete plaza in the center, complete with a restaurant and bar. Inside, each theater is designed to serve its own creative purpose. Potiker Theater, for example, sports a square-shaped stage with seating on three sides to allow for 180-degree viewing. Known for critically acclaimed and often experimental productions, we as UCSD students are particularly fortunate to be able to purchase tickets for only $10 with a university ID.
— Matthew Zamudio, Staff Writer
Old Globe, Balboa Park
In the center of the beautiful marble museum-heavy section of Balboa Park is the Old Globe, a little circular building where some of San Diego's best theater takes place. You can see different plays all year here, including plenty of new shows along with a steady stream of Shakespeare. The most interesting thing about the Old Globe is its overall design: It's structured so that its circular stage is the center of the theater. This place is intimate, charming and maybe San Diego's best date destination.
— Susie Davidson, Staff Writer
San Diego Civic Theatre, Downtown San Diego
San Diego's theater scene is underrated, blessed with everything from UCSD's own La Jolla Playhouse to Balboa's Old Globe. However, downtown San Diego has an ace up its sleeve with the Civic Theatre — a bastion for prestige Broadway plays on tour (like the 15-year-running "Lion King") with others regularly stopping by. With casual prestige like this, the plays are more than good enough to avoid masking the pain with overpriced wine and beer available at the bar. Sporting a rich regal theme decked out in red, good acoustics and without a bad seat in the house, it's a dream for the audience and thespian alike.
— Sam Velazquez, A&E Editor
Movie Theaters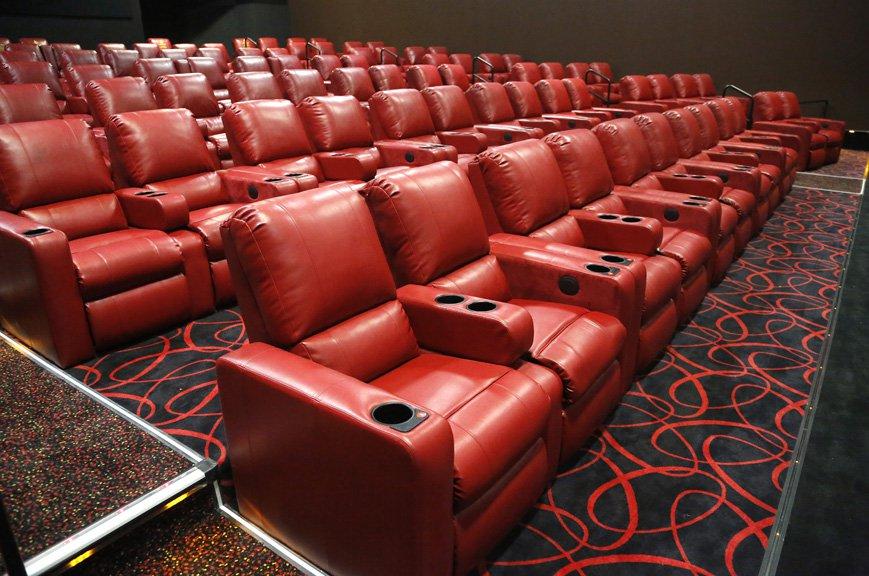 AMC La Jolla, La Jolla
Going to the movies is about more than just watching a movie. While theaters have attempted to improve the movie-going experience with steeper seating and bigger screens, AMC La Jolla is all about comfort. Nowhere else will you find plushier seats, let alone seats designed for those too lazy to sit upright. If you ever want to experience the laid-back comfort of watching a film in a La-Z-Boy recliner, look no further than AMC La Jolla, conveniently located near Ralphs. This theater is the only place where you can actually sit back, relax and enjoy the show.
— Naftali Burakovsky, A&E Associate Editor
Landmark Hillcrest Cinemas, Hillcrest
Hillcrest Cinemas, tucked away in a plaza at the eponymous Hillcrest, is a welcome break from the theater chain behemoths of AMC and Edwards by catering to independent films. You'll be able to take comfort in the fact that the theater is as likely to show Gaspar Noe's latest DMT-inspired crusade as it is Terrence Malick's latest sojourn into the meaning of existence. The rooms themselves are smaller and the seats aren't the plush reclinables of AMC La Jolla, but there truly is no other place like it around here — a home for the cinephile.
— Sam Velazquez, A&E Editor
Arclight La Jolla, La Jolla
Sleek and cinematic, Arclight La Jolla offers one of the best non-"luxury" moviegoing experiences in San Diego. As soon as you enter the marble-floored lobby, you're greeted by the venue's gracious collared-shirted staffers, a strapping cafe/bar area and a pristine ceiling-high display for the biggest blockbuster playing. Inside each of the actual theaters, you'll find stadium-style seating that allows you to make the most out of the visual and auditory excellence that Arclight has to offer. Admittedly, the prices aren't ideal — $16.50 for almost any standard showing — but the overall feeling of a night out on the town makes the cost of admission more than worth your hard-earned dollar.
— Jacky To, Senior Staff Writer