Men's Tennis closes out fall season at 59th Annual Southern California Intercollegiate Championships.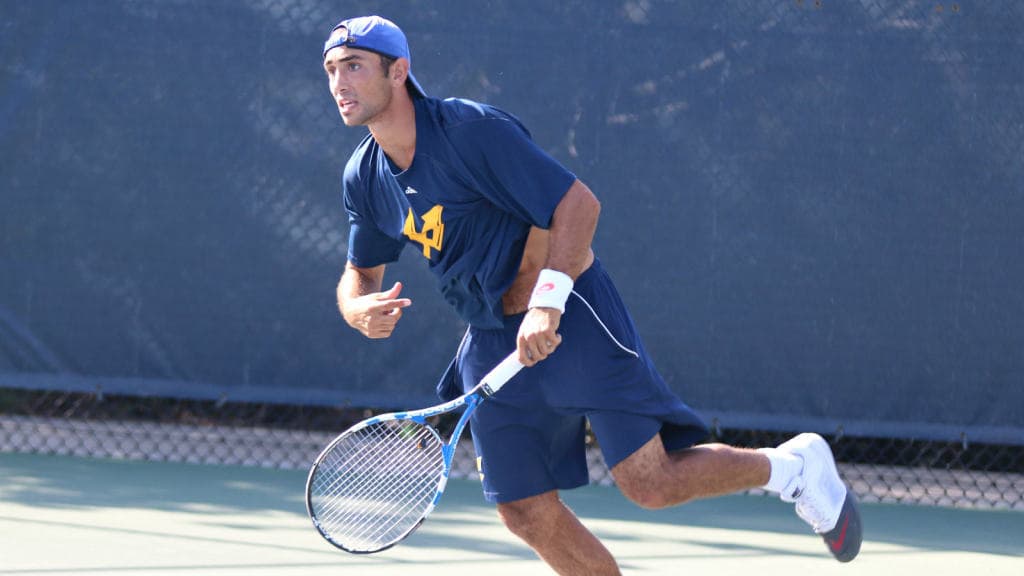 Just like the women did a week before, the UCSD men's tennis team completed its fall schedule this past Saturday. The Tritons competed at the 59th Annual Southern California Intercollegiate Championships, hosted by UCLA from Wednesday through Saturday. Three Tritons made the round of 32 in the singles competition: sophomore Justin Zhang, sophomore Eric Tseng and senior Axel Bouillin.
Zhang's performance is especially notable, as he battled through two qualifying rounds to make the main draw. Both Tseng and Bouillin had high enough rankings to make the main draw without playing qualifying matches. In his two qualifying matches, Zhang got the best of Cal Poly Pomona's Sreyas Kolachalam in three sets (6–3, 4–6, 10–4) before defeating UC Santa Barbara's freshman Riley Scott in the final round of qualification in three sets, 6–7(3), 6–3 and 10–5.
Two other Tritons reached the final level of qualifications but could not make it to the main draw.  Junior Alexandre Miaule got a first-round bye after his opponent withdrew with illness, but he could not overcome Loyola Marymount University's sophomore Errol Smith, falling in two sets, 6–1 and 6–3. Junior JP Boyd escaped Azusa Pacific University's Marnix Pluim in three sets in the opening round of qualifications (4–6, 6–4 and 10–7), but he was no match for Loyola's sophomore Jamie Thorp in the last round, falling 6–1 and 6–2.
The three Tritons in the singles competition main draw could not get past the round of 32. Zhang, after his remarkable run through the qualification draw fell to University of Southern California's sophomore Thibault Forget in two one-sided sets, 6–1 and 6–1. Tseng won the first set 7–6(1) against UCLA's sophomore Austin Rapp but could not muster anything else during the game, losing in three sets, with final scores of 6–0 and 6–1 for the second and third sets. Bouillin took on top-seeded USC senior Max de Vroome in the round of 32. The Triton pushed his opponent to the brink of defeat, but de Vroome ultimately prevailed, winning on a third-set tiebreaker 7–5, 3–6 and 7–6(5). De Vroome went on to be the winner of the singles draw.
Bouillin and Boyd entered the doubles draw together but were defeated by Cal Poly Pomona's Kolachalam and Rafael Lenhard 6–5. Miaule and Richard Han could not do much better against Loyola's Smith and sophomore Alexander Bourgeois, losing 6–3. Tseng and Zhang fought valiantly in their game against UCSB's freshmen Chase Masciorini and Cody Rakela but were ultimately defeated 8–7(2).
With the fall season now concluded, the Tritons will look ahead to their first game of the winter schedule against University of San Diego, which starts on Saturday, Jan. 16 at 1:30 p.m.