Women's Tennis Closes out Fall Portion of Season
Freshman Madison Hale takes top finish for Tritons in Singles B round.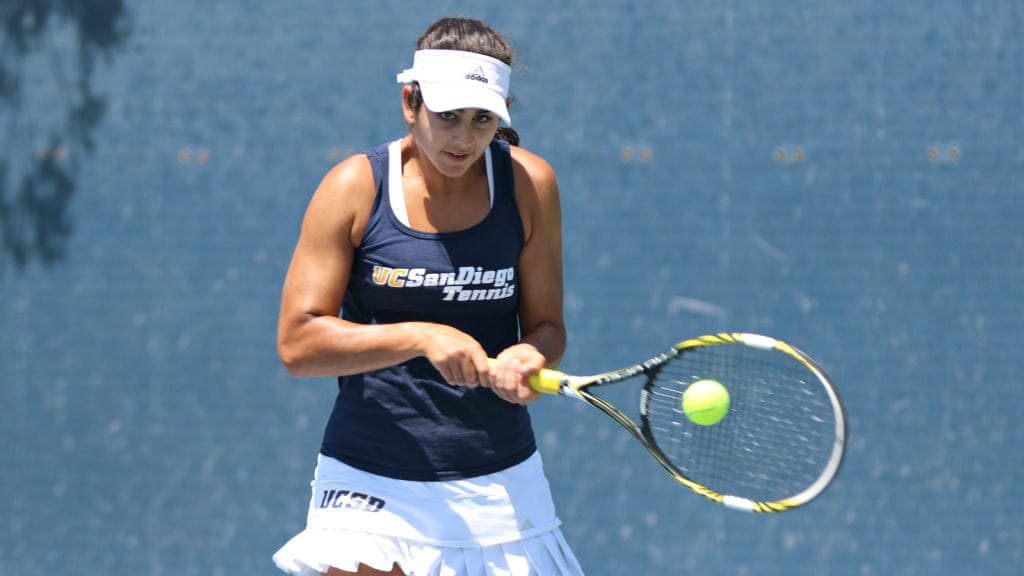 Select members of UCSD women's tennis team traveled north to compete in Cal State Northridge's Fall Invitational at Matador Tennis Complex this past weekend. Freshmen Madison Hale and Alexandra Weil posted fifth and eighth-place finishes, respectively, in the Singles B field, then paired up in the Doubles A bracket and snagged an eighth-place finish.
Hale's finish in the Singles was the Tritons' highest of the day. She snagged victory against UC Riverside's sophomore Natalie Penner in the opening match (6-2, 6-1) but fell to Cal State Long Beach's sophomore Antonella Santeusanio in the second round. Hale then rebounded in the next two rounds against South Dakota State's senior Beatriz Souza and UC Riverside's sophomore Karla Dulay to land a fifth-place finish.
Weil fell to Dulay in round one but took wins against South Dakota State's senior Tracy Haws-Lay, UC Santa Barbara's freshman Kyla Jarrar and University of Montana's sophomore Cam Kincaid to take eighth.
In the C Draw, junior Nava Nowamooz and sophomore Nousha Nowamooz took sixth and 12th place finishes, respectively. Nava Nowamooz took wins in the first and third rounds but dropped the fifth place match against Montana's sophomore Cat Orfanos to land in sixth place overall. Nousha Nowamooz dropped three of four matches to ultimately take 12th overall.
Hale and Weil paired up in the Doubles A Draw, falling early on to the duo of junior Emilia Borkowski and sophomore Danielle Pham from Cal State Fullerton but rebounding in the next two matches against pairs from UC Riverside and UC Irvine to land in eighth overall.
Nava Nowamooz and junior Shannon Theisen paired up in the B Draw, falling in the first match and winning the next three to snag eighth place. The duo of freshman Jessica Cramer and Nousha Nowamooz took victory against UC Riverside pair Penner and Abby Valera but fell to Cal State Northridge, UCSB and UC Riverside pair junior Sophie El-Kara and sophomore Kassie Truong to finish in 12th.
Senior Kyra Scott and sophomore Britta Mosser, UCSD's top doubles team, took the weekend off after their sixth-place performance at last week's USTA/ITA National Small College Championships.
The Tritons concluded the fall portion of the 2015-16 season at the CSUN Invitational and will be on a three-month hiatus before opening the regular season at Division-I for Cal State Fullerton on Jan. 20, 2016.