UCSD Cross Country dominates the field, taking top spots on men's and women's side for a landslide victory.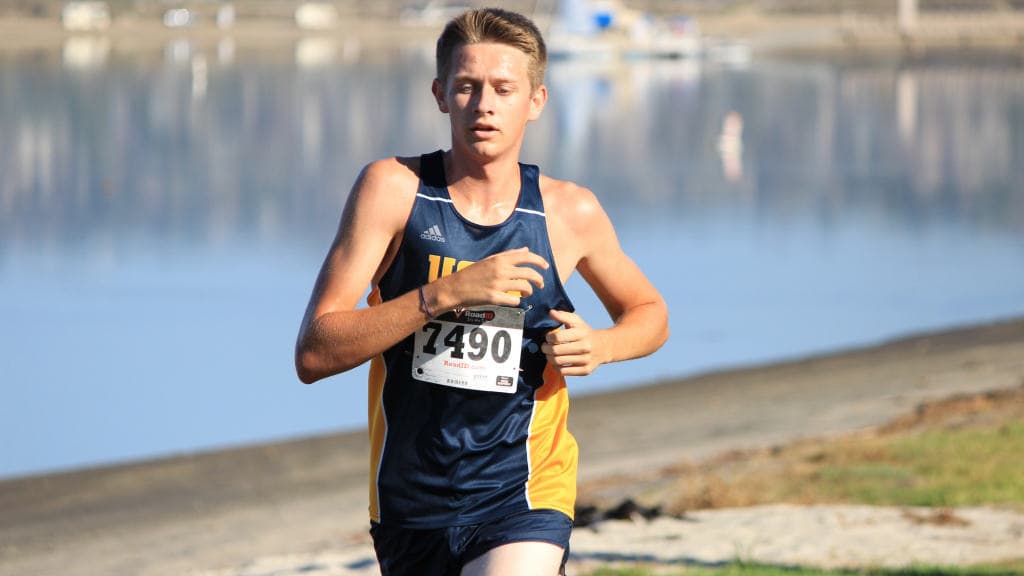 The UCSD men's and women's cross-country teams competed at the Coyote Challenge at Cal State San Bernardino on Saturday morning. The Tritons dominated both individually and as teams, taking up the top spots.
The men scored only 15 points, with their racers taking up the first six spots on a total team effort in the eight-kilometer race. Sophomore Wyler Svoboda (26:46.50) won the race, followed by junior Brendan Gee (26:52.80), senior Daniel Franz (26:58.50), freshman Garrett Boulais (27:02.00), freshman Joseph Benrubi (27:02.20) and junior Terrence Luevano (27:03.90), who all came in as a pack within 18 seconds of each other. Claremont-Mudd-Scripps came in second with 48 points.
"On the men's side, they had a really specific task of staying together early, rolling a conservative pace and then attack[ing] in the final two miles," UCSD Head Coach Nate Garcia told the UCSD Athletics Department. "They did a great job with that, and I'm really pleased with what they were able to accomplish today."
Senior Corinne Hinkle (22:19.40) won the race for the women, just a few seconds before her teammate, freshman Karina Carstens (22:24.30), crossed the line.
"I personally was a little nervous in the beginning because I wasn't feeling the best," Hinkle said. "But as the race went on I was able to work with my teammates and lock into a rhythm and was fortunately able to hold that and felt strong up until the end. After this very good start, both today and in Missouri at pre-nationals last weekend, I am looking forward to seeing what damage my team and [I] can do both at the conference meet in San Francisco and the nationals meet in Missouri. I think the success we have had thus far is only a little glimpse of what is to come."
After Hinkle and Carstens came senior Paige Hughes (22:40.10), who placed fifth, and  sophomores Ella Verhees (23:22.40) and Kristin Semancsin (23:30.90), eighth and ninth respectively.
"My adaptation [to running cross-country for UCSD] has been pretty easy mostly because my team is super awesome, and they have helped make the transition a lot easier," Carstens said. "The practices are tough, but my team makes them so much better and more doable. This morning I felt pretty tired mostly because we have had a tough couple of weeks, and my legs definitely felt the hard work. We had a good pack up front, and the girls helped me push through my fatigue. I'm looking forward to getting more college racing experience and making more memories with my team."
UCSD came out on top, scoring 22 points to CCAA rival No. 25 Cal State San Bernardino's 34. Claremont-Mudd-Scripps (96), Biola (100), Cal State Los Angeles (146), San Bernardino Valley (184) and Victor Valley (201) also competed in the event.
"The goal, coming in, was to continue our pack running efforts and [to keep] the group together," Garcia told the UCSD Athletics Department. "The women did a great job of that with Corinne, Karina and Paige getting up in that front group right away. We had really good support through the back end of the second half of the race from the rest of our field."
Next for UCSD is the 23rd Annual Triton Classic held on North Campus in two weeks on Saturday, Oct. 10.