All's fair in love and war in the Old Globe's adaptation of one of the earliest rom-coms to grace the stage.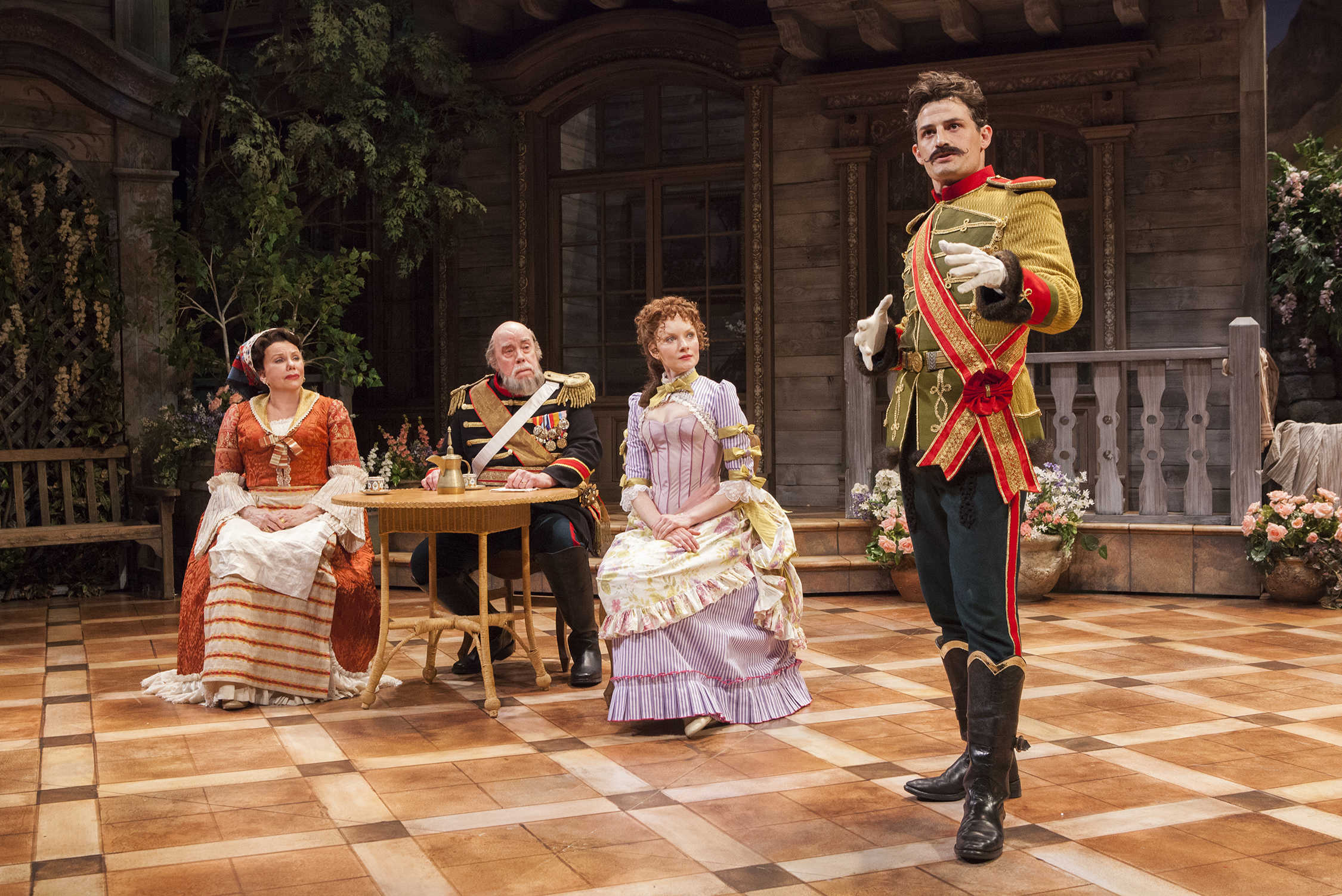 Rating: 4.5/5.0 stars
Directed by Jessica Stone
Written by George Bernard Shaw
Starring Wrenn Schmidt, Zach Appelman, Enver Gjokaj, Marsha Mason, Conrad John Shuck
Runs May 9 to June 14
Far away from the cold night air of Eliza Doolittle's London dwell the noble Petkoffs in their comfortable, idyllic realm in Bulgaria. The year is 1885, and the two-week Serbo-Bulgarian War has just ended. The Bulgarians celebrate their victory, and the Serbian army slinks around at night, trying to escape the zealous Bulgarian and Russian soldiers' rifles.
It is this backdrop which famed Irish playwright George Bernard Shaw chose for his acclaimed comedy "Arms and the Man," long before penning his most best known work, "Pygmalion," the source material for the musical and Audrey Hepburn film "My Fair Lady." Yet instead of a rags-to-riches tale that transforms an unrefined waif into a fine noblewoman, as the latter is, "Arms and the Man" follows a heroine whose ideals, rather than her social standing, are changed.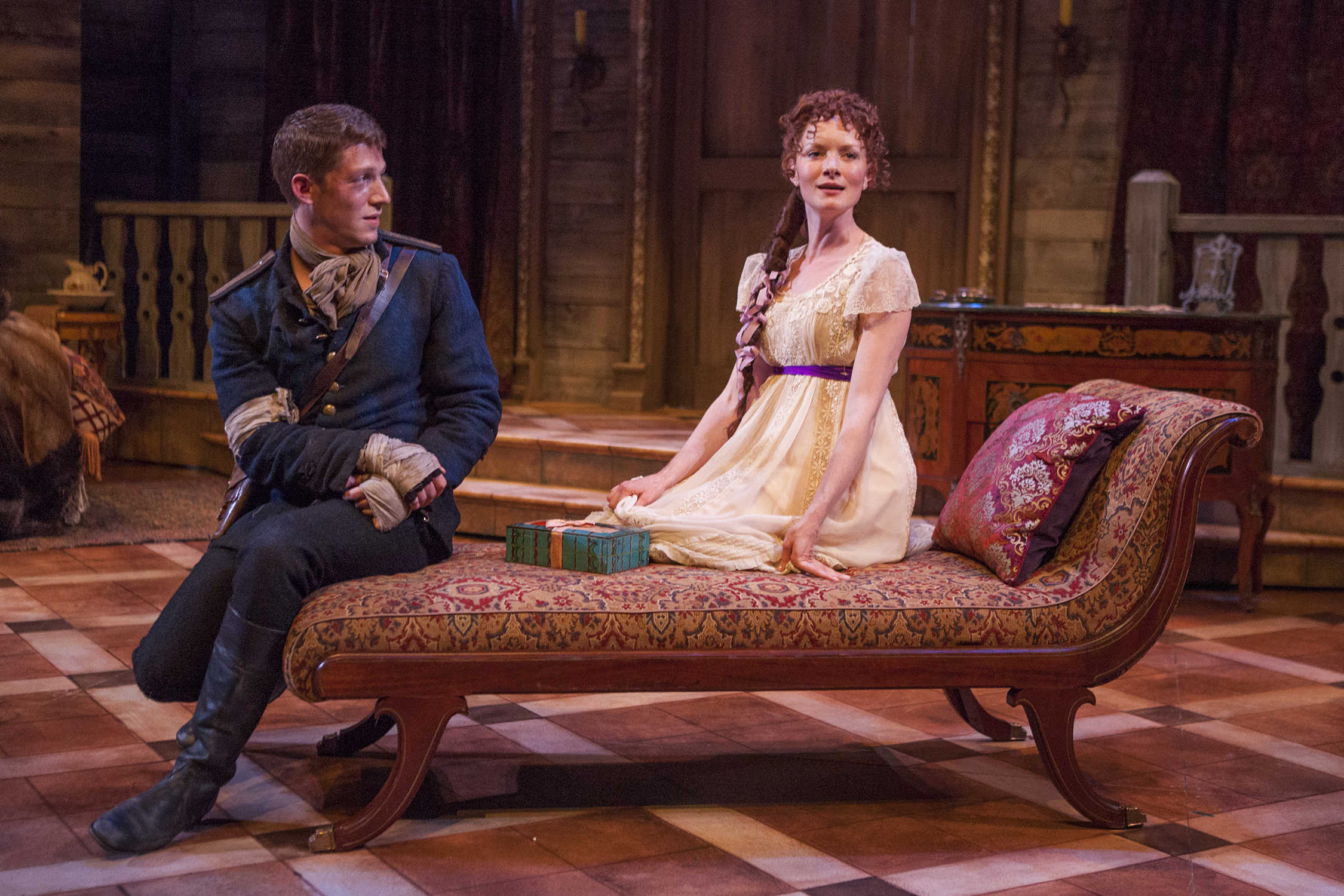 The lady in question, of course, is Raina Petkoff (Wrenn Schmidt, "Boardwalk Empire"), who is engaged to war hero Sergius (Enver Gjokaj, "Agent Carter"). But when a practical Swiss mercenary Bluntschli (Zach Appelman, replaced by Jake Millgard in the showing reviewed) who had fought on the side of the Serbs takes refuge in her room, Raina begins to question her beliefs on romance and war. Inevitably, a love triangle — or perhaps more accurately, a love pentagon — ensues, with Raina's heart split between the two soldiers as her fiance romances the rebellious, coquettish maid Louka (Sofiya Akilova).
A smartly written romantic comedy such as this could not hold without a solid ensemble to deliver clever line after clever line. This weekend's showing was undoubtedly a test of the cast's strength and sense of unity, as Appelman was unable to perform and was replaced by Millgard, who played Bluntschli on book. Despite the hiccup in production, the rest of the cast performed without a hitch as a cohesive whole. Schmidt portrayed Shaw's protagonist as a loveable but flighty young girl whose effervescence is reminiscent of a Disney princess until she grows up into her own as a headstrong woman. Four-time Oscar nominee Marsha Mason brought down-to-earth hilarity to the role of Raina's doting mother Catherine, who helps her daughter secretly take care of the enemy soldier. And even with a script at hand at all times, Millgard's dynamic reading still brought Bluntschli's resourceful character to life, further proving that the real heart and soul of what makes Shaw work is the art of his words.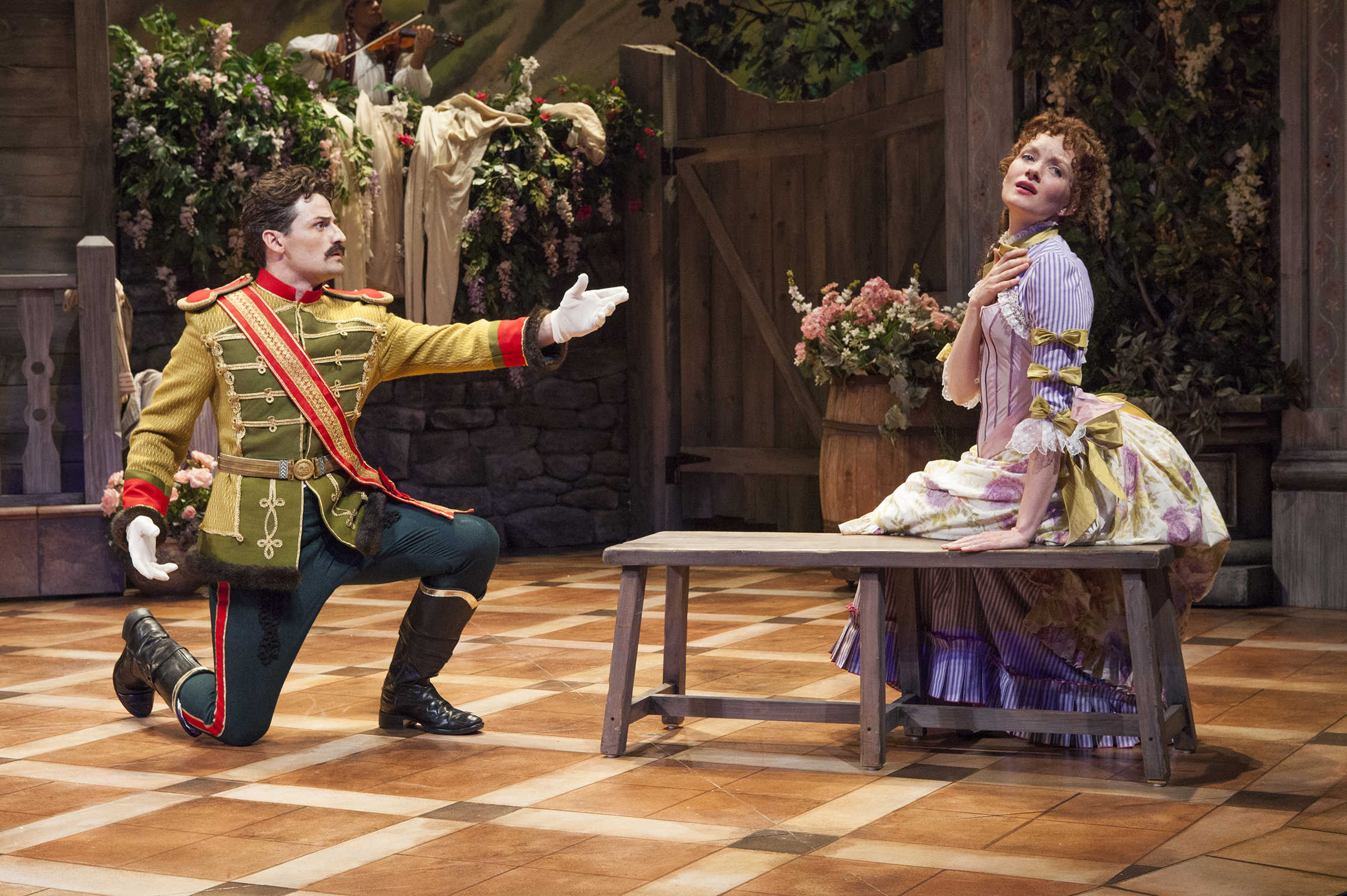 The real show-stealer, however, was Gjokaj, whose outrageous performance gave a supporting character all the charisma best warranted for a lead. Whether he playfully blew an uncountable number of kisses to his fiancee or comically slammed his foot on a chair, Gjokaj's Sergius simply demanded that his presence be recognized by other characters — and by the audience. It's no matter that the character was likely not intended to be wholly likeable; the loads of memorable charm in his silliness and chivalric overtures paradoxically gave the play its comedic weight.
Yet the humor of "Arms and the Man" couldn't be contained to the stage. During the showing's two intermissions, fiddler Ernest Sauceda played traditional Bulgarian tunes in the lobby and then milled about the seats — still armed with his fiddle — to put on amusing interactive performances with the audience. Smashing the fourth wall, or at least taunting it with his music, Sauceda went directly from the audience's seating area to the stage to play the role of the village musician, whose melodies were shooed or encouraged by various characters depending on their moods throughout the play.
Indeed, the Globe's production of "Arms and the Man" has recreated Shaw's comic spirit. Despite being a period piece, the play manages to bring attention to the problems of romanticizing love and war in any era. Truly, as an easily digestible show for a contemporary audience, this adaptation does justice to George Orwell's praise of the play: "It is probably the wittiest play [Shaw] ever wrote, the most flawless technically, and in spite of being a very light comedy, the most telling [for every age]."