Tritons Qualify Five for NCAA Championships
Athletes will go up against top D-II competition in Michigan this weekend.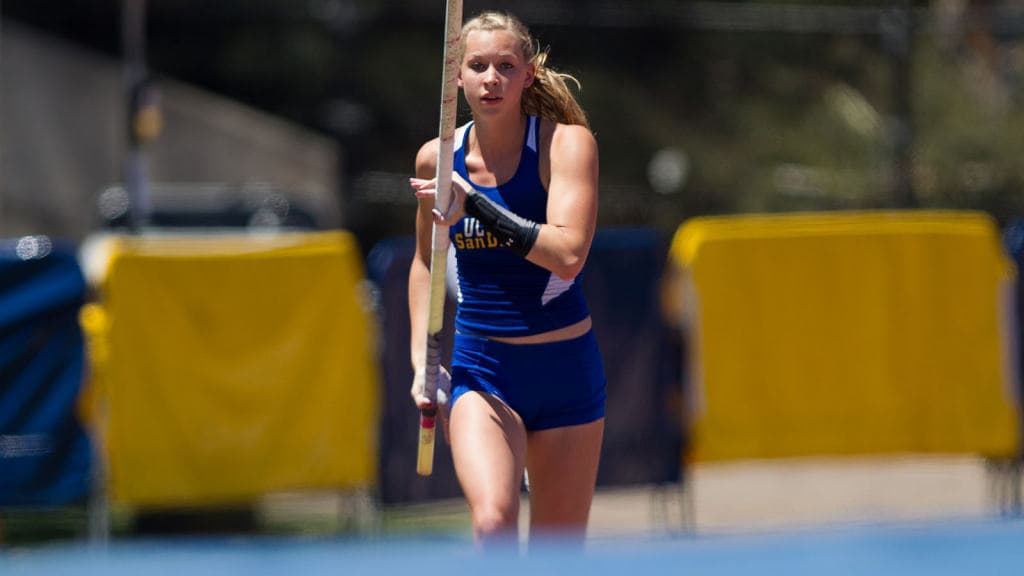 This year, UCSD is sending five of its track and field athletes to the NCAA Division-II Championships held in Allendale, Michigan over the weekend. Veteran qualifier senior Nash Howe will compete in the javelin, senior Ellexi Snover also in the javelin, freshman Matt Bowen in the triple jump and sophomores Chrissi Carr and Savanna Forry in the pole vault and high jump, respectively. 
Three-time qualifier Howe is no stranger to NCAA-level competition. First qualifying as a sophomore in 2013, he competed in the NCAA championship meet in the javelin and earned a respectable seventh-place finish with a throw of 214-11. In 2014, he improved his mark to 229-1/4 and placed sixth. Although Howe has not met this mark this year, his status as a two-time All-American and three-time California Collegiate Athletic Association champion, as well as being the fourth seed in this event, may just propel him to a higher mark at the NCAAs this year.
Unlike Howe, Snover has only been a competitor in the javelin for less than two years. Starting the season with a throw of 130-5/12, Snover quickly showed she was capable of qualifying for the event. Snover's provisional qualifying mark of 143-5/12 feet earned her a spot in the NCAA championship meet, as the 17 seed. Competing as both a sprinter and a thrower has pushed Snover to her limits this season, but she remains positive about the contest this weekend.
"The coaches have been amazing at teaching me the skills I needed to make it this far," Snover told the UCSD Guardian. "I am very excited for the weekend. My goal [is] to PR because the latter part of my season [has] been rough, but the last couple of weeks, I have been focusing on my javelin technique. If I PR, it could be enough to go to [advance from the prelims to the finals], which is my ultimate goal for my first time to nationals." 
Seeded fourth in the triple jump, Bowen has proved that age does not matter when it comes to natural talent. Although he is only a freshman, Bowen easily proved that he has what it takes to compete at the national level. His drive and enthusiasm just might propel him to break the school's 51-3/4 record. Regardless of what happens this weekend, Bowen is just going to continually get better.
"This weekend, I want to break the school record, and if everything goes well, it can happen," Bowen said. "Coach Darcy [Ahner] and I have been working on a lot of tiny technical details that [can] add a few inches to my jump, and if I can put them all to work this weekend, I'll be finishing out the season with a strong PR. If I could hit 52 feet, that would be awesome, but I at least want to break our 51-3/4 school record."
Pole vaulter Carr is also new to the the NCAA competition but, like her teammates, has undoubtedly proven that she deserves to be there. As a freshman in 2014, she finished in eighth place in the CCAA championship meet, with a mark of 11-1 1/4. This year, she has improved upon that mark by nearly a foot. Seeded 16th in this event and only being a sophomore, Carr has nothing to lose. 
Finally, placing fourth in the high jump in the CCAA Championships her freshman year and finishing in second this season, Forry has shown improvement and promise in her two years on the team. After a more relaxing season than her last one, Forry effortlessly high jumped her way to nationals.
"Jumping is really fun, and I was able to incorporate that excitement and energy into my meets," Forry told the Guardian. "This season, my technique finally started clicking, and my jumping started to become more natural."
Tied for the sixth seed in the high jump, her 5-8 clearance also puts her on UCSD's all-time list, a remarkable feat.
"It is a huge honor to make to [the] NCAAs, as a well as a rewarding indicator of the hard work the team and I have put in this season. I couldn't ask for a better group of people to train and succeed with," she said.
The five Tritons will compete at the NCAA Championships in Allendale starting today. The meet will continue onto Friday and will conclude on Saturday.