UCSD fencing captures their eleventh straight league title with strong performance at UC Irvine and now look to compete at the NCAA West Regionals.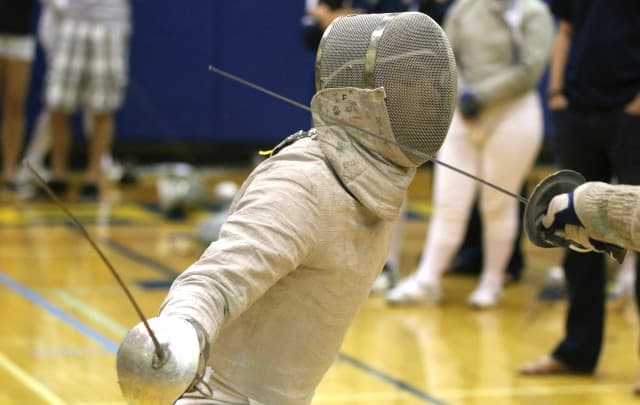 The UCSD fencing team continued its perennial domination of the Intercollegiate Fencing Conference of Southern California this past Saturday at UC Irvine, as the Tritons won their 11th consecutive league title for both the men and women's squads.
"We're very proud of our team's performance," UCSD assistant coach Josh Runyan said. "We thought the performance was excellent. In the past years, it wasn't so easy to get the title, but this is our 11th in a row; it speaks for the performance."
Both UCSD's men and women squads won over Arizona State University, Pasadena City College, UCLA, UC Santa Barbara and the University of Southern California with wide-margin victories and finished the regular season of the 2015 campaign undefeated.
The Tritons were able to top all three fields of epee, foil and sabre against each of their competitors.
"This year, we had very good performances from all of our teams," Runyan told the UCSD Guardian. "Everyone contributed, from the top people in the squad to the reserves."
On the women's epee squad, senior team captain Natalie Chan led a perfect run for her group, which finished the day spotless —going undefeated for the entirety of the six-hour tournament. Chan was accompanied by the women's epee junior squad captain Laura Hawkins and teammates junior Nicole Chiang and freshman Keyue Bao.
"Natalie Chan is our team's captain, and she has done a really good job to create a squad that is better year after year," Runyan said. "She has also done a very solid job with Keyue Bao. She helped her ease the transition into the squad, and it shows in the performances."
From the men's sabre, junior squad captain Drew Dickinson emerged without a single loss. He defeated all of his 18 challengers.
Freshman foilist David Hadler, having emerged as a top competitor in spite of his age this year, ended the season on a high note as he was also able to play through the tournament without suffering a single loss. Hadler held his ground while out-dueling U.S.Fencing Association "A"-rated foilist opponents from UCLA and USC.
"Drew has been extremely consistent throughout the years and has come through with tremendous performances," Runyan told the Guardian. "David Hadler is an amazing talent on our team — he has both national rankings and conference rankings. He had a very good day with very solid performances against top performers from UCLA and USC who were also very high level fencers."
Following this perfect performance at the IFCSC, the UCSD fencing team will now prepare for the journey to the national stage. The Tritons will host the NCAA West Regionals on Saturday, March 7 at 9 a.m. before looking toward a potential NCAA Championship appearance in Columbus, Ohio, in mid-March.
"We have a couple people who have a chance to get through to the national championship, but the competition is big," Runyan said. "Only two fencers from each group are qualified and there will be some very good fencers there, like those from Stanford [University]. I have to stress how hard it will be in this tournament with some very highly nationally ranked fencers, with several previous national champions that came out of our region."