Tritons dominate the competition at the Pacific College Swimming and Diving Conference Championships with a seventh consecutive title and are looking towards NCAAs.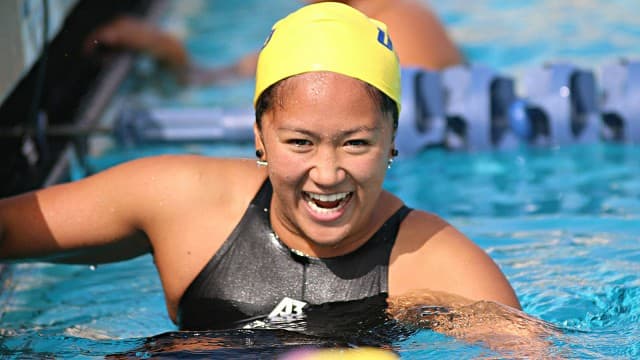 The UCSD men's and women's swim teams each achieved huge successes on Saturday night. Both topped their fields at the end of a four-day meet to win their seventh straight Pacific College Swimming and Diving Conference Championships league title at the Splash! La Mirada Regional Aquatics Center. The No. 4 nationally ranked women swept their 12-team field with 1,453 points and the No. 5 men took first prize ahead of six other teams with 1,490 points.
"It is always satisfying to win a conference championship, and being able to get our seventh in a row in both the men's and women's divisions is particularly gratifying," women's head coach Corrie Falcon said.
Over the four days of competition, UCSD compiled 20 race wins, three NCAA automatic qualifying swims, four school records and at least five meet marks. Triton freshman Stephanie Sin and sophomore Chandler Pourvahidi each won Swimmer of the Meet honors as they both compiled 92 points from two wins and a second-place finish from their three individual final races.
Pourvahidi and Sin started the competition by setting meet records on Wednesday night in their 1,000-yard freestyle races. Sin won her race with a time of 10:07.10, and Pourvahidi took a personal record time of 9:11.40. Wednesday's races also saw UCSD take a clean sweep of the 800-freestyle relays.
The women's team ofsophomoresNatalie Tang and Catherine Woo and juniorsMaddy Huttner andDari Watkins timed a meet record of 7:23.23 to achieve an automatic NCAA qualifier, while the men's team of sophomore Michael Cohn and juniorsPaul Li, Howie Chang and Michael Leung took first with a 6:38.34 finishing mark.
On Thursday, Pourvahidi doubled his winning honors by taking the 500-yard freestyle with a school record time of 4:24.04, which earned him an automatic NCAA qualifier.
"It came down to who wanted it most," Pourvahidi told the UCSD Athletics Department. "I kept telling myself that every second counts and every stroke counts. I wanted to make sure I gave it everything so there were no regrets."
The evening also saw the women's 200-relay team take first place: Sophomores Austine Lee and Tang, juniorColleen Daley and freshman Angie Phetbenjakul went 1:32.69, narrowly missing out on a school record and an NCAA automatic qualifier.
On Friday, the Tritons added seven more first places to gain a healthy overall point lead. The highlights of the day came through clean sweeps of both the 400-yard individual medley and the 200 freestyle. In the 400 IM, Li took the men's crown with a time of 3:55.89 and Huttner topped the women's field at 4:24.01. Top honors in the 200 freestyle went to Watkins (1:51.03) for the women and Cohn (1:39.70) for the men.
On Saturday, Sin and fellow freshman Julia Toronczak won their final races, with Toronczak taking the 200 backstroke and Sin the 1,650-yard freestyle. Sin's time of 16:55.65 set a new school record, taking over from the record which had stood since 2006.
"Coming into this year, the 1,650 freestyle was a newer event for Stephanie, but she's really developed over the past six months and dropped nearly 30 seconds," Falcon said.
The seventh consecutive title mark continues a streak of dominance for the Tritons' swimming program.
"We knew coming in that this year would be a little tougher, with several new teams with depth and top-end talent rejoining the conference," Falcon said. "It was definitely rewarding to see that we still have both the depth and top-end talent to hold off the tougher competition."
With the conference championship successfully behind them, the Triton teams now look toward the ultimate destination at the national level. UCSD now awaits the announcement of the official qualifier list for the 2015 NCAA Division II Swimming and Diving Championships held next month in Indianapolis, Indiana. The meet will run from Wednesday, March 11 through Saturday, March 14.