Tennis Travels to Hawaii
Kyra Scott secured a major upset win as Triton women won one of three matchups to three Hawaii schools.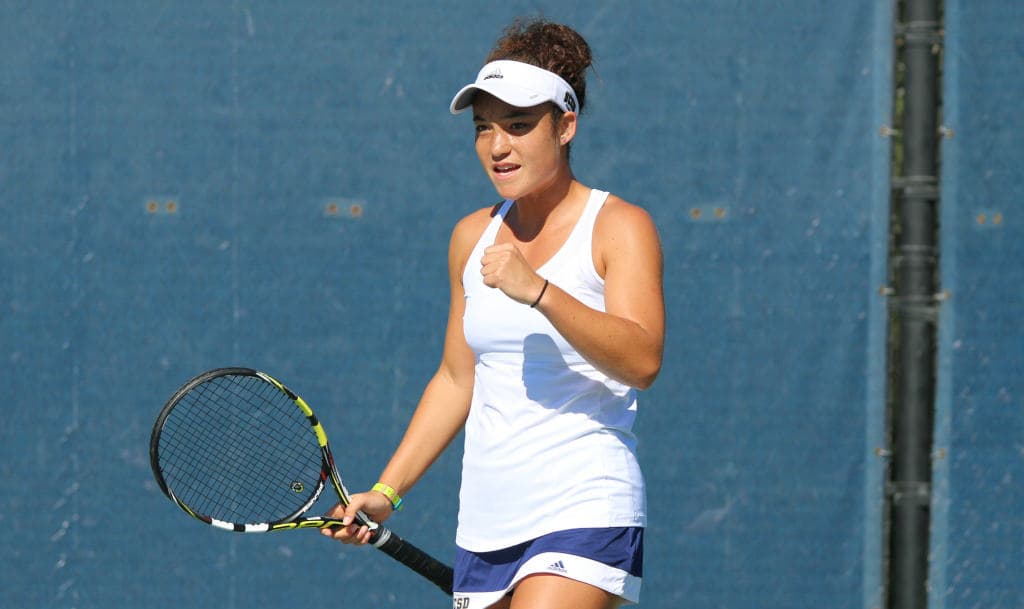 Over this past President Day's weekend, the No. 19 nationally ranked UCSD women's tennis team won one out of its three matches set up in Hawaii, losing 8–1 against No. 4 BYU-Hawaii (7–0) on Friday, winning 6–0 against Hawaii-Hilo University (1–6) on Saturday and ending with a 6–3 loss to No. 6 Hawaii Pacific (4–0) on Sunday. With the results, the UCSD women's team moves to a 3–4 overall record this season.
"The past weekend's performance was a real grind," sophomore Nava Nowamooz said. "[Junior] Kyra Scott played some excellent tennis, pulling out some big wins for us, [beating] the top girls in the nation."
On Friday, UCSD may have lost big to one of the nation's best Division-II teams, but Scott took perhaps the best win of her career thus far. Scott, who is ranked 22nd nationally in singles, defeated the country's No. 2 singles player sophomore Dallas Zhang in the No. 1 singles slot. Their match consisted of three sets and after an arduous battle, Scott emerged victorious, with scores of 7–6, 6–7 and 10–5 in her favor.
The Tritons' top player was modest in response to the improbable feat.
"I've been playing very well this season so far, but I'm always looking to improve my fitness," Scott said.
Although Scott won an incredible match, the rest of the Tritons did not fare as well. The Seasiders went on to win the remaining five singles matches left as UCSD failed to keep up with its top-ranked opponents. Among their singles players, the Seasiders had No. 6 ranked junior Karen Liu overwhelm UCSD freshman Jasmine Hosseini (6–1, 6–0) in the No. 2 slot, while No. 10 senior Marietta Tuionetoa defeated UCSD sophomore Britta Mosser in the No. 3 singles slot (6–3, 6–2).
UCSD was also swept in the doubles competition. The No. 1 doubles match was the closest as the Seasiders' No. 3 ranked doubles duo Liu and Zhang faced off against the Tritons' No. 14 Mosser and Scott, with the Tritons falling just short at 9–7.
Saturday was a new day in Hawaii for the Tritons when they went up against Hawaii-Hilo. The Tritons came out strong and held their lead to end up sweeping Hilo with a shutout score of 6–0. Only singles matches were counted in this contest as the doubles matches were not contested.
Hosseini played in the No. 1 singles spot for the first time in her Triton career and took her sets 6–2 and 6–3. The remaining winners for UCSD all won in straight sets as well, with No. 2 Mosser and No. 6 junior Monica Yassear taking their sets in shutout fashion.
The Tritons ended their stay in Hawaii on a loss as they came up short against Hawaii Pacific. In the doubles, the Tritons won one of the three matches, and in the singles, they went two of six, making the final outcome 6–3 in favor of Hawaii Pacific.
In the doubles match, freshman doubles duo Hosseini and Nousha Nowamooz won the No. 3 doubles match with a solid score of 8–4. The No. 1 duo of Mosser and Scott fell 8–4, and the No. 2 sophomore duo Nava Nowamooz and Shannon Theisen were defeated as well with a final score of 8–3.
Scott came through with another win in the singles as she closed out her impressive weekend. She faced off against Kristyna Hancarova in the No. 1 singles match and came through with winning scores of 6–2 and 7–5. Scott now continues the season with a record of 5–1.
Mosser won the No. 3 singles match with scores of 6–3 and 6–3, winning the only other singles victory that day. The No. 6 singles match came to a close count as Theisen lost after incredibly close sets of 7–6 and 7–5.
"We performed as expected this weekend," Thiesen said. "The match with [Hawaii Pacific University] could have been a little closer, but we'll be prepared for the next time we see them."
After this weekend in Hawaii, the Tritons return home to host Western New Mexico University this upcoming Friday at Northview Courts.
"The team is very young and strong this year," Scott said. "We've started the season off competitively [and] have had wins over schools that we lost to last year."