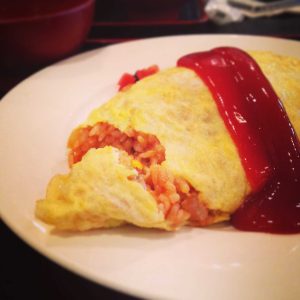 Photo by Yulin Liu
3904 Convoy St., Ste. 121
Monday to Friday: 11:30 a.m. to 2:30 p.m., 5 p.m. to 12 a.m.
Saturday: 11:30 a.m. to 12 a.m.
Sunday: 12 p.m. to 11 p.m.  
$
4.5/5                
With no sign in front of the restaurant, Izakaya Sakura is hidden among the many restaurants in this plaza off Convoy Street in San Diego; however, it has become a popular "secret" place for many Japanese cuisine lovers. People often introduce this restaurant to their friends as "the one without a sign."
With the strong atmosphere of a traditional Japanese family business, Izakaya Sakura is clean, quiet and cozy. Waiters — most of whom are family members lending a hand — work comfortably in casual outfits. At the sushi bar, you can watch the chef prepare fresh sashimi. And the dining area is spacious — not a lot of eateries have wooden tables as large as these.
Besides the exquisite sushi and ramen dishes that play an important role in Japanese food culture, Izakaya Sakura has other unique Japanese entrees that might interest you. One of them is the Omelet Rice. It is served as a combo with miso soup and a special salad that can stand alone and flavored with carrot-ginger dressing. The Omelet Rice, covered with a bridge of ketchup in the middle, consists of an egg wrap — golden and well done without being burnt — and inside the egg wrap is fresh-cooked fried rice with onion, chicken and corn. When combined, these ingredients really elevate the rice.
While an omelet seems to be a very Western-style dish, Omelet Rice or "Omurice," is part of contemporary Japanese cuisine. The combination of rice and ketchup is so intriguing and versatile that the Omurice has become a popular choice not only for breakfast and brunch but also for dinner. If you are not a big fan of ketchup, you can also choose from curry or sweet white sauce.
Of course, Izakaya Sakura goes beyond Omelet Rice. There are also sublime fried rice options — Salmon & Salmon Roe Fried Rice is one of its best. The chef is generous with the ingredients; the freshly sweet, seared salmon bits and juicy salmon roe are accompanied by sweet corn, onions, mushrooms, carrots and eggs. It is also worth mentioning that one of the most popular dishes here is the Uni Don (raw sea urchins on Japanese rice), but hurry: They tend to run out by 6 p.m.
There is also the popular lunch bento box ($12), which contains a little of everything: meatloaf, spaghetti ball, rolled omelet, mackerel, deep fried pork, etc. But just like their Uni Don, these boxes go fast (they only make 10 per day to be sold at noon).
Izakaya Sakura also offers the most diverse and unique starters among the Japanese restaurants in San Diego, from grilled beef/pork to sauteed vegetables, from potato salad to deep fried seafood and tempura items. One of the many cooked appetizer dishes, Pork Belly with Eggplant, is deep fried but balanced — moderately greasy pork with sweet bell eggplant, pepper and onion.
All in all, the lack of a signboard actually emphasizes Izakaya Sakura's philosophy: Word of mouth is what makes this place successful.