Motion City Soundtrack reunites for 10th Anniversary "Commit This to Memory" Tour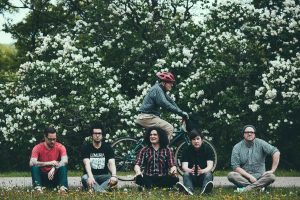 Location: House of Blues
Concert Date: Feb. 11
Other Acts: Driver Friendly, Hellogoodbye
Anyone who can admit belonging to (or at least associating with) the "emo" movement back in high school will remember the name Motion City Soundtrack. Back then, just before the release of their third album "Even If It Kills Me" in 2007, the five-member alternative-rock group from Minneapolis was still enjoying their popularity boost from the success of "Commit This to Memory" and its catchy, eclectic tunes that left them a permanent spot among the relevant emo bands of the time. Whereas other groups in the genre were noticed for their emotionally charged lyrics and dark melodies, Motion City came forth with a sense of brightness bolstered by their peppy keyboard riffs and Moog synthesizer. Their pop-punk musical style managed to mask the underlying melancholy in their lyrics, creating a manic spin on emo music that earned them individuality in their own right.
"Commit This to Memory" was the band's breakthrough album, so it seemed only fitting to celebrate its 10-year anniversary with a tour.
At exactly 7:30 pm, Driver Friendly eagerly paraded onto the set, and eyes popped at the appearance of the trumpet player, Juan Lopez. It's not an instrument alternative rock groups typically use, which heightened the excitement and then eventual disappointment after being unable to hear it well under the flurry of Andy Lane's bold guitar chords. The trumpeter (and screamer), however, made up for it by playing air guitar on his brass sidekick, and satisfaction came through in the song "Ghosts" when Lopez's trumpet and Lane's guitar blended into several pleasant harmonies.
After waving goodbye to the first act, it was interesting to watch Hellogoodbye test all 100 of their various sound effects during sound check. One of the most captivating elements of their set was their dedication to recreating all of their electronic sounds live, especially via soundboard in "(Everything Is) Debatable." While this required certain members to alternate through an eclectic collection of instruments — mandolin, ukelele, maracas, synthesizers — it brought a sense of freshness to the set that's been undervalued these days when most musicians are complacent in playing beats off of their laptop.
It was definitely a "good vibes only" set.
The entrance of Motion City Soundtrack was a recorded clip of "For All We Know" by The Carpenters — no explanation there — before they came walking on stage and diving straight into their set list. Justin Pierre, the group's main singer and guitarist, seemed to struggle vocally (he suffers from asthma) and unfortunately got lost under all the energy onstage. But, still, you have to applaud him for pushing through an entire album's worth of songs, regardless, and luckily the bassist Matthew Taylor stepped in to back him up vocally and saved much of the performance that way.
In some of their more emotional songs, such as "Resolution," the softened vocals brought out the lyrics' apologetic message and made the delivery all the more poignant. And as the night went on, Pierre's voice made a gradual comeback, and the band went on to stun viewers in "Feel Like Rain," where the tight rhythm of their guitars' down strum interchanging with the powerful force of the kick drum created a flow of captivating energy on stage.
Motion City was called back for not one but two encores, which just goes to show that no matter how much time goes on, you never forget your first true love in music.