Tritons win 10 of 14 total events on Saturday to defeat University of San Diego 162–93 at Canyonview Pool.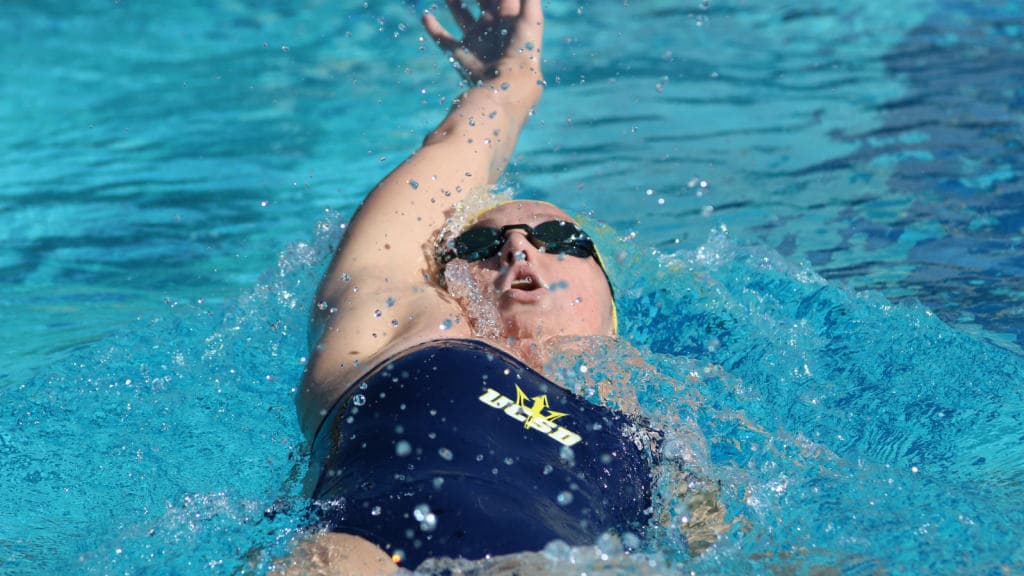 In its regular season finale, the No. 4 nationally ranked UCSD women's swim team defeated crosstown rival and Division-I opponent University of San Diego 162–93 at Canyonview Aquatic Center this past Saturday. The Tritons close out their 2015 schedule with a 9–3 record and now await conference championships.
Tritons took the top spot in 10 out of 14 events to improve their record against USD to a near flawless 12–1–1 over their last 14 meetings. Diving events were not held as the Toreros are without divers this season. Saturday was also USD's final meet, who closed out its campaign with a winless 0–6 record.
"Overall I thought it was a really solid performance as our last dual meet before conference," UCSD head coach Corrie Falcon said. "It's always good to have a win over a crosstown rival. That meet tends to be close, but this year our women really stepped it up another level and we were able to put a pretty big gap between the teams."
The younger Tritons ruled the day as sophomores Austine Lee and Jaimie Bryan, along with freshmen Julia Toronczak and Stephanie Sin each took first-place victories.
"It's really encouraging when you have freshmen and sophomores that are taking a lot of the wins and on relays scoring a lot of points," Falcon told the UCSD Guardian. "It shows that our program is moving in the right direction, and we're not graduating a lot of our talent."
Lee finished the fastest in the 100 breaststroke with a time of 1:04.39 before recording a season best time of 23.95 in another win in the 50-freestyle race. Both of Lee's victories headed a full podium sweep for the Tritons. Toronczak also took home a pair of individual top finishes in both the 100 breaststroke (57.06) and 200 backstroke (2:05.19).
Sin won the 200 freestyle with a time of 1:53.03 while Bryan was first to touch the wall in the 200 breaststroke at 2:20.86. Toronczak and Bryan also earned a group victory with senior Jaclyn Amog and junior Colleen Daley in the 200 medley relay, turning in the fastest time at 1:45.36. Finishing behind in second was another UCSD group of Sin, Lee, freshman Jayna Wittenbrink and senior Eva Chen, who together turned in a time of 1:47.96.
Junior Maddy Huttner was also a winner, finishing first in the 200 individual medley at 2:06.44, over a full second faster than her previous season best.
In total, the Tritons turned in 14 NCAA consideration qualifying times in their domination of the struggling Toreros.
As Saturday's races served as the last meet at home, six Triton seniors took their final laps in Canyonview Pool, including five-time All-American Amog and co-captain Summer Bennett.
With an impressive regular season now in the books, the Triton women will join the men, who finished their last meet two weeks prior, in preparing for the postseason.
UCSD will first travel to La Mirada for the Pacific Collegiate Swimming and Diving Conference Championships held from Wednesday, Feb. 18 to Saturday, Feb. 21. The Tritons expect to take home their seventh straight league title before preparing for nationals, which will be held in mid-March in Indiana.
"We are really focusing 100 percent on conference [championships] because that is our opportunity to qualify for nationals," Falcon said. "So for the next couple of weeks we'll be building some rest into our workouts and really fine-tuning the details and making sure we're totally prepared physically and mentally."