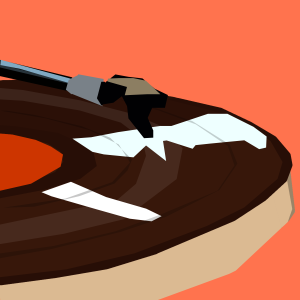 I remember pulling up to red lights alongside another car blasting hip-hop out of its subwoofers when I was little, and my mom would just roll her eyes and tell me how stupid that kind of music is. And like everything else my parents ever told me, she was unconditionally correct. But it's not just the entire rap/hip-hop genre that's tainting music (I mean, if you can call that music. It's really just words with fake drum beats). Nearly all of the most popular artists, from One Direction and Justin Bieber to Skrillex, show how this generation's taste in music is on track to be the worst in recorded history.
For anyone not familiar with the deteriorating state of modern music, just turn on the radio. It's all a bunch of trendy pop hits that no one is even going to remember a few decades from now. We're all left pining for the good old days, like 1977 when hits like "You Light Up My Life" by Debby Boone and "Evergreen" by Barbra Streisand dominated the airwaves for 10 and three straight weeks, respectively. Instant and permanent classics!
I'm tired of hearing songs about misogyny and glorified drug use. Give me the good old days when "Brown Sugar" and "Whole Lotta Love" objectified women in a cool way or when the Beatles "got high with a little help from their friends." And sure "Baby, It's Cold Outside" sounds pretty rapey when you listen to the lyrics, but, hey, it's a classic.
The problem is that popular, post-2010 music is shallow and meaningless. And it's all the same shtick: Nicki Minaj shakes her butt, Justin Bieber whines about girls nonstop and Kendrick Lamar gives a non-linear narrative of his life, promoting self-belief while damning the gang mentality he grew up in. And he uses the n-word a lot.
What modern music really needs now is some rock like they had back in the golden days. And, no, I mean besides the Arctic Monkeys, Jack White, Kings of Leon, The Strokes, Streetlight Manifesto, Wolfmother, Arcade Fire, the Foo Fighters and Muse. And I mean besides smaller garage rock/indie-rock acts like Ought, FIDLAR, Mikal Cronin, Ex Hex, The Frights, The Vaccines and many others like them. Besides those, today's rock scene is dead.
Let's face it, we're not going to wake up tomorrow and have some asshat like Kanye West boldly changing the soundscapes of music the way the Beatles did, and Adele isn't going to suddenly become the kind of talented and respectable singer that Ella Fitzgerald once was. If there's any beacon of hope and reason for this generation, it's in the place that knows this best: the Youtube music video comment sections.