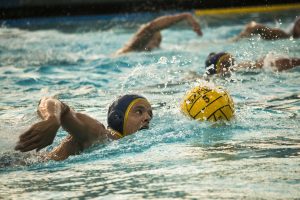 Closing out its conference schedule for the regular season, the No. 6 UCSD men's water polo team maintained its perfect in-league record with a 10–6 win over No. 14 UC Davis on Friday, followed by a 11–8 victory over No. 16 Santa Clara University on Saturday. The pair of road wins gives UCSD an undefeated 6–0 record in the Western Water Polo Association while the Tritons' overall record improves to 12–8 on the season.
Senior utility Josh Stiling led UCSD with four scores on Friday night, bringing his goal total to 50 for the year. Stiling opened up the match's scoring with two straight goals to give the Tritons an early advantage.
The Aggies responded with two goals of their own to knot the game up at the end of the first period. In the second quarter, the Tritons reclaimed the lead with goals from Stiling and senior utilities Luca De Vivo and Lukas Syka to finish the first half with a 5–3 edge.
UCSD ran away with the game in the third quarter, netting four goals to the Aggies' one. Stiling added a fourth goal, De Vivo and Syka each recorded a second score and sophomore driver Andy Moore hit the cage for his first of the match.
The Aggies had little hope of a comeback in the final frame, as the Tritons secured their third straight victory with a 10–6 final score.
The Tritons extended their superb conference play the following day, traveling up north to battle Santa Clara for their final WWPA match of the regular season.
Senior 2M Joe Dietrich opened the scoring early for UCSD to set a dominant tempo for the visiting Tritons. UCSD went on to display an impressive performance on both ends of the pool during the opening two quarters, notching four more goals while stifling the Broncos to just one score of their own.
While the Broncos netted two scores in the third period, four more Triton goals added to the UCSD advantage. Entering the final quarter, the Tritons held a strong 9–3 lead.
In the final frame, the Broncos made a sudden and threatening surge with five goals scored. However, the already overwhelming lead, compounded by junior utility Chase Cockerill's pair of fourth quarter goals, ultimately prevented the comeback.
The match had a whopping nine different goal scorers on the side of blue and gold, as UCSD concluded its conference schedule with six wins and an undefeated record.
UCSD will now return home for its final two matches of the regular season, battling Cal State Long Beach on Thursday, Nov. 6 and UC Irvine on Saturday, Nov. 8. Following the pair of games, postseason play will commence starting with the WWPA Championships on Friday, Nov. 21.