Complete your Halloween party with any of these delicious treats and snacks!
Graveyard Taco Dip Recipe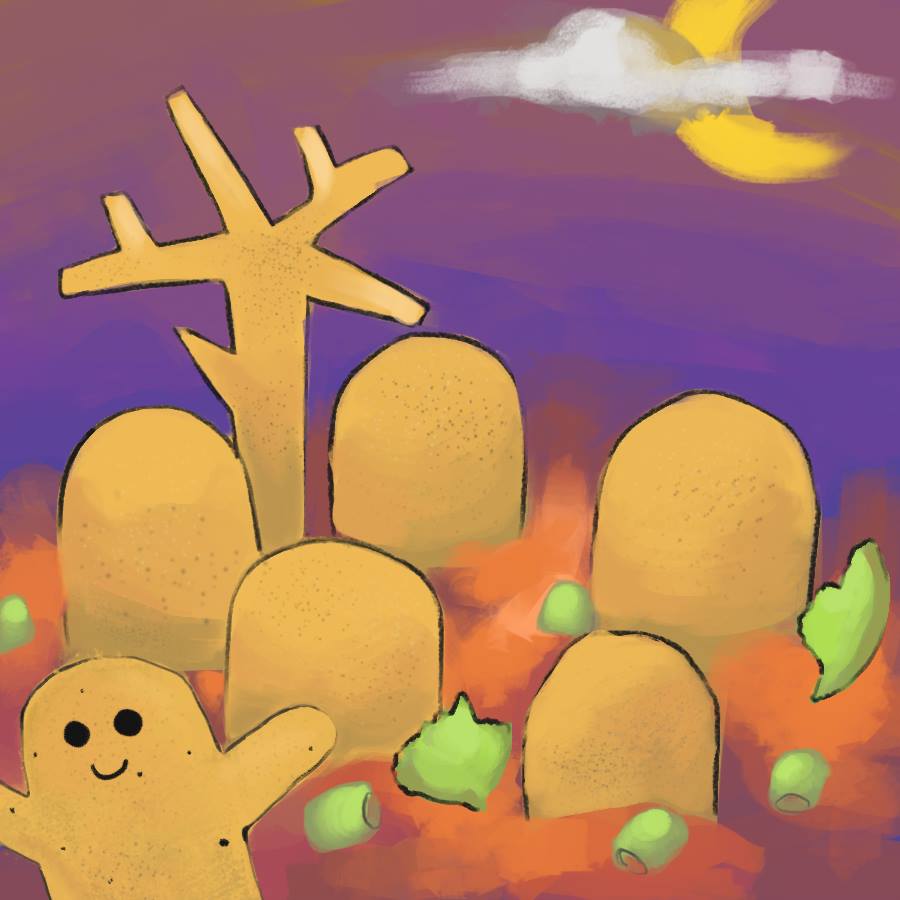 Raise your party from the dead with this spooky take on a classic layered bean dip.
Prep Time: 15 to 20 minutes
Total Servings: 7-10
Ingredients:
1 can refried beans
1 can chopped black olives
2 cups sour cream
1 to 2 cups of shredded cheese
1 tomato (chopped)
1 bunch of green onions (chopped) 1 bunch of cilantro
2 flour tortillas
In a small Pyrex dish or pie plate, layer the beans, olives and sour cream. Place a layer of green onions, tomato (with the seeds removed) and cilantro over the sour cream.
Top with cheddar cheese.
To make the tombstones and tree:
Cut the shapes you want out of 2 large tortillas.
Place the cut-out shapes on a parchment paper lined cookie tray and bake at 350 F until the tortillas are crisp.
Put the tombstones and tree in the dip just before serving.
– Monica McGill (Staff Writer)
Pumpkin Spice Bread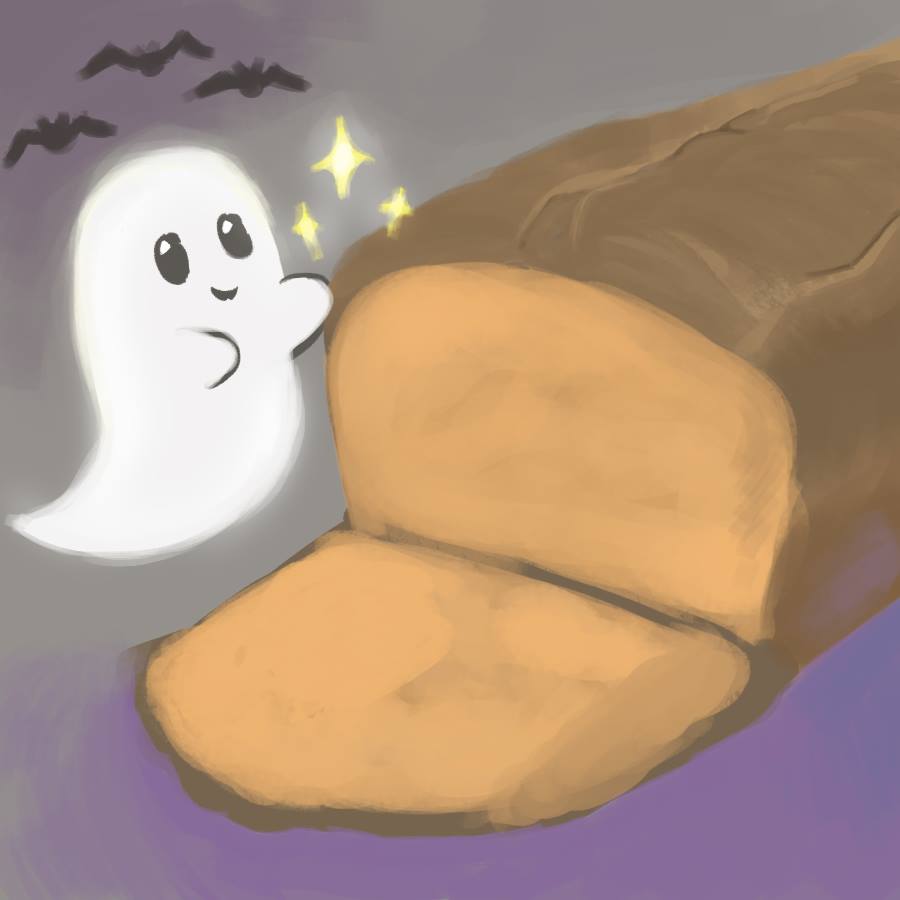 Soft, sweet and aromatic, pumpkin bread is one of the most straightforward baking recipes in the fall cookbook and especially complements coffee and chocolate.
Prep Time: 20 minutes; Baking time: 45 minutes to one hour
Makes two loaves
Ingredients:
2 1/2 cups flour
1 teaspoon cloves
1 1/2 teaspoons cinnamon
1 1/2 teaspoons nutmeg
1/2 teaspoons ginger
2 teaspoons baking soda
1 teaspoon salt
1 1/2 sticks unsalted butter (softened)
2 cups sugar
3 large eggs (beaten)
15-ounce can pumpkin puree
Preheat the oven to 350 F.
Use a whisk to mix the flour, cloves, cinnamon, nutmeg, ginger, baking soda and salt together in a large mixing bowl. Combine until there is an even consistency.
In a separate bowl, mix the butter and sugar together. After these are well-combined, stir in the eggs. Next, add the pumpkin and stir until there is a regular consistency. Combine this with the dry ingredients and stir until there are no lumps of dry ingredients. Prepare two 4"x8" bread pans by using butter to grease the insides of the pans. Then, pour in the batter.
Put them in the oven for 45 minutes. After this, poke the loaves with a fork. If the fork comes out clean, then the loaf is done. If not, put it back in the oven until it passes the fork test. Let the loaves sit until cool.
– Kyle Somers (A&E Associate Editor)
Halloween Pretzel Delights
Sweet and salty — what's not to love about these Halloween Pretzel Delights? They are fun, easy and quick to make and perfect for any ghoulish Halloween event!
Prep Time: 10 to 15 minutes
Total Servings: 40
Ingredients:
40 circle/square pretzel snacks
40 Hershey's Hugs
40 pieces of candy corn
Preheat oven to 200 F.
Lightly spray a cookie tray with canola oil and lay out the pretzels.
Put a Hershey's Hug on each pretzel and then put the tray in the oven for 4 to 5 minutes (keep a close eye on them).
Once pretzels come out of the oven, quickly place a piece of candy corn firmly on the Hug of each snack. They will harden if you are too slow.
Let cool for a couple of minutes and then place into the refrigerator until served. Your quick treats are complete!
– Alex Diaz (Contributing Writer)
Frankenstein Cupcakes

Grab a few ingredients and a couple of friends and make this Halloween especially spooky with these Frankenstein Cupcakes! Don't worry, this chocolaty recipe is much easier to make than a deranged monster.
Prep Time: 40 to 45 minutes
Total Servings: 20-24
Ingredients:
1 Devil's Food Cake Mix
3 eggs
2 teaspoons vanilla
1/3 cup oil
2/3 cup sour cream
1/2 cup of milk
Cream cheese frosting
Green food coloring
20 Reese's Cups
1/3 cup white chocolate melts
40 chocolate M&Ms
40 chocolate chips
Chocolate sprinkles
Preheat oven to 350 F or the specified temperature on your cake mix. Line the cupcake pan with dark and spooky cupcake liners.
Put cake mix, eggs, oil, sour cream, milk and vanilla into large bowl. Mix thoroughly until smooth.
Fill cupcake liners about 2/3 of the way and bake for 15 to 18 minutes.
Let cool for 5 to 10 minutes.
While the cupcakes are cooling, mix food coloring with cream cheese until a light green color is achieved.
Apply the green frosting and shape the sides of the frosting flat (vertically) with a butter knife to successfully achieve the box-like shape for Frankenstein's head.
To make the monster's eyes, melt the white chocolate melts and pipe twice on the sides of the "head" a bit bigger than the size of a penny. Press an M&M on each white eye so there is a white border around it.
Put a Reese's Cup right on top of frosting. Then put chocolate chips into side of head for the ears. Make sure the flat part is sticking out. Finally, put on the eyebrows and mouth with individual sprinkles.
– Alex Diaz (Contributing Writer)
Mummy Hot Dogs
These easy to make Hallo-weenie mummies are all wrapped up in crescent rolls to keep you satisfied all Halloween night.
Prep Time: 45 minutes
Total Servings: 8
1 can of crescent roll dough
8 hot dogs
3 slices of American cheese
16 candy eyes (If you can't find eyes, try using mustard or ketchup instead)
Preheat oven to 375 F.
Unroll dough and separate into four rectangles (crimp diagonal cuts in each one together).
Cut each rectangle lengthwise into 1/2 inch strips, and join two together to form a "bandage."
Cut two of the cheese slices into four strips.
Wrap "bandage" of dough around each hot dog and 1/4 slice of cheese, making sure to leave a gap for the eyes.
Place wrapped hot dogs (cheese side down) on a non-stick cookie sheet.
Bake for 15 minutes or until the dough is golden brown.
Place a small piece of cheese where the eyes will go and place in the oven to melt slightly.
Place two eyes on each mummy.
– Monica McGill (Staff Writer)
Eerie Apple Smiles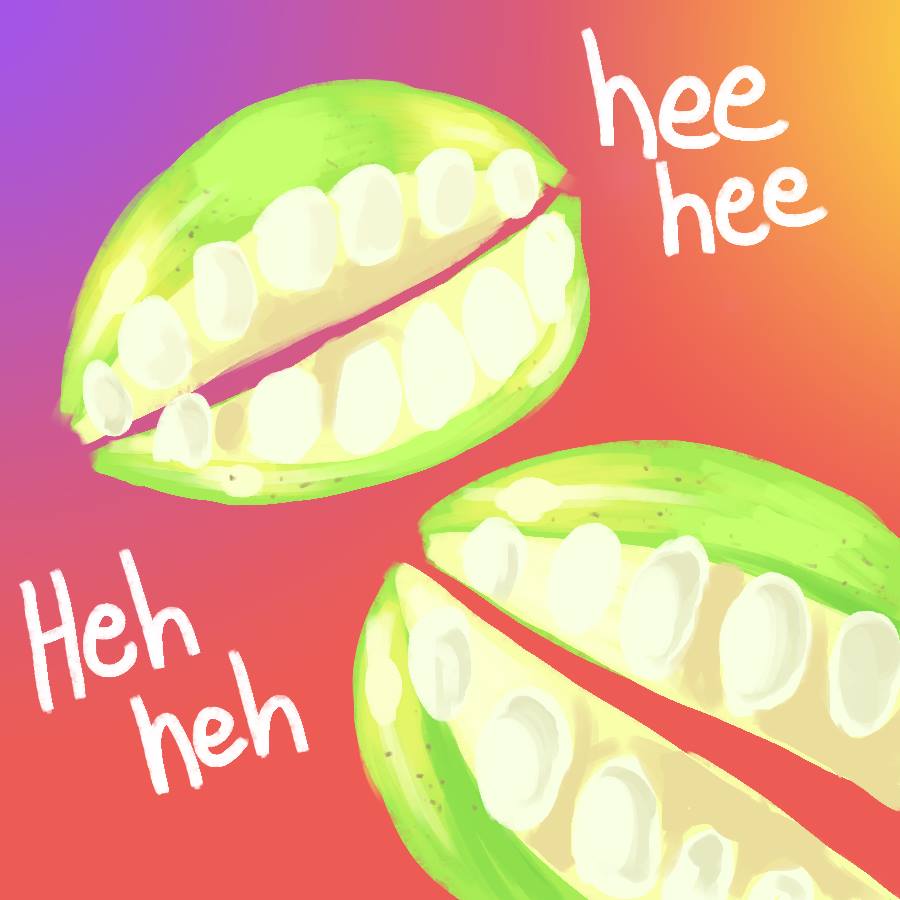 These Eerie Apple Smiles are sure to leave your guests feeling spooked. But fret not! One sweet, crunchy mouthful will turn that frown upside down!
Serving size: 16
Prep time: 15 minutes
Ingredients:
4 apples
1 teaspoon lemon juice
2 ounces of slivered almonds
Vertically cut each apple into four equal slices. Cut out the apple seeds.
For each slice, cut a wedge in the center to create the mouth. Make sure that there is enough apple around this cut so that it can serve as the lips of the mouth.
Rub lemon juice on the wedge cutouts to prevent browning.
Stick the almond slices into the cutouts to serve as the crooked teeth of the apple mouths.
– Annie Chen (Staff Writer)