UCSD competes at Eagle Rock, fails to qualify additional Tritons for nationals, which will be held in Allendale, Michigan from May 22 to May 25.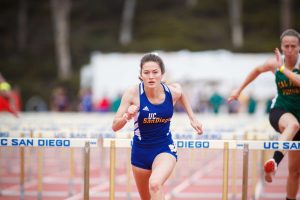 With the NCAA Division II Championship coming up next week, the UCSD track and field squad had one last chance at last weekend's Occidental Invitational to qualify as many athletes as possible to join javelin thrower and All-American junior throws Nash Howe in Michigan's national meet. Several UCSD athletes competed in Eagle Rock, California, but none were able to secure UCSD any additional qualifiers. However, the recent NCAA qualification announcements nevertheless brought in four more Tritons to the NCAA roster for their performances throughout the season.
UCSD put up some personal bests at the invitational on both the men and women's sides. The women's 4×400-meter relay team, consisting of junior sprints Sabrina Pimentel, senior hurdles Lauren Irish and freshmen sprints Jackie Chalmers and Lauren Lopez, took top honors in their event. Their time of 3 minutes 46.03 seconds improved upon their previous best of 3:47.08.
On the men's side, freshman sprints Jared Senese narrowly improved his 800-meter time. His new personal best of 1:51.58 featured a .04 second jump from his previous best.
"[The Occidental Invitational] is really just a meet to fine-tune people who are going to nationals and hopefully improve qualifying marks to get [other] people in," men's head coach Tony Salerno said. "In some cases we had improved marks, but [they] ended up being not enough to get into nationals."
Several days following the meet, the NCAAs released the accepted entrants for the tournament, which included five Tritons. Howe, who will compete in his third consecutive national meet, is seeded first in the javelin throw.
"Nash is going ranked number one, but only one centimeter ahead of number two," Salerno said. "Out of the 20 other [throwers], that's not a whole lot. But we're excited about Howe. He's prepared for nationals — he's going to be ready to go."
Junior throws Anthony Capitulo will join Howe in the javelin as he makes his NCAAs debut. Capitulo, who placed third in the California Collegiate Athletic Association finals, barely snuck in as the 20th seed in the 20-man competition.
Also making his national's debut is redshirt freshman decathlon Dan Golubovic who, during the CCAA finals, set the stadium record in the decathlon en route to easily winning the event. Golubovic is seeded 11th and is the youngest Triton competing this year.
Pimentel, a junior All-American, is also making her third nationals appearance. Pimentel, who holds the school record at 2:09.07, won the 800 at the CCAAs. She is seeded 10th and finished in ninth last year.
Rounding out the lineup is junior distance Carlos Bojorquez who will make his first nationals appearance for the 1500-meter. Bojorquez placed second in the conference finals and is seeded 18th.
With a mixed bag of experience and inexperience, youth and veterans, the Tritons hope to make a name for themselves and for UCSD in Allendale, Michigan, from May 22 through the 24. Portions of the meet will be streamed live on the NCAA website.
"What's unique about us is that we face so much high-level competition during the year: division-I level competition and even world class competition," Salerno told the UCSD Guardian. "No one else in Division II sees [opponents] anywhere near that level that we do throughout the season. We feel pretty good that we can compete effectively."