The Southern rockers' fifth album finds the group back to the heart of its music.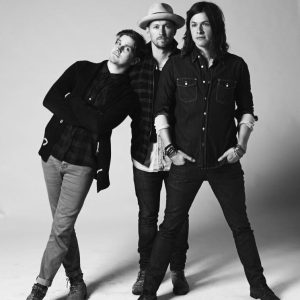 Rating: 4.0/5.0
Release Date: April 15
Be an opening act for Taylor Swift. Check. Perform in sold-out arenas across the nation. Check. Garner comparisons to the epic rock of U2 and The Fray. Also a check. Needtobreathe had all this going for them, although the success came with a cost.
Lead singer Bear and his brother Bo Rinehart form the nucleus of the band, which hails from Possum Kingdom, South Carolina. They were coming off their most successful album "The Reckoning" in 2011. However, following a rough patch of infighting and the loss of their longtime drummer Joe Stillwell, they went back to the studio for a year of sporadic touring and recording, emerging with their newest project "Rivers in the Wasteland."
Their first track, christened "Wasteland," reflects the turbulent path the group had traversed up to that point. It is a contemplative combination of acoustic guitar, banjo and piano with lyrics that suggest that there is still a "crack in the door filled with light" that offers hope. In a moment of sentimentality, they pay homage to their roots with a spirited love song dedicated to their home in "Oh, Carolina." Their lead single "The Heart" is the most upbeat track on the record, and it exudes energetic rhythms that make your toes want to tap — it positively demands your heart be happy. The tune is boosted by an eclectic mixture of furiously strumming strings, drums, tambourines, claps and boisterous vocals.
Their final song on the album, "More Heart and Less Attack," sums up Needtobreathe's desire along this entire adventure: It collectively pulled back from the daily grind in order to get to the heart of what initially made its music engaging. It has a renewed satisfaction in simplicity, and this led to a stripped-down sound with fewer instruments and less technology. The whole record will undoubtedly sound great live because "Rivers in the Wasteland" has a wonderfully raw quality and brims with energy. The fact is that Needtobreathe came into this album lost in a proverbial wasteland, only to emerge with a newfound, positive outlook facilitated by its music. Ironically, this labor of love came out of a desire to get back to Needtobreathe's roots and it did just that. It found its heart again.