UCSD struggled in harsh conditions on Friday evening before bouncing back with wins in two Varsity 8 races and Freshman 8, look next toward Western Invitational.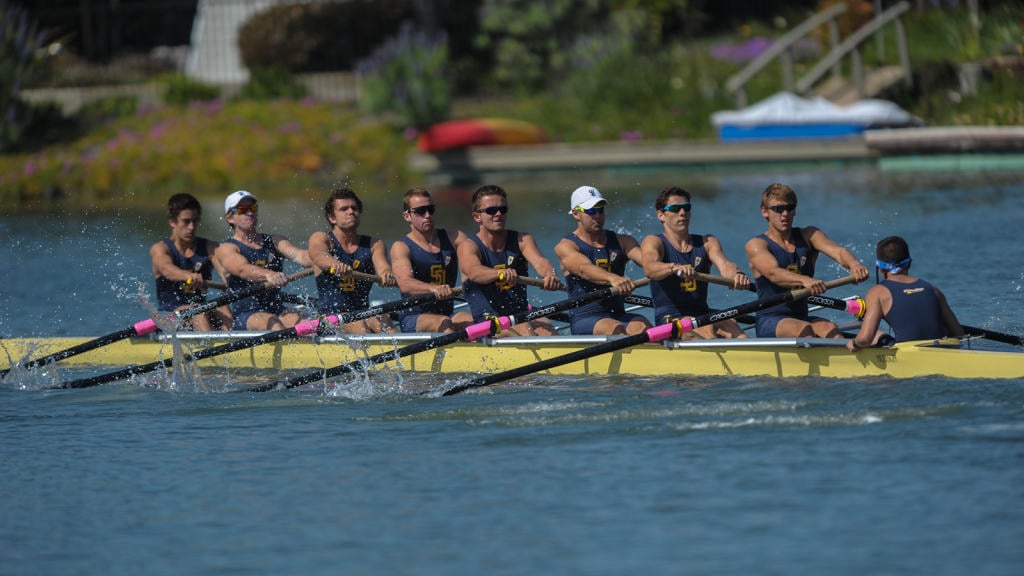 The UCSD men's crew team returned from Redwood Shores with three victories out of nine total races at the Stanford Invitational this past weekend. With such a young team, the mixed results come right as the rowers are finally settling into their crews.
"[We went] up against a couple of top teams, like Stanford, that have a lot of speed," head coach Zach Johnson told the UCSD Guardian. "I think we did pretty well."
The invitational opened last Friday night as crews braved 20 mph headwinds and chop in the northern California basin, slowing boat times considerably. No. 13 nationally ranked Stanford defeated UCSD in all three of the evening's races, beginning with its 6 minutes, 23.7 seconds time to UCSD's 6:44.1 in the Varsity 8. The second Varsity 8 suffered the same fate, coming across the line at 7:05.2 compared to the Cardinal's 6:44.5. The Freshman 8 managed the closest race of the evening, finishing 6:37.4 with Stanford ahead at 6:33.9.
On Saturday, improved conditions resulted in dramatically lowered boat times. UCSD began the second day with a loss to local foe University of San Diego in the Varsity 8 heat. The Tritons clocked in at 6:11.6, more than 10 seconds faster than their Friday time and only three seconds behind the USD boat. Following the early loss, the Varsity 8 crew then recorded UCSD's first victory in its second heat with a time of 6:35.5, besting UC Davis by nearly 40 seconds.
"Several of our guys are new, and we changed the lineup around some for the last race." Johnson said. "That last race against Davis, we found something that worked well and we gained a lot of speed."
The Tritons lost against USD in the first of two second Varsity 8 matchups on Saturday, but snuck past Santa Clara University in the following second Varsity 8 race with a time of 6:26.9.
The Freshman 8 continued UCSD's success against the Aggies with a ten-second win (6:39.4) over Davis (6:50.4), but lost to UC Berkeley in the second Freshman 8 heat.
"Coming off of this last weekend, each race we got a little better, a little faster," junior varsity team captain Sean Dougherty told the UCSD Guardian. "Switching around some guys really worked out and now we're going to focus on fine-tuning the lineups."
With plenty of preparation time before their next competition, the Tritons intend on working on their speed to prepare for the championship season.
"We're focusing on what we have to do to take down Gonzaga and USD," Dougherty said. "We don't just want to get to the championships; we want to get there and place well. We want to win."
The Tritons have nearly a month-long break before resuming action at the Western Invitational on Saturday, May 17 in Rancho Cordova. The invite will be the final race before the IRA National Championships take place at the end of May in New Jersey.