Jason Mraz
WHO: The swooning lyrics and soothing sounds of Jason Mraz give a great balance to the ever-changing, popular music scene. Armed with a guitar, piano, banjo or ukulele, Mraz's talent and passion for music should make anyone appreciate him as an artist.
WHAT he's doing now: Mraz is currently working on his fifth studio album "Yes," along with the rock-folk band Raining Jane.
WHEN he started: 1999
WHERE he's based: Although originally from Virginia, he gained popularity in the coffee shops of San Diego.
WHY you should listen: Mraz's music is upbeat; its mellow and his range of songs can fit any occasion.
HOW you've heard of him: Whether it's been the radio, popular television shows or your group of friends who break out into "I'm Yours" on occasion, Jason Mraz has been a prominent figure in the music scene since his commercial success in 2008. He was nominated for two Grammys in 2009 and eventually won two in 2010 for "Make it Mine" and "Lucky," featuring Colbie Caillat.
FUN FACT: Mraz embodies a health-conscious lifestyle and his love for this can be seen by the monounsaturated fat-rich avocado farm he owns in Bonsall, San Diego.
Augustana
WHO: Singer-songwriter Dan Layus formed Augustana at the young age of 19 and has continued his career with the band over several years, even as many members have come and gone. Layus's commitment to music has given Augustana depth and time to mature and to come into its own.
WHAT they're doing now: The band is in the works with an upcoming album "Life Imitating Life" set to be released April 22.
WHEN they started: 2003
WHERE they're based: San Diego
WHY you should listen: Layus sings with passion and writes lyrics with heart, and his music deserves a listen, whether or not you're interested in his genre.
HOW you've heard of them: Remember ERC's Rockin' Roosevelt in 2013? Augustana was the headliner. Even if you weren't able to attend, there's a high chance you've heard its singles like "Boston" and "Sweet and Low" on the radio or on TV shows such as "Scrubs," "One Tree Hill" and "The Big Bang Theory."
FUN FACT: As of 2011, Dan Layus's last job on a payroll was at McDonald's when he was about 17 years old.
Greg Laswell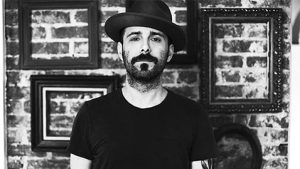 WHO: Beginning his music career after graduating from Point Loma Nazarene University, Laswell has become a staple in indie rock as a singer-songwriter and music producer.
WHAT he's doing now: On Feb. 11, he released his sixth album, "I Was Going To Be an Astronaut." More recently, he was featured on his wife Ingrid Michaelson's new album "Lights Out."
WHEN he started: 1998
WHERE he's based: New York City
WHY you should listen: With the heart-wrenching lyricism of Matt Nathanson and bass vocals just a touch lower than Mat Kearney's, Laswell will become a fast favorite among indie fans.
HOW you've heard of him: His acoustic cover of "Girls Just Wanna Have Fun" was on "Confessions of a Shopaholic" and was controversially used by "Glee."
FUN FACT: Laswell did his first gig at Lestat's. He often swings by San Diego during tours, "looking forward to eating Mexican food," as he told the UCSD Guardian.
Anya Marina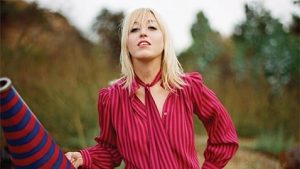 WHO: If you've been in San Diego since 2005, you might remember Anya Marina, FM 94/9's DJ. Her work at various San Diegan stations buoyed the success of her debut full-length "Miss Halfway."
WHAT she's doing now: Marina released her last record, "Felony Flats," in 2012 and premiered the video to her single "You Are Invisible" on HelloGiggles last year.
WHEN she started: 2004
WHERE she's based: Portland
WHY you should listen: Marina's soothing, yet slightly squeaky vocal delivery is hard to compare. Nevertheless, her obscure lyrics and eclectic melodic palette make her the Regina Spektor or Imogen Heap of San Diego.
HOW you've heard of her: Her music has been circulating on both small and large screens: "Vertigo" was featured in "How I Met Your Mother," and "Satellite Heart" was used in "The Twilight Saga: New Moon."
FUN FACT: Marina did an acoustic cover of T.I.'s "Whatever You Like."
Nickel Creek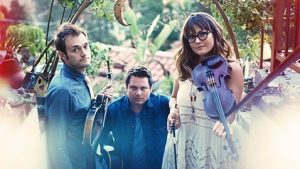 WHO: Since winning a Grammy for Best Contemporary Folk Album in 2003 with the help of Alison Krauss, Nickel Creek has been renowned for giving bluegrass a refined flair.
WHAT they're doing now: On April 1, they released the album "A Dotted Line" for their 25th anniversary, which they will support at a concert on May 20 at Balboa Theatre.
WHEN they started:1989, but took a hiatus starting 2007 until this year.
WHERE they're based: Vista.
WHY you should listen: Like The Civil Wars, Nickel Creek's Sara and Sean Watkins's gentle vocals adorn intricate instrumentals of fiddles, mandolins and guitars.
HOW you've heard of them: As a testament to the flexibility of their sound, they have been featured in albums of fellow San Diegan band Switchfoot, Dolly Parton and Bela Fleck.
FUN FACT: Their tune "In the House of Tom Bombadil" refers to an obscure but beloved character of "The Lord of the Rings" novels.