The Guardian samples the world's cuisine in San Diego. This week: Hawaii.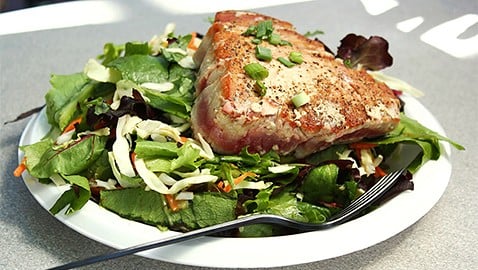 LOCATION:
5109 Cass St., Pacific Beach
San Diego, CA 92109
HOURS:
Tues. to Sun., 7 a.m. to 3 p.m.

Beaches, volcanoes and hula dancing are the typical things that come to mind when thinking of Hawaii. What many people may overlook is the cuisine, a unique blend of American, European and Asian food, which explains why it is unlikely to find Hawaiian food here on the mainland. However, at Leilani's Cafe, it is possible to experience the best Hawaiian food Pacific Beach has to offer.
Located in a residential neighborhood, Leilani's sits on the quiet Cass Street and looks as though it could be a residence itself. What separates the wooden cafe from the homes that surround it is a massive patio out front brimming with chairs, tables and people. The Hawaiian music playing softly in the background is just audible over the chatter of the customers and helps create the easygoing feel of the place.
Leilani's serves breakfast, brunch and lunch and lets you sample Hawaiian food in a variety of categories including "Da Breakfast," bagel sandwiches, lunch plates, "From Da Ocean" and noodles. The "Teriyaki Hawaiian Style" ($8.50) is a traditional Hawaiian lunch plate that features Leilani's famous teriyaki chicken, homemade mac salad and white rice. The teriyaki was sweet and kept the chicken from being dry but did not overwhelm the meal as a whole or mask the taste of the grilled chicken. Instead of cheesy like your typical Kraft mac 'n' cheese noodles, the mac salad was tangy from the vinegar and full of mayonnaise. Equally as good as the lunch plates is the breakfast. The "Jr. Boy Breakfast" ($9) includes sweet French toast made on King's Hawaiian bread that refuses to get soggy, fluffy eggs, Portuguese sausage and rice. The menu also features some classic Hawaiian dishes such as the "Loco Moco," a hamburger patty topped with two eggs and gravy; "Eki's Ahi Poke," pieces of Ahi served raw with sesame oil and soy sauce; and multiple dishes that include spam. Unifying the multiple categories on the menu is that each meal comes with a staple of Hawaiian cuisine: rice.
The white, sticky grain is ideal for soaking up the extra parts of your meal, whether it be teriyaki sauce or the extra maple syrup that comes with the French toast. (Who knew rice and syrup tasted so good together?) The food at Leilani's is straightforward, and its wonderful blended flavors highlight how American, Portuguese and Japanese cultures have influenced the makeup of Hawaiian food.
Overall, what was most charming about Leilani's is its simplicity. Nothing is over the top — not the food nor the decorations. The appeal comes with Leilani's modest approach, as it captures the laid-back Hawaiian vibe while acquainting the greater San Diego area with authentic Hawaiian food.
Price: $
Rating: 4.5/5 stars