The indie pop songstress is all grown up in her latest and most sophisticated studio offering.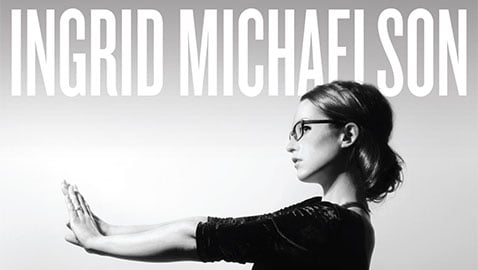 Straddling the border between the dichotomies of mainstream and hipster music is no easy feat. But for long-time indie darling Ingrid Michaelson, clever and catchy tunes have won her both critical acclaim and mass recognition. With her sixth album "Lights Out," however, Michaelson distances herself from the quaint ukulele riffs that escalated her to fame. Instead, the LP — her maturest yet — features resounding beats, refined pop melodies and Michaelson's own stunning, vocal range.
It's not often that an album is able to cover such a range of sounds and yet achieve coherence throughout, yet every track on "Lights Out" accomplishes this with flying colors. Whether she's exploring loss in the electronica-flavored "Stick" or celebrating strength in the uplifting "Afterlife," Michaelson proves that she's a musically and lyrically diverse powerhouse. Although the happy-go-lucky ditties and schmaltzy ballads permeating her past albums are no longer present here, cheerful lead single "Girls Chase Boys" and the hard-hitting track "Warpath" will have addicted listeners, new and old, playing them on repeat, just as her past hits "Be OK" and "Everybody" had.
Though Michaelson can easily hold her own on every track, "Lights Out" showcases her most impressive duets. "Wonderful Unknown" features her husband and fellow singer-songwriter Greg Laswell, whose slow bass vocals complement Michaelson's introspective soprano. Sonically, the tune is similar to the melancholy often pervading Laswell's usual repertoire but still retains a certain poignant whimsy that is Michaelson's own flair. Livening up the record with Mat Kearney is "One Night Town," whose disco-esque, carefree beats offer a new, fun-loving perspective on the two artists. But the guaranteed hit among the album's many duets is "Over You," Michaelson's collaboration with A Great Big World. With its balladic tone and stripped-down piano melody, this is the tune that will break more hearts than "Say Something" ever did.
"Lights Out" is Michaelson's best album, no question. It's a deeply personal record that at times will make listeners question whether they are encroaching on her most intimate thoughts and feelings; yet it's never cloying or exasperating like a diary — instead, the private aspect only adds to the LP's already solid, technical accomplishments. More importantly, the songs are fluid and flexible enough for us to be whichever Ingrid we choose: confident and stable finding "home when there is nowhere else to go," as she does in the opening track "Home," or vulnerable and thoughtful, as she is by the album's conclusion in "Everyone Is Gonna Love Me Now." But no matter the listener's decision, that personal Ingrid will be full-fledged and may make us grow up in the process, too.