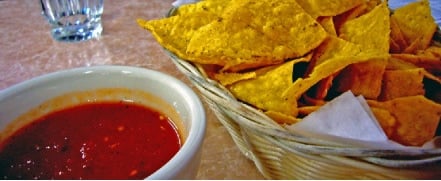 The Guardian samples the world's cuisine in San Diego. This week: Mexico.
HOURS: Sun. – Fri. 11 a.m. to 10 p.m. Sat. 10 a.m. to 10 p.m.  LOCATION: 947 E St.  San Diego, CA 92101
With the door closed, it looks like your typical restaurant, but with it opened — and all its local band stickers showing — Pokez shows its true, edgy colors.
Were the walls of Pokez naked, the restaurant would be a simple room covered in dark wood. Instead, Pokez has cool art, like the painting of a blue dragon and a half-naked mannequin in women's underwear atop a garbage can. The open door and big windows make the perfect breeze especially for a hot day. To be honest, it kind of looks like a dive on the outside, but inside, you can tell it's a Gen-Y, 20-something's restaurant — hipsters and cheap veg-friendly food.
Like in any good, Mexican restaurant, the waiter brings chips and salsa when he brings you the menu. As someone who's a little gun-shy when it comes to spice, the salsa has a bit of a punch to it. However, it's worth the burn because it's the perfect texture — not too watery — and right amount of kick in the tomato-y aftertaste.
Although the interior decor says alternative, Pokez bases its menu on traditional, Mexican cuisine — with perhaps more emphasis on tofu than carne asada. Almost all of the items on Pokez's menu can be prepared vegetarian and some can also be vegan. The dishes that come with meat can easily be substituted with tofu per request. In fact, many of Pokez's dishes come prepared vegetarian such as the Chile Relleno ($4.25) prepared with chile peppers stuffed with cheese and ranchero sauce. The spicy Enchiladas Suiza ($8.00) can be made with chicken or tofu, and with green sauce, red chiles, cheddar cheese, onions and sour cream. The sour cream helps to tone down the zing in the green sauce — or if you nix dairy, just push the beans and rice on top, and that will take the edge off.
There's also the opportunity to test out different flavorings with different fillings in many dishes. Try any one of their combos for a variety such as combo number six ($9.75), which is one cheese enchilada and any two tacos choosing from tofu, potato, chicken or beef. Take Pokez up on its "frenchie style," which is just a dollar more, where you put French fries under any item you order. It's an easy way to make two meals out of one.
Just like the outward typical restaurant look and edgy inside, the food at Pokez is a seamless pairing of traditional Mexican food and vegetarian options at a great price.