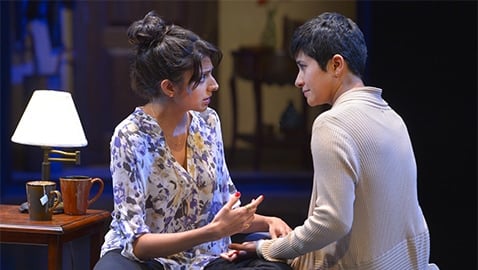 Rating 4.5/5
Directed by Kimberly Senior
Written by Ayad Akhtar
Cast Monika Jolly, Meera Kumbhani, Bernard White, Kai Lennox
Runs Feb. 11 to Mar. 9
Location Potiker Theatre, La Jolla Playhouse
Don't be deceived: "The Who and the What" is a comedy, but it also opens up discussion about Islamic culture by exploring a Muslim-American woman's struggle to navigate her traditional roots and the contemporary society she lives in. But just as Pulitzer Prize-winning writer Ayad Akhtar has done in past works, it leaves you in emotional shambles and does so with justice. "The Who and the What" teems with one liners (jokes range from quips about emoticons to sexual innuendos), cultural insight and TV-worthy staging.
At first, the play doesn't seem like a comedy, but the rising action generates witty sparks. The main character, Zarina (Monika Jolly), a writer in her 30s, is a snarky, headstrong, progressive feminist in a conservative, Muslim household — and this juxtaposition tills the field for both hilarious antics and serious underlying commentary. She constantly bickers with her younger sister Mahwish (Meera Kumbhani) and father Afzal (Bernard White), who pressure Zarina to get married, so Mahwish, too, can find a husband. To combat Zarina's indifference to marriage, Afzal poses as his daughter online to screen potential suitors. He stumbles across Muslim convert Eli (Kai Lennox), and when he arranges for the two to meet, Zarina takes to him immediately.
With Zarina happily dating Eli, her family thinks she's on the right track — or the one they want her to be on, at least. But what Mahwish and Afzal don't know is that Zarina is writing a book about the prophet Muhammad and his encounters with his wives — one that is sexually explicit and, more importantly, portrays Muhammad in a blasphemous light. Inevitably, Zarina's family discovers her book, setting her ideology leagues apart from her family's.
As Zarina's literary creation exposes itself, the tension rises, and sassy, lighthearted quips about marriage are replaced with anger and betrayal. Each character reveals their true self, leaving the audience frozen in anticipation of what will happen next. It's dynamic, tear-jerking and heartbreaking to see the surface humor barrel toward inevitable detonation.
The synergy between the dialogue and staging is so immaculate that the transitions make the production feel like a live sitcom, allowing the audience to focus solely on the actors' spectacular performances. The set shifts between various sets in a matter of seconds with "How I Met Your Mother"-esque transition music that throws us into a new argument — one second, we're in a well-lit kitchen, and the scene dims into a romantic date in the next. The only troubling concern is the continuity of time — the play jumps years forward between scenes with little warning. Luckily, the cast optimizes the script in their delivery, so the rapid progression isn't too disruptive.
With strong anatomy in writing, directing and acting, "The Who and the What" offers a glimpse into the breach between conservative and progressive values. But at its roots, it's a comedy that is sure to leave both a memorable experience and even more to discuss.