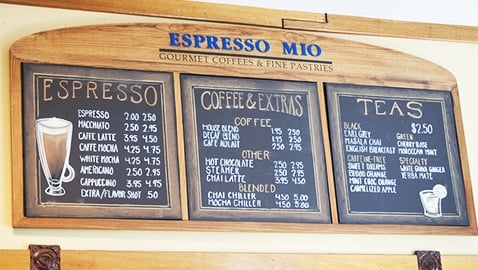 Location: 1920 Fort Stockton Dr. San Diego, CA 92103   Hours: Mon. – Sun. 6 a.m. to 5 p.m.   Price: $   Rating: 4.5/5
This week, the UCSD Guardian takes you out for what you need the most: a coffee break.
Coffee shops in San Diego are a dime a dozen, but every so often, you'll find a coffee shop whose charm leaves you coming back for more. Hidden amongst the giant, Spanish-style homes of Mission Hills, Espresso Mio is not in the most convenient location for the average UCSD student. It's the place you go to get away from it all.
Just a 15-minute drive away from campus in the historic neighborhood of Mission Hills, you'll find coffee, tea and serenity. Espresso Mio offers a peaceful environment that provides a blissful change of pace from the hustle and bustle of the average, over-caffeinated coffee shop.
Friendly, homey vibes, free Wi-Fi and rich coffee make Espresso Mio a gem among the generic coffee shops of San Diego. Inside, rustic, red walls and paintings of small, Italian cities lining the walls make the interior feel like a friend's living room. The front patio is lined with tables and umbrellas, which are perfect for chatting with friends. If you're looking for a tranquil environment to get some work done and enjoy your drink alone, the back patio that sits up high overlooking a eucalyptus-lined canyon is ideal.
The menu features a number of traditional espresso beverages, house-blend drip coffee ($1.95) and specialty tea drinks. For a mid-morning espresso drink, try the cappuccino ($3.95) or the macchiato ($2.50), which has less milk than a cappuccino but the same dollop of foam on top. For tea drinkers, there is a variety of traditional and specialty teas drinks like the white guava ginger tea ($2.50) and the cherry-rose green tea ($2.50). All drinks are served in ceramic mugs that look like they came straight out of your mom's pantry. The mugs are in no way uniform; some are short, some tall, and they come in all sorts of colors and designs adding to the quaint mom-and-pop-shop feel. There is also a vast array of vegan and gluten-free baked goods like the pumpkin bread ($2.50) and the coconut apricot walnut bar ($2.50). For the traditionalist, they have good, old-fashioned, chewy chocolate-chip cookies (2 for $2.50). The only catch is that you have to get there early for baked goods because they go fast.
Espresso Mio isn't just a local favorite for its quality coffee and vibe; it's a favorite because it's one of the few places that lets customers keep a tab because you'll be back for more sooner than you know it.