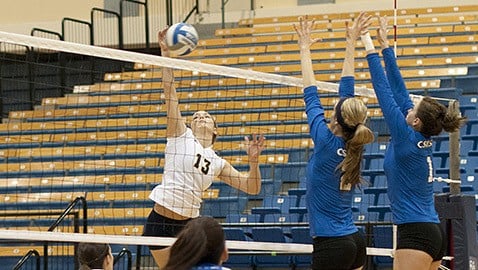 UCSD heads to the NCAA West Regionals starting this Thursday, Dec. 5
The No. 12 nationally ranked UCSD women's volleyball team will play its first NCAA West Regional game this Thursday, Dec. 5, against Dixie State on the campus of Cal State San Bernardino.
Going in as the No. 3 seed, if the Tritons beat Dixie State this Thursday, they will face the winner of Friday's match-up between No. 7 Alaska Anchorage (21–9) and No. 2 BYU-Hawaii (24–1).
The trip up to San Bernardino will mark UCSD's eighth consecutive postseason berth, while Dixie State will be making its first ever NCAA appearance.
UCSD has yet to face nationally unranked Dixie State (17–9 overall, 14–6 in the Pacific West Conference) this season. But UCSD head coach Ricci Luyties said that he's confident in his side — which includes four all-conference selections: junior middle blocker Sara McCutchan, sophomore setter Heidi Sierks, sophomore outside hitter Danielle Dahle and junior opposite Caitlin Brenton.
"From what I've seen of [Dixie State], they look like they're a good all-around team," Luyties said on Triton Talk, a weekly online talk show. "We're going to have to play well for sure. We're going to have to have a lot of people have good games, but I think across the board we stack up pretty well against them."
Though the Tritons have lost just five games this season, Luyties remains wary of Dixie State's outside hitters Shannon Young and Maddie Rex, whom he lauded as "athletic" and both "able to move the ball around well."
Young and Rex both have over 250 kills this season and seem to be Dixie State's main offensive threats.
But UCSD assistant coach Sean Cahill said the Tritons should be the winning side on Thursday if they can get good performances from their middle blockers, McCutchan and sophomore Kameron Cooper.
"If our middle blockers play like they were in the beginning of the season, then we should be in pretty good shape," Cahill said. "If we play together, and we play our style of volleyball, nobody should be able to touch us."
Assuming the Tritons beat Dixie State, UCSD will face BYU-Hawaii, the team that knocked the Tritons out of the NCAA Tournament last season. Cahill said that the coaching staff has already started scouting second-seeded BYU-Hawaii.
"We know that BYU-Hawaii has a good setter and a couple of middle blockers," Cahill said. "They've had a very good season, but, again, I think we're the more balanced team."
The West Region title match is set for Saturday, Dec. 7 at Cal State San Bernardino.