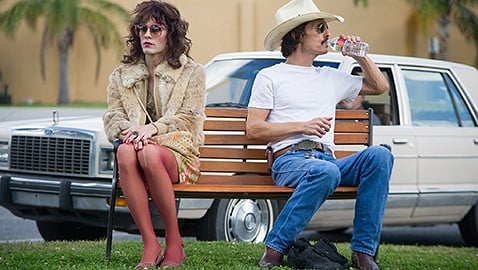 Directed by
Jean-Marc Vallee
Starring
Matthew McConaughey, Jared Leto, Jennifer Garner
Release
Date Nov. 1
Rating 
9/10
This powerful drama is saturated with visceral emotion and incredible narrative and characters and is the redefining role of McConaughey's career
If, two years ago, someone mentioned a drama starring Matthew McConaughey and Jared Leto in the same sentence as the word "Oscars," that person would be laughed out of the room. However, "Dallas Buyers Club," directed by the little-known Jean-Marc Vallee ("The Young Victoria"), is not only a contender but also a potential frontrunner for several Academy Awards. This film is not only prolific in the way it tells a story but also in the effect it will have on McConaughey's' career as an actor. "Dallas Buyers Club" tells the true story of Ron Woodroof (McConaughey), a homophobic Texan who contracts HIV, the so-called "gay disease," and his fight for his life and against the pharmaceutical establishment.[1]  "Dallas Buyers Club" is defined by the well-balanced blend of comedy and drama that supports an interesting and moving narrative, as well as superb writing and performances, making "Dallas Buyers Club" one of the best dramas of the year.
After Ron Woodroof, a homophobic, unsympathetic redneck, is told he has a month left to live, he begins an enterprise of selling non-FDA approved drugs to AIDS sufferers. "Dallas Buyers Club" is really about Woodroof's dynamic transformation from a surly businessman to a compassionate advocate for AIDS treatment as he grows closer to the sick people he is helping.  It is a rare and quite special occasion when a film can create a character that the audience is as emotionally invested in as Woodroof. The same can be said about the supporting characters, especially Rayon (Jared Leto), a transgender woman diagnosed with HIV who ends up being Woodroof's partner in providing medical treatment to AIDS victims. These characters and their actions create a truly visceral emotional drive that makes this film truly worth watching. "Dallas Buyers Club" is a film that understands how to build characters and tell a story. For a film that is so engaged in its narrative, it is nearly flawless.
McConaughey's acting performance is characterized by an incredible physical transformation (he lost 47 pounds for the role) as well a proliferation of incredible emotion, including hope, compassion and fearlessness. McConaughey's origins in rom-coms allow him to deliver a performance that functions as its own comic relief.[2]  But although it can be hilarious to see some of Woodroof's shenanigans — at one point, he even impersonates of a priest in order to smuggle drugs across the U.S.-Mexico border — the film never lets us forget the gravity of his life-threatening situation. As Rayon, Leto's facial transformation is as extraordinary as McConaughey's weight loss, as he, eliciting deep sympathy, portrays a cross-dressing woman who steals most of the scenes she (or, for Leto, he) is in. There is a very good chance that both Leto and McConaughey will be sitting at the Oscars with a Best Supporting Actor and Best Actor nominations.
The themes of homophobia and health care are dealt with cautiously in "Dallas Buyers Club," but the commentary on these issues culminates with great power. The film is not necessarily political, but it does feel very zeitgeist, developed from the view of the times. The audience gets a very clear sense of how these issues affect the narrative, as the hero Ron Woodroof has to battle the healthcare establishment in order to provide safe, yet untested drugs to AIDS victims, and he must overcome his own homophobia while he teams up with Rayon to provide this medical treatment to mainly homosexual men.
"Dallas Buyers Club" emerges a phenomenal film that portrays the themes of survival and acceptance of others. Viewers, who go from laughing one moment to holding back their tears the next, would be hard-pressed to find anything wrong with this film. "Dallas Buyers Club" is an inspiring portrait of a man who clung to life because he learned the values of hope and compassion.