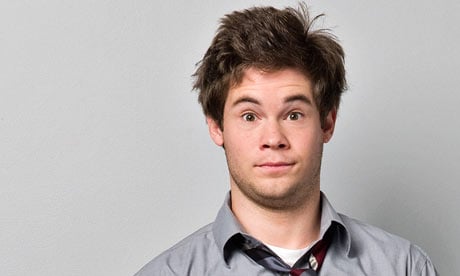 Imagine being paid to live in a mansion and throw the most insane house parties imaginable. That's how "Workaholics" star Adam Devine felt when Comedy Central gave him the opportunity to launch his new show, "Adam Devine's House Party." The show takes place inside the house, and each episode features a house party with an outdoor standup comedy act. The series shows college students that they haven't truly partied until they've been to parties like these.
Guardian: How do you feel to have your own show for the first time?
Adam Devine: You know it's a surreal experience, a show with my name on it!
G: Congratulations! Do you miss having ["Workaholics" co-stars] Blake Anderson and Anders Holm on the set with you, and should we expect to see them make appearances throughout the show?
AD: A little bit. They make cameos in the show, but it's really a separate project. I didn't want it to be behind-the-scenes "Workaholics," but rather highlight up-and-coming standup comedians.
G: So do you have any real house party stories of your own that perhaps inspired the plot?
AD: Oh, yes. For the filming of "Workaholics," Blake and I actually lived in the house that the show was filmed, which was a blast. One time, Blake jumped off the roof during a party and broke his back. That was pretty hilarious.
G: Tell us a little more about the format of your show, as it has a mix of party scenes and on- stage stand up performances.
AD: I thought that it would be a really cool idea for the audience to get to know and see a lot of these comedians on and off the stage. They get to know the comedians just outside of their performance at a giant house party. It provides a story for the standup within the context of giant house parties and shows they are more than just people who can stand in front of a microphone and tell jokes.
G: Do you have any last words you want to leave us with?
AD: I love to party — spread the gospel!
Be sure to check out "Adam Devine's House Party," airing Thursdays at 12:30 a.m. on Comedy Central.