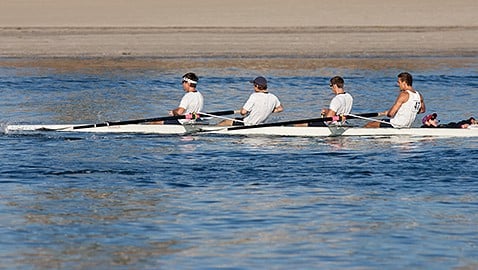 The men's and women's teams ended their preseason at the San Diego Fall Classic
The UCSD men's and women's crew teams continued into their second and final event of preseason competition at the San Diego Fall Classic, held this past Sunday at Mission Bay.
The Tritons competed against rowing squads from Arizona State University, San Diego State University, the University of San Diego, UC Davis and UC Santa Barbara.
The Triton men dominated throughout the day, taking first place in both events they rowed in, while the UCSD women had a more difficult time in its home port.
In the Men's Open 8+ race, the Varsity 8 squad claimed victory with a time of 14:58. The Triton Junior Varsity 8 team placed a respectable fourth, clocking in at 15:57 and ahead of UC Davis's Varsity group (16:16). In the Men's Open Novice 8+ race, the Triton men won handily with a time of 15:44, well ahead of fellow competing squads.
"The idea for us is to win every time we go out, and we did that," UCSD men's head coach Zach Johnson said. "Especially considering we started a month later than the teams that we were competing against, it's a good sign."
While the Triton men felt satisfied with their performances this Sunday, they know much work has to be done beyond these victories.
"Results really weren't that paramount," senior Zack Attaran said. "Obviously we wanted to win and we did that. It was more like a good finish to the fall season, and we have things to look forward to and work on."
While UCSD's men's crew teams found success at Sunday's Fall Classic, the Triton women struggled more throughout the day.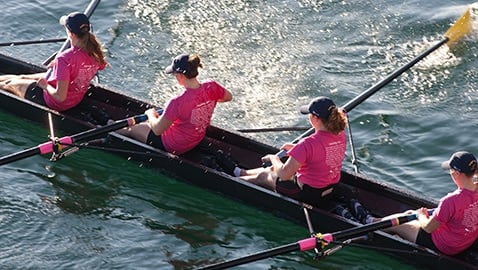 In the Women's Open 8+ event, the Triton A team finished ninth with a time of 18:31. Behind them, the Triton B team placed 11th (18:55), while the Triton C team placed 14th (20:19). The Women's Open 4+ race provided little consolation, as UCSD's A team, led by senior captain Olivia Knizek, placed 10th (21:27), and the C team followed soon after in 13th.
However, in the Women's Open Novice 8+, the Tritons rowed well, finishing in third with a time of 19:20, behind USD (18:01) and SDSU (18:30).
The Fall Classic marks the end of the fall preseason schedule. Neither team will return to the water until March. "The positives are that we have a little bit of succe ss to build off of in this long winter we have coming up," Attaran said. "We can build on our fitness and get some of the new guys on board to carry through to the race season in March."
While the Tritons will not row again until March 1, at their next event in Long Beach, they have little plans on slowing their roll.
"Our team goal this year is to make the national championships and to do better than we have done," Johnson said. "We really need to focus on not just winning but making sure we're fast enough to compete at the highest level."