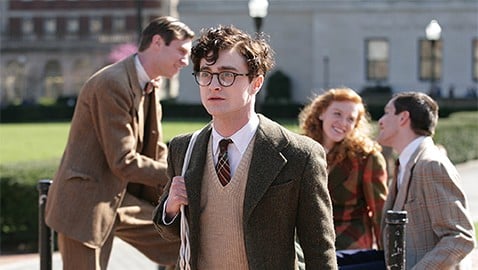 Directed by
John Krokidas
Starring
Daniel Radcliffe, Dane Deehan, Michael C. Hall
Release Date
Oct. 17
Film reignites the life force of the Beat Revolution
There are few films out there that feature a drunken Jack Kerouac rolling down the hillside in a wooden barrel. But up-and-coming director John Krokidas takes his chances and does the job in his character-driven film, "Kill Your Darlings." This film pulls the curtain back on the personal lives of the original founders of the Beat movement, a writing revolution born in the 1940s and continued to the '60s. Krokidas shows us early interactions between these "beatniks" — Allen Ginsberg, Lucien Carr, Jack Kerouac and William Burroughs — as they come together to counteract censorship and embrace taboo. It's any avid reader's dream come true. However, for those who are not mystified by Kerouac's "On the Road" and Burroughs's "Naked Lunch," this film may not be such a crowd pleaser.
Either way, most viewers will appreciate a pale and serious as ever Daniel Radcliffe (who by the way, hits the nail on the head with the American accent) playing the rather shy Allen Ginsberg. We meet Ginsberg just as he enters Columbia University, long before he writes his widely acclaimed poem "Howl." Radcliffe does a thorough job of portraying the naive soon-to-be poet, as he gallops through the social expectations of 1940s New York, exploring drugs, alcohol and homosexuality.
But it is somewhere in the fiery core of Lucien Carr (played by the statuesque Dane DeHaan) where the film finds pulse. Immediately drawn to this mysterious, blue-eyed daredevil, Ginsberg follows Carr up the rusty fire escapes of Greenwich Village and orbits in his drug-spun universe. The hypnotic quality of this chase can be attributed to the cinematography of Reed Morano. In some scenes, he employs a shaky camera angle. In others, he moves to the next scene with no transition, save a blinding white flash. The film becomes a series of clips strung together in the best possible way. This choppy imperfection compels us to feel Ginsberg's obsession with Carr, as we spiral deeper into self-destructive love. And suddenly, it is clear how Carr lit matches inside these writers and sparked the Beat movement.
However, Krokidas could have really thrown us into the film (or Carr's bed) if he hung on to those shaky scenes when it came time to explore the murder of Carr's creepy stalker David Kammerer (played by the devilish Michael C. Hall from "Dexter"). Instead, he hands us a stale breadbasket of summarization and flashback. And while the murder scene is not intended as the focal point of the film, it sticks out like a sore thumb. The knife is drawn; Kammerer steps towards Carr; Carr steps towards Kammerer. This feels scripted — too perfect for a film that thrives on imperfection.
On top of the unsatisfactory subplot, Krokidas leaves us with a few black holes in the main plot. Of course, we all adore watching "Ginsy" (Yes, Carr goes there) write poetry on Benzedrine, but at times, there is a desperate need for a little more meat when we hit World War II, which had a pivotal influence on the Beat Movement. Krokidas hurries through it quickly, as though he's afraid to keep it out past curfew. One minute, Carr is eager to grab a front row seat to the liberation of France, and the next minute, Kerouac is listening to a farewell recording sent by his dying army buddy. This will leave those who are not as familiar with the Beat movement wondering why on earth Krokidas brought the war into the mix.
The music score is something akin to a car ride through the tunnel of time. Beginning with the Jazz Age and ending with rock and roll, we are chucked out the back window, nauseous. And while this is a sin worth repenting for, screenwriter Austin Bunn's incorporation of Ginsberg's poetry saves the day. Each line is woven artfully throughout the film. It's a wonder how Bunn didn't succumb to the master himself, the way Rob Epstein and Jeffrey Friedman did in their 2010 film "Howl," where they incorporated the entire poem into the script. Of course, the duo proved successful (perhaps even more so than Krokidas) when they paired it with an animated tale of Ginsberg's writing process and the censorship trial that followed.
Overall, "Kill Your Darlings" is a breeding ground for creative outbursts, which arrive without introduction or conclusion, and in no particular order — much like the writings of the Beat Generation. For the most part, Krokidas remains true to the intentions of the movement by making an experimental film, which will be appreciated by those who enjoy cracking boundaries with ballpoint pens.