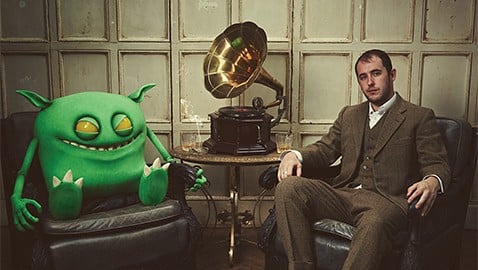 Contagious enthusiasm and excellent production offset mild consistency issues in electronic musician's first full-length offering
Through some de facto law of electronic music and the Internet-fed demand for instant gratification, it seems that many DJs and producers rarely amass enough new material all at once for an LP. Case in point: Although he's been releasing electro house music as Feed Me since mid-2008, "Calamari Tuesday" is actually producer Jonathan Gooch's first studio album. While this might seem somewhat underwhelming, Feed Me's work is all about substance over size. If everything before were mere appetizers, then "Calamari Tuesday" is the all-you-can-eat meal, and Gooch keeps the fare deliciously vivid.
A cornerstone of Feed Me's sound is his zeal for warping various styles to suit a house music template. "Calamari Tuesday" embodies this to the teeth, tearing into cuts of everything from laid-back trap to bubbling funk. These flavorings are subtle, awash with infectious synth lines, stomping bass and fleeting rhythmic shifts. Despite already having been released on SoundCloud, "Lonely Mountain" in the new album still shines brightly; it builds slowly from mournful piano and racing synths into contagious house, only to drop abruptly into bombastic half-time and a ride of dubstep ripples down and out. This kind of tasteful variation is met with a similar diversity in vocal content, though of a more unreliable quality. "Ophelia" establishes a soft reggae sway, only to mar it with histrionic crooning and listless lyrics.
This diversity of styles (whether they nail it or not) might appear to be a little cluttered, but what rests at the heart of Feed Me is an unabashed appetite for catchy composition. Specifically, "Calamari Tuesday" is dance music, and each track bursts with enthusiasm and a genuine love of the craft. More often than not, cuts like "No Grip" will get your hands up even when you're alone at a desk — every song owes this personality to Gooch's unrestrained gusto.
No, it doesn't break down the barriers of electronic music as we know it. Yes, it has small inconsistencies and slight missteps that one might expect from a fledgling full-length. But what really sticks about "Calamari Tuesday" are moments in a track like "Fiasco." The strut and stamp of the beat slows into a classical piano crawl, and an ethereal sampling of Beethoven's "Moonlight Sonata" swells to the fore. It's sublime, stirring and so utterly Feed Me.