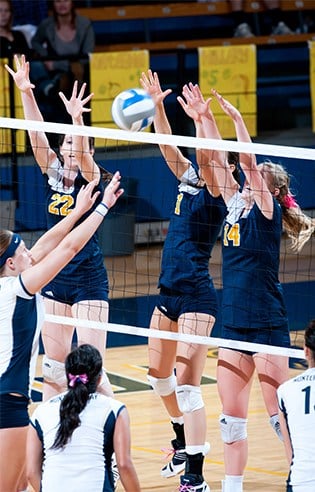 In 2013, the UCSD Women's Volleyball team has come into its own. The eighth-ranked Tritons (9-1) did not graduate any players from their 2012 squad, and have risen 14 spots in the national rankings since the beginning of the month.
"I think everybody has come back a little better than last year," UCSD Head Coach Ricci Luyties said. "Everyone has come back a little bit better, and they've all been working a little bit better together.
Even though the Tritons have brought the bulk of their 2012 roster into this season, Luyties elected to bring new blood onto the court — namely sophomore Kameron Cooper and junior transfer Caitlin Brenton. Cooper, a middleback who flew under the radar last season after injuring her ankle, has been playing big minutes for UCSD and leads the squad in blocks (37). And Brenton — a junior transfer from Columbia — already has 49 kills and 16 blocks in just six games.
The two join stalwarts Danielle Dahle, Sara McCutchan and Sophie Rowe on the court. Dahle — the AVCA West Region Freshman of the Year — follows up on a phenomenal freshman season, leading the team in kills (114) and ranking second in digs (111). McCutchan and Rowe have 95 and 96 cumultative kills respectively.
And as of last weekend, setter Heidi Sierks has stepped into the starting six for veteran Amber Hawthorne, who resigned from the team.
Luyties  who has steered all of his teams to postseason play — doesn't expect this year to be any different.
"We have high expectations for ourselves this year," Luyties said. "I can't predict anything really, but we really want to come out strong and move on after conference play."
This Wednesday, UCSD plays Cal State San Bernardino on the road, kicking off five straight away games.