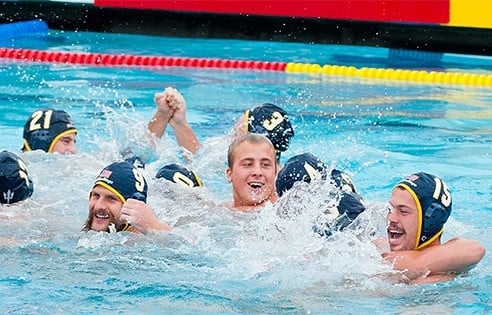 With its top goalscorers — seniors Josh Stiling and Lukas Syka — beached, the No. 11-ranked UCSD Men's Water Polo team has struggled early in the season. But the absence of UCSD's marquee attackers has made room for sophomores Jeffrey Jarvis and Tician Toplak as well as junior Tommy Friedrich, who have all scored 12 goals or more so far.
Harper's newcomers have not yet produced much in the way of offense, with the exception of Luca De Vivo, who has picked up six goals and eight assists. Fortunately, junior WWPA First Team Selection Cameron Ravanbach remains in the goal for the Tritons. The La Jolla native has 65 saves this season.
The Tritons have already sped through two tournaments, finishing 2–2 at the Triton Invitational at the beginning of the month and going 1–3 at the NorCal Tournament last weekend.
UCSD begins conference play this Wednesday, Sept. 25 against Western Water Polo Association rivals Loyola Marymount. Over the past decade, UCSD has won the conference twice — Loyola Marymount has won seven times.