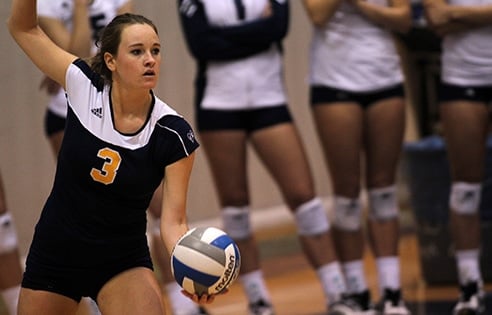 After losing its starting setter and its subsequent two matches, the UCSD women's volleyball team is back on track, winning last weekend's games against conference opponents Cal State Stanislaus and Chico State.
"We're really happy, because it's always tough playing on the road," UCSD head coach Ricci Luyties said. "Winning on the road against Chico was a good result and a big kind of confidence boost after we've had a coupe losses. Now I think we're back on the right track and had a lot of people play really well over the weekend."
At the tail end of a seven-game road trip, UCSD traveled to Stanislaus last Friday and continued into the Central Valley the following day to face Chico State.
The Tritons took the sweep against Cal State Stanislaus to earn a comfortable 10th victory, with set scores of 25–19, 25–16 and 25–21.
Usual suspects sophomore Danielle Dahle and junior Sara McCutchan provided the offense. Outside hitters Dahle and McCutchan earned nine and seven kills respectively. But senior Lizzy Andrews, who has played limited minutes early in the season, stood out for the Tritons on the night, recording 10 kills on just two errors along with 10 blocks.
The following day, the Tritons squared off with Chico State — the third school fighting for second place in the conference against UCSD and Sonoma State — and took down the Wildcats to jump up in the CCAA standings.
Chico took the first set handily, taking seven unanswered points to go up early 25–20. The Wildcats' Lindsey Quigley — the top scorer on the night with 17 overall kills — picked up six kills in the opening set.
In the second set, UCSD notched 14 kills to Chico State's 10 to grab the 25–18 win. In similar fashion, the Tritons outperformed the Wildcats in the subsequent sets to finish the match strong.
Against Chico, the Tritons generated offense from around the court. Newcomer junior transfer Caitlin Brenton and sophomore Kameron Cooper picked up nine kills each, while McCutchan and Dahle recorded 13 and 14 kills, respectively.
When asked, Luyties said he was impressed with the performance, noting that sophomore setter Heidi Sierks did well to move the ball around the court.
"Heidi did a good job distributing the ball to everybody," Luyties said. "We got pretty good performances out of everybody, keeping Chico guessing on where we were coming from at the net."
The Tritons head back on the road to face Cal State Stanislaus next Thursday, Oct. 3 and Humboldt State on Saturday, Oct. 5.