As beautiful as it is to lounge around watching endless reruns of "Parks and Rec," sipping on a glass of Two-Buck Chuck — or Martinelli's sparkling cider for all the minors out here — there is something so rewarding in knowing that you have finally gotten off the couch to partake in, wait for it … exercise. And if this generally undesirable occurrence happens to be just a once-a-year anomaly, the annual Triton 5K is your time to shine. For athletes of any and all stages, this 3.1-mile "race" through UCSD's campus is the perfect opportunity to run, walk, sprint, dance or hop your way through all of UCSD's iconic landmarks and across all ranges of terrain.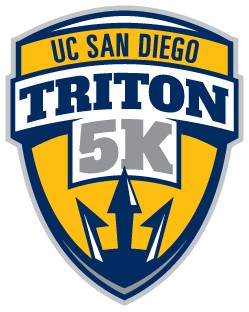 Established 20 years ago by former Chancellor and UC President Bob Dynes, this fun course was designed to help fund student scholarships while providing a means for students, staff, faculty and families to engage in healthy lifestyles. Not to mention, the entire course is pet-friendly. Either individually, or in teams, the 5K is a chance to not only show off athletic ability, but fashion sense through creative costumes or decorative running shoes. Still not convinced? The Triton 5K also provides plenty of opportunities to be a volunteer to encourage those sprinting the 3.1 miles, hand water to joggers or simply provide entertainment for those passing by.
What's more, is that complimentary admission will be given to incoming students who SIR on Triton Day so they can experience the UCSD community and geography firsthand. For everyone else, while this Sunday, April 4 at 11:59 p.m. is the last opportunity to register online, registration will still take place the morning of the race itself on Sunday, April 10 at 9 a.m. near North Point Lane in front of Spanos Athletic Training Facility, so there is really no excuse to opt out. For entry, there is a $10 fee for students, $35 fee for staff and faculty and $40 fee for the general San Diego community, which not only helps fund student scholarships but covers the cost for a Triton 5K shirt, gear bag and finish-line festival. So as appealing as spending the next few weekends in front of Netflix may seem, the Triton 5K is the perfect opportunity to explore more of campus during the peak of spring.