Old Problem, New Solutions: Sexual Assault at UCSD
The Guardian spoke with two UC San Diego sexual assault awareness organizations — one that's been around for 30 years, and another that was founded this past summer — about their missions and perspectives on campus sexual assault.
On Monday, Oct. 1, two women reported that they were sexually battered by a man at the Price Center Starbucks. When the UC San Diego Police Department reviewed surveillance footage, they found that several other similar cases had also taken place but were not reported.
Sexual assault cases like these abound among the police department's timely warning emails from past years — campus sexual assault is pervasive, and UC San Diego is no exception.
Victims of sexual assault at UCSD are not alone, however. UCSD's Campus Advocacy, Resources, and Education program at the Sexual Assault Resource Center offers a wide variety of services to victims of sexual assault, relationship violence, and stalking, from crisis intervention to assistance by police. Students can access these services both in person and through the center's 24/7 phone line.
Founder and Director of CARE at SARC Nancy Wahlig explained how the resource center's location on campus upholds a safe, confidential environment for visitors.
"Our location is central yet secluded. How many people come up to the fifth floor of the Student Services Center? Yet we're right in the heart of campus, so it's not like we're right off of Library Walk where people could say, 'Oh look, they're going into CARE at SARC.' The physical location of the center is really important."
In addition to CARE at SARC, another campus resource that will soon be available to survivors of sexual assault is the organization It's On Us. While it was only founded this past summer, the student-led chapter of the It's On Us movement has ambitious plans for programs and events later this year.
"We plan to do sexual assault education on consent, prevention, bystander intervention, and resources for sexual assault survivors and victims. We also want to start a survivor support group. They need help academically, psychologically, and socially," said Earl Warren College sophomore and campus organizer for It's On Us Gia Pedro.
As a sexual assault survivor, Pedro is well aware of what resources are important for other victims. Her experiences are what inspired her to open a chapter of It's On Us here at UCSD.
"In my freshman year, I was sexually assaulted three times. It really took a toll on me, and I just thought to myself, 'Why did this happen? There had to be a reason for this.' I wanted to help people who were going through the same thing."
Pedro's mission for It's On Us is to unify the student community in sexual assault awareness and prevention.
"We're trying to change campus culture and let more people be aware of the issues, getting as many people involved in it as possible — not just women, but men, members of the LGBTQ+ community, athletes, Greek life — because anyone can be a victim," she explained.
And Pedro is certainly correct: 11.2 percent of all college students in the U.S. experience some form of sexual violence. Across the nation, sexual violence is more prevalent than other crimes.
Read More:
Coming Up Roses: All About UCSD's Community Gardens
Cognitive Science at UCSD: An enviable choice or just a backup?
A Guide to Voting in the 2018 General Election
In her over thirty years of experience in violence prevention and survivor services, Wahlig has observed various trends in sexual assault incidents on campus.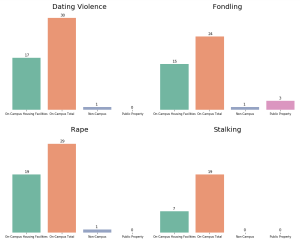 "What has changed is the awareness that [the assailant] usually isn't a stranger. The majority are known assailants. Oftentimes, it's someone the victim felt totally comfortable engaging in sexual activity with, and then had that moved to a place where one person was not consenting to that behavior at all," she said.
Wahlig further noted that, in recent years, she's seen more instances of relationship violence.
"I am glad that people are reaching out about unhealthy relationships that they're in and wanting to talk about it. People expect relationship violence to be of some physical nature. It's not the fist all the time; it might be emotional, it might be verbal, or a turning away."
Pedro also observed that sexual assaults among college students often take place at parties, and said, "It happens a lot, especially when people are under the influence. It happens more often than you'd think and not a lot of people talk about it."
At UCSD, one challenge to addressing and combating sexual assault is the slowness of the process for victims who choose to report incidents. Victims have the options of non-investigative reporting, reporting to the police department, and reporting to campus administration. If the incident is reported to campus administration, the Office for the Prevention of Harassment and Discrimination conducts the investigation.
"I reported my second sexual assault to OPHD. It happened last December and I'm still working on it. I was told the whole process would take 60 days, but it's been eight months," Pedro said.
"One reason my investigation is taking so long is that I had to change investigators, so staffing could be an issue. Sometimes [OPHD] reaches out to me at inconvenient times. They wanted me to meet with them over the summer when I was back home, even though I was here for the entire school year."
The slow pace of the judicial and administrative processes in sexual assault investigations can take a toll on victims emotionally. They are left with the aftermath of the assaults in the back of their minds as they try to move on from the trauma.
Wahlig said, "Imagine having to go through that process and still be the successful student that you want to be and do internsh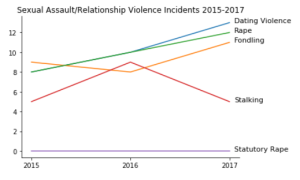 ips or work in a lab — to try to stay focused on that while thinking of this process that you don't control. It's really tough, sometimes exhausting."
Wahlig's protocol when assisting victims, therefore, is to assure them that they can drop their investigation at any point of the process, should they choose to report.
"When I'm working with somebody, I say, 'You know what — if you choose to do this process, it's going to take a while. Everywhere you see processes. If you take classes or watch movies, everything just seems a lot faster.' So I kind of prepare people for the fact that it might take longer than they ever imagined, but at any point of the way they can stop."
Despite these issues with the handling of sexual assault instances, the UCSD community has,  over the past several years, seen improvements in its efforts toward prevention and recognition of sexual violence. Wahlig noted that these strides are due in part to university-mandated programs on sexual assault awareness, such as presentations at new-student orientations.
She said, "We're doing so much more prevention than we did even 10 years ago. When the university says, 'You need to do prevention. All of our students, faculty, and staff need this. This is part of our policies and procedures. People need factual information,' that's a huge plus. We know that more information is getting out."
Beyond the scope of the university, there has also been a nationwide shift in the culture surrounding sexual assault. Nowadays, there is more of an emphasis on awareness and education than there is on victim-blaming. The #MeToo movement, for example, puts the perspectives of victims and survivors at the forefront, fostering solidarity and recognition of their experiences.
"Back then, there were all these [sayings] — 'Don't do this! Don't go there! Don't take candy from strangers!' — just ridiculous sayings. Of course, they are good safety strategies, but they certainly aren't addressing the problem," Wahlig said. "We actually just need to get rid of the crime as a whole. We need to stop people from harming others. But until that happens we need to make sure we give a loving, consistent, serious approach to addressing the crime. I think, in that way, there have been improvements."
(Footnote:) Keep up with It's On Us at UCSD on Facebook, Instagram, and Twitter.
Art by Leanne Chen. Data Visualization charts by Amanda Shu.