The Point Loma Fish Shop is one of the four locations of its kind in San Diego. Just as the name implies, this restaurant prides itself on its assortment of seafood, and — speaking from personal experience — it does not disappoint.
This Point Loma location sits on the corner of Rosecrans and Cañon with tables and chairs bordering the sidewalk. Ideally, on a nice day, the front wall slides up like a garage door, connecting the inside seating to the outdoor patio. At night, as temperatures drop, sitting inside feels like the only option. However, the restaurant will soon have awnings and heaters to accommodate various types of weather.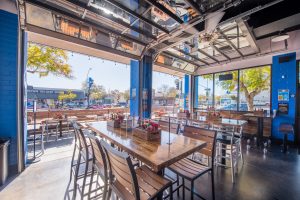 These outdoor patios are a popular spot for a pitcher of beer and the $1 oyster special on warm, summer evenings. Upon entry, customers are greeted by a host and can feel the relaxed atmosphere of the place with its calming sea-blue walls and classic rock playlist playing faintly in the background. The nautical theme is kept up with large paintings of a swordfish and an anchor on the walls. Aside from the all-wooden tables and chairs, there's also a sports bar with the bar, stools, and mounted televisions projecting whatever game or championship is happening. Customers range from older couples, groups of young adults, families, and even dogs, which is a tribute to this restaurant becoming a hit within the community. The staff will attest to the popularity of the place and demographics will certainly back them up.
As for the menu, there are several crowd-pleasers. As someone who isn't always a big fan of seafood, I was impressed. The mahi mahi ceviche was an instant favorite of mine; served with warmed tortilla chips, the lemon juice in the ceviche perfectly blends with the taste of the fish without overpowering anything. Another must is the Fish Shop shrimp: sauteed shrimp in a special Fish Shop seasoning, served with a chipotle aioli sauce. Given that they're slightly tangy with a bit of a kick, these shrimp were gone quick. Honorable mention goes to the coconut shrimp, with its crispy, sweet coating of batter and fresh shrimp. The onion rings were softer than expected, but it seems hard to judge a seafood restaurant by their onion ring quality, especially since the plate was clean by the end of the meal, anyhow.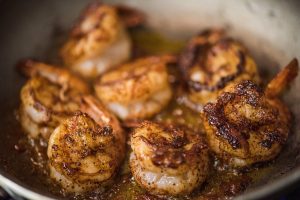 Overall, with the affable staff and open, friendly atmosphere, the Point Loma Fish Shop is a perfect place to take visiting family or for a casual get-together with friends. The menu prices are not the cheapest, with fish tacos going for around $6 and sandwiches for around $15, but it seems fair to say the portions match the price well enough. Next time you're looking to sit down for some fish tacos or just share some appetizers, be sure to swing by for some seafood with good company.
What to order: Mahi Mahi Ceviche ($8.50/$12.50), Fish Shop Shrimp ($11.00)
Location: 1110 Rosecrans St #100 San Diego, California 92106 · (619)756-777 1110
Hours: Every day (11am – 10pm)