[Read my previous column here.]
We bid Puerto Princesa a goodbye on the morning of our third day and headed north, toward the top of the island. After an eventful six hour car ride, in which the air conditioner completely stopped working and our van almost broke down, we arrived—mostly whole—at our second Palawan destination, El Nido.
When I travel with my mom, the first thing she always does to situate herself is to walk around the area. As a kid, this was met with reluctant faces and dragging feet — my brother and I were forced away from our video game worlds into real life — but as I grew older, I began to treasure the act of being outside, and the conversations my mom and I would have along the way. It became our little tradition and our way of introducing ourselves to a new place.
Our hotel was situated right in the heart of bustling El Nido. We first ventured further into the town, sniffing the sweet scents that floated into the air from bakeries, mouths agape at the towering limestone that enveloped the village.
We then turned around and walked toward the ocean. I didn't bring my camera to the Philippines since I knew we would be close to the water and I didn't want it to get wet, but this was the moment that made me wish I had brought it.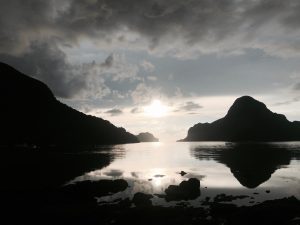 The sun was just beginning to set as we approached the beach, peppered with rocks and corals. The water mirrored the sky and mountains on its still surface. Local children played in the sea, jumping off bancas, and fishermen trekked back from a long day's hard work. It was a sight to behold, so pure and untouched by the rest of the world. Describing it in words doesn't do the scene justice — all my mom and I could do was soak it in and attempt to implant the image in our brains.
The next day, we set off in a motorboat on an island hopping tour. At our first stop, we climbed into kayaks and rowed through a small opening into a little pool surrounded by stone walls — the appropriately named "Small Lagoon." Clear jellyfish camouflaged themselves near the ocean surface and little fish and crabs stuck close to the sides. We then sailed off to a stretch of coral reef to snorkel — from above the water, you'd never expect the colorful ecosystem that thrives down below. Schools of fish rushed by and silver fish, as long as my arm, stayed a distance away, eyeing me as I paddled past, doing my best to not kick the corals. Our last stop was Seven Commandos beach, where we slurped up halo-halos and I jumped off a tree in a rope-net mechanism that swung me over the beach and the ocean.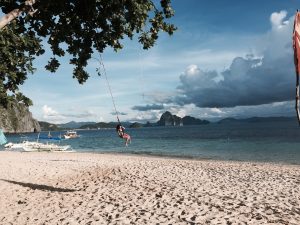 El Nido attracts a lot of tourism, especially from Europe. Perhaps my most interesting dining experience was Trattoria Altrove, an Italian restaurant near our hotel. Before entering the restaurant, the workers asked us to take off our shoes, and we were led to table close to the floor with pillows to sit on. Since we were relatively far from Europe, I didn't expect the food to be very good, but I savored my fire oven pizza and carbonara. Afterwards, we bought gelato and sorbet from a vendor on the way back to our hotel. Seeing this multicultural mix and the diversity that existed in the town made El Nido a reallyspecial place to be.
We spent our last day lounging on the beach. My little cousin is a natural storyteller, and as we walked along the shoreline, she made up stories for the hermit crabs that we saw scuttling among the rocks. I drew a square in the sand and she dubbed it the "Hermit Crab Town Square," and we placed rocks and corals to create a little town. She got over her initial fear of touching the crabs, and by the end of the day, she was handling the "mayor," a huge hermit crab with a white shell almost as big as her hand, telling him to stop escaping. It's rare nowadays for people my age to stretch imagination like that, so it was incredibly fun to suspend reality and live among the hermit crabs for a little while.
In our last few hours, my mom and I wandered the streets, looking for Midtown Bakery, the most famous in the town. Just as we were about to give up, we chanced upon it on a side road and excitedly grabbed pastries for only two pesos each, less than five American cents. We chomped on pan de coco and spanish bread and egg pies as our airplane began to take off, ending our Palawan adventure.
Traveling within your own country gives you a feeling different from traveling anywhere else. It's almost like I had a strange sense of belonging, though I'd never been to Palawan before. I couldn't help thinking that some part of me came from this island life that I'm so removed from — a girl on those islands and I could not lead more different lives, but, at the end of the day, we're from the same language, the same culture, the same land that we both call home.
Inspired by my recent trip to the Philippines, Tales of a Philippine Life is a weekly column exploring culture, family, mindsets, home, and more. If you'd like to read the other pieces in this column, please visit https://ucsdguardian.org/category/lifestyle-2/. If you'd like to see more pictures of my trip, check out @storiesnstills on Instagram.
[Read my next column here.]