compiled by: Annika Olives, Lifestyle Co-Editor
When we were younger, we were taught that "home" is somewhere you live.
"Home" was a house, an address you could write down and give someone directions to. But it seems as if once you pass a certain age threshold, "home" begins to take on more of an abstract meaning rather than a physical one, and "home" and "house" are no longer synonymous. Many refer to it as a feeling, a sense of belonging. After all, "home is where the heart is."
My definition of "home," probably like most other people, depends on context. At school, I say I'm going "home," but I'd consider my dorm room more of a "base" or a place that I currently live. If you'd ask me where "home" is, I'd say the San Francisco Bay Area where I lived before college. But you'll also catch me saying, "I'm going home for the summer" — in this case, I'm referring to the Philippines where I was born and where I spent the first six years of my life, a country I still hold very close to my heart and to my identity.
These definitions prompted me to open a survey and see what my fellow UC San Diego students thought "home" meant. This is what 146 of you had to say.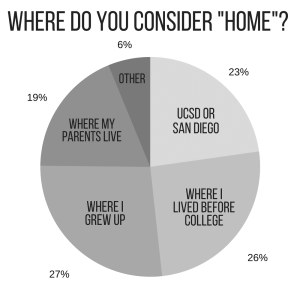 What does "home" mean to you?
Home has since become community and personal sentiment rather than a physical space.

Home is where my family and friends predominantly are and where I feel most grounded/rooted (a.k.a. where I will go back to in a time of disaster).

Home is the place where as soon as I walk through the door, the stress of the outside world melts away. It's where I am surrounded by friends and family who love me so I can be my unapologetic self.

As a military kid, the physical house or place never really stuck as home, so it's where my family is at or where I'm really comfortable.

I consider both UC San Diego and my family house to be my home, but if I had to pick one it would have to be where my family lives. Home is where I can unwind and have my own space.

Somewhere I can interact with people of all backgrounds easily. Somewhere I can be active in nature and have a busy/bustling nightlife at once. Somewhere I can always find something fun to do at the last minute. Lots of art.

Where you feel some sort of familial connection to those around you, where you want to return to after a long day and where some of the best memories are made.
Why can't you consider UC San Diego/San Diego "home"?
Being an international student, I've only stayed in the U.S. for less than a year. Considering the fact that I was raised in another country for 18 years, I feel like I still need time to wholeheartedly call a new place "home." That being said, since I'm the only member of my family living in San Diego/UCSD, I consider it more homey than other parts of the U.S.

UCSD may have beautiful students, faculty and staff, but the administration sees me as nothing. They only want to profit from my money. UCSD is an institution that refuses to acknowledge me, actively listen to me and make a change to meet my demands of making the university value students' ideas, contributions and well-being. UCSD was not founded for me or other queer trans brown femme students in non-STEM fields.

I don't consider UCSD home yet because it is so big and even when I come back to my dorm, it doesn't feel like home. I don't feel completely relaxed here. Maybe because I live with so many girls in my suite and it can get stressful a lot of the time.

I grew up in San Diego, and the area north of UCSD is "my spot," but UCSD itself just feels like a strange place to call home because I essentially work and live in the same place. There is no separation of personal "home and school" (made apparent by 9 p.m. midterms and Saturday morning tests).

UCSD is affiliated with school and the hardships of college. Going back to where I grew up during my breaks, my home is affiliated with freedom and happiness.

The energy is horrible on campus: everyone is anxious, stressed and wanting to go home.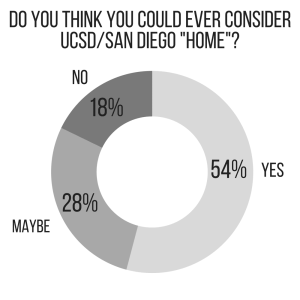 Why do you consider UCSD/San Diego "home"?
I like it here. I talk to the people around me more than I do at the home of my high school years. In fact, I would say that I feel incredibly distant from my hometown because I've left there for three years — everything is different; those bonds that I swore would never fade are disappearing.

I do feel at home at UCSD because I have my own room where I can just unravel and not worry about anyone else. It's my own space and I can feel comfortable here, although not quite to the level of my family home.

I can consider UCSD home because I feel comfortable walking around by myself and I always feel like I can find things to do here.

I feel like this is where I have most grown into my identity, in both good and challenging ways.

I basically considered home every place that means something special to me. After my four years at UCSD, I will have definitely made many memories and UCSD will have a special place in my heart.
Is there anything UCSD can do to make you feel more at "home"?
A greater sense of community, though I do not know how that would be achieved. Raising the prestige of the school will also make more people not regret their decision to come here, make the school stop accepting so many students and solve many of the overcrowding problems.

I'm in Earl Warren College and there doesn't seem to be much of an effort on UCSD's part (well, Warren's) to reach out to the students. Other colleges seem to have more events going on and even post all the upcoming events in bathrooms. In terms of UCSD as a university, having more safe spaces would be nice.

I wish it were easier to have a social life when you're not a part of Greek life.

Make things more personal in general — parts of UCSD are polarizing. Maybe make more comfortable study and hang spaces, more places and resources for students to be their genuine selves.

Including more quirks throughout campus. For example, I like the tiny mirrors in the knots of the trees outside the Career Services Center, the fairy lights strung outside PC, the fountain in Revelle and the singing tree. The various unique things on campus make this place seem more special and endearing to me.

No more weekend tests for sure would help. At home, my weekend is my time, [not] my school's. Additionally, more personal space would be appreciated and private outdoor suite space where we could garden or have patio furniture or something.

Breakfast at our dining hall in Thurgood Marshall College would be nice. They have bagels or acai bowls, but I don't go there for my cereal or scrambled eggs like the students in Eleanor Roosevelt College could do. It's more of a walk for me, and then it's not really "home" any more, because I'll have to be dressed and ready to emerge into the world in order to enjoy breakfast.