Every so often, UCSD students decide to venture out of Geisel Library and experience this thing called "nature." Never heard of it? Well, fear not, the UCSD Guardian is here to explain this incredible phenomenon and give you an inside look to the world outside.
Cedar Creek Falls (Devil's Punch Bowl)
Difficulty Level: Challenging
If secluded waterfalls and the sharp angles of boulders are your personal aesthetic, Cedar Falls may be your cup of tea — or rather, your Devil's Punch Bowl. Ramona may be remote and the hike may be quite the trudge, but the sight of San Diego's few remaining waterfalls — aren't we in a drought? — will inspire all kinds of experimental-memoir travel writing. An 80-foot waterfall pooling into a stream of cold water; a jagged arrangement of rocks and sediment; a quiet swim; a rope-swing, for the youthful at heart. While this earthly haven — complete with that crisp, nostalgic air of the days when nature wasn't treated like a sandbox — seems like the perfect refresher, the hike to this waterfall is anything but a makeshift getaway. Buy a hiking permit online (www.recreation.gov), and bring plenty of water and enough vital spirits for a three-mile hike.
— Christian Gerard Gella (Senior Staff Lifestyle Writer)
Los Penasquitos Canyon Preserve
Difficulty Level: Easy
The biggest misconception one could have about the Los Penasquitos hike is believing it is actually a hike. Ironically, the name Los Penasquitos translates to "little cliffs" in Spanish, but there is hardly any elevated terrain at all. In fact, other than a flat dirt road and some slightly raised rock formations about a mile and a half in, there's really nothing more than the classic California chaparral landscape. Before we write off Los Penasquitos altogether, it is worth mentioning that about a mile from the trailhead, there is a charming little surprise: a very small waterfall cascading through volcanic rock. The waterfall area is full of small children and dogs frolicking around in the calm creek water. The trail is also largely dominated by cyclists and horseback riders, which makes walking along the trail a bit cumbersome, especially when avoiding the large mounds of horse poop and actively trying not to get clobbered by the cyclists giving loud and frequent reminders that they are "passing on your left."
Situated between Sorrento Valley and Mira Mesa, Los Penasquitos is no more than a 20-minute drive from UCSD, making it an easy mini-adventure for beginning level cyclists. Parking is plentiful in the lot close to the northern entrance at the intersection of Park Village Road and Camino Del Sur in Rancho Penasquitos. Final thoughts: Los Penasquitos Canyon Preserve is not really a trail for hikers. It is, however, a great trail for cyclists and families with young children looking for a bit of adventure on any given Saturday morning.
— Shelby Newallis (Senior Staff Lifestyle Writer)
Three Sisters Falls
Difficulty Level: Challenging
When you hear the name "Three Sisters," you might think of the play by the famous Russian author Anton Chekhov or a historic name for the three main agricultural crops of the native peoples of North America (winter squash, maize and climbing beans, duh). But because we live in San Diego, chances are you know Three Sisters to be a hiking trail located near the iconic pie stop, Julian. It's no surprise that this hike is popular among drought-exhausted locals, since its final destination is a majestic cascade of three waterfalls, giving this trail its namesake.
Since you probably wouldn't be happy hiking four miles in the heat just to find a few pitiful drops in place of the waterfalls, wait until the heat ends to pay Three Sisters a visit, particularly after a rainy day. However, the heat is not the only obstacle. Before enjoying the refreshing view, you will have to go through the proverbial mill — 45-degree slopes, slippery sands that make it difficult to stay sure-footed and rock labyrinths on the final stage of the hike. Nevertheless, after conquering the desert, forest and mountains, washing off waterfalls of sweat in the highest pool of Three Sisters will feel like a priceless reward, so do not forget your swimsuit.
But the challenge isn't over yet. You still have to come back after being totally worn out by the up-and-down trail that lies between two mountains. But don't back out. Rest stops (taking one is not a defeat) and water breaks (grab a gallon per person) should successfully allow you to finish the hike with pride. After you are done — keyword "after" — complete the experience by reading some intimidating Yelp reviews of this 4.5-star trail to feel like a champion.
— Olga Golubkova (Lifestyle Co-Editor)
RIMAC Fields Hike
Difficulty Level: Easy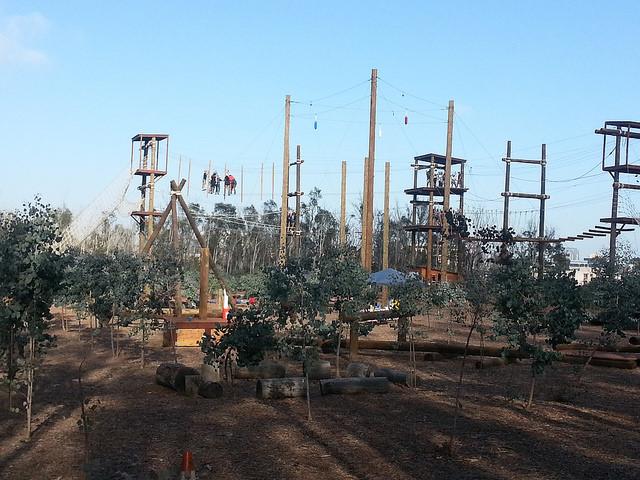 Life at UCSD can be rough. Have you ever gone to a career fair, only to be told to take a hike? Does your attention keep trailing off in Monday lectures? Do you ever feel like there's nobody rooting for you? Have you felt the need to get your life back on track?
Do you ever wonder if there is something more?
There's a simple resolution. Just east of RIMAC fields lies a set of interconnected pathways spanning the area between Earl Warren College and Genesee Avenue. Easy to access from across the Hopkins parking structure, this region is home to UCSD's Challenge Course — an impressive edifice of redwood, rope and wire and the Par Course, a fitness trail interspersed with drills. Beyond that, one can find a sweeping view of the cacti, eucalypti and shrubs that compose UCSD's wilderness.
Most of the canyon is hard to traverse, but the small maze of available pathways can be ranged in an afternoon. During the day, expect a mixture of sun and shade. At night, prepare for spookiness. The paths never leave campus, so one can wander without worry of getting lost. While these trails probably won't satisfy a hiking enthusiast, they're a perfect place to take a few steps to improve your day.
— Adam Fisher (Staff Lifestyle Writer)