UCSD runners-up in 2V8 and 3V8 races, Varsity-8 places fourth.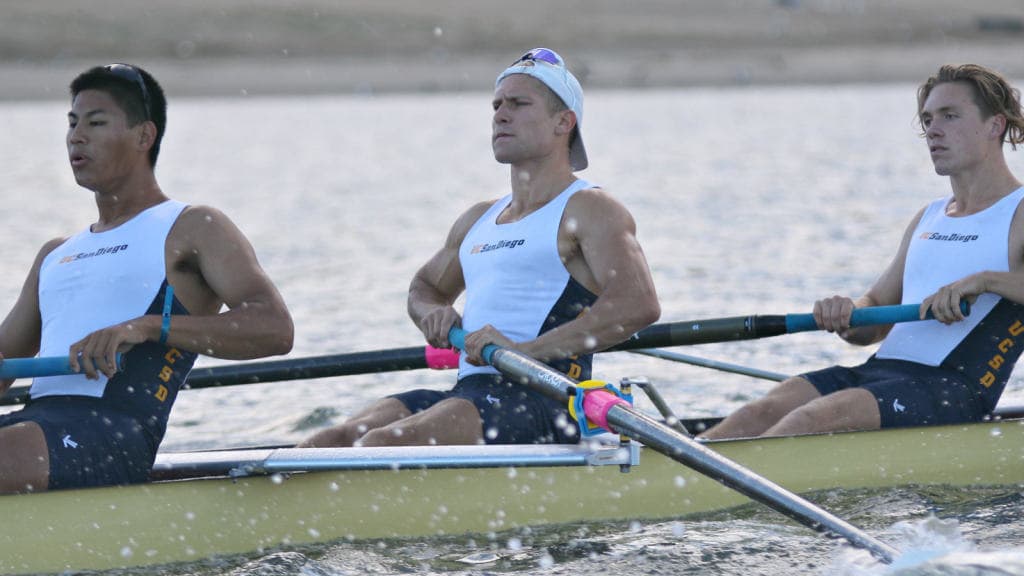 The UCSD men's rowing team ended the season on a high note with two runner-up performances in the Western Sprints Championship on Lake Natoma in Sacramento this past weekend. The 2V8 and 3V8 squads snagged second-place finishes, while the Varsity–8 crew took fourth after battling the wind for much of its race.
"[As a coxswain], I have an immense amount of respect and admiration for the rowers because of the physical pain they put themselves through," sophomore 3V8 coxswain Isa Batki told the UCSD Guardian.
The Varsity–8 squad of senior coxswain Sean Dougherty, sophomore Alec Petty, sophomore Matt Thalken, freshman Sean Callaghan, junior John Buda, junior Scott Kennedy, sophomore CD Dowling, freshman Hank Wong and sophomore Tynan Rodger placed fourth in a close battle at the buoy line after fighting the wind for the first half of the race. Oklahoma City University won the race in 6 minutes 19.5 seconds, followed by Santa Clara University in 6:20.5. The Tritons were edged out by cross-town rival University of San Diego at the finish — the blue and gold finished in 6:24.9, just half a second behind the Toreros (6:24.4). Gonzaga University placed fifth at 6:26.3.
"The Varsity-8 boat got to race [this] lineup for the first time all season and raced one of the best second 1,000 [meters] I've ever seen," UCSD head coach Zach Johnson told the UCSD Athletics Department. 
The 3V8 crew of Batki, sophomore Carson West, sophomore Ian Skelton, freshman Frank Chang, sophomore Blake Branine, senior Tyler Tomei, sophomore Andy Marshall, freshmanNick Baltar and sophomore Jon Baker took second in their race, coming in behind the University of San Diego. The Toreros finished in 6:31.9, followed by the Tritons (6:39.1) and Gonzaga University (6:45.5).
"This weekend was probably the toughest race the 3V8 has had all year," Batki told the Guardian. "It was windy, and there were a lot of opportunities for distractions. Even thoughwe came in second, [the rowers] put all their effort out on the line, and I knew by the time [we] crossed the finish line, they couldn't take another stroke. We executed our plan, pulled out a competitive sprint and hung on." 
The 2V8 team of sophomore coxswain Drake Lem, freshman Michael Landheer, freshmanBryan Brennan, freshman Kevin Chang, freshman Gabriel Lane, junior Daniel Mahan, junior Anton Hedayat, freshman Jackson Lytle and freshman Sam Merrill-Palethorpe finished in 6:32.8, edging out the University of San Diego (6:33.9) at the line. Gonzaga won the race in 6:27.0. Oklahoma City came in fourth at 6:35.2, followed by Santa Clara (6:48.5).
"I couldn't be more proud of this team," Johnson said. "It's a great young team with an awesome future."
Men's and women's rowing, without NCAA postseason berths, now turn themselves toward next season, looking to build on this past season's achievements.