WIth Tuesday's win against CSU San Bernardino and a 3-1 series win versus CSU Stanislaus, UCSD will go to the playoffs for a second consecutive year.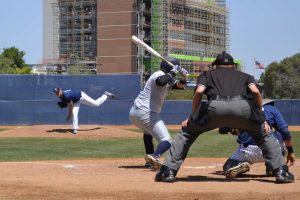 No. 24 UCSD baseball won a California Collegiate Athletic Association series against Cal State Stanislaus last weekend, with the Tritons dominating the contest by winning three of the four games. Later on Tuesday, the Tritons won their only game of the week to conclude a four-game series against Cal State San Bernardino at home and clinched a second-straight postseason berth in the CCAA.
Cal Poly Pomona still leads UCSD in the CCAA standings with the Tritons sitting at 25–11 in league play and Pomona at 23–9 thus far in the 2015 season. This week's wins bring UCSD's overall record to 30–15 with four games left before the CCAA Championship in Stockton starting on May 7.
Game one in Turlock.last Friday saw junior right-hander Justin Donatella (8–1) continue his dominant 2015 season from the mound. Donatella threw eight frames and 102 pitches with only two hits in the 11–0 UCSD stomping. He lowered his CCAA-best ERA to 0.55 and his strikeout count to 88, also the best in the conference.
"(Donatella) did a great job," UCSD head coach Eric Newman told the UCSD Athletics Department. "He wasn't really that sharp the first two innings, and Stanislaus had some opportunities. They hit a couple of balls hard, but he just kept grinding it out; guys made some great plays behind him and he fell into that rhythm that we've all seen. From that point on, it was really, really good."
Last week,Donatella was also awarded the CCAA Baseball Pitcher of the Week and was named as one of 32 semifinalists for the Brett Tomko Award. The Tomko award is given to the pitcher of the year, as recognized by D2 Baseball News, in Division-II competition. Additionally, Donatella's ERA is on track to break both school and CCAA records by the end of regular season play in 2015.
UCSD continued its dominance when the team swept the doubleheader last Saturday against Stanislaus, winning 10–0 and 2–0 respectively and adding another 16 shutout innings to the Triton pitching staff's growing tally.
"Today was obviously a great day for our pitchers to establish that mentality we had early in the year," Newman said. "I thought our defense today was outstanding and guys competed for each other to make some tough plays."
Stanislaus didn't even put a runner across base until Sunday's finale in the bottom of the third inning. They managed another in the fourth and UCSD ended up dropping the last game to the home team 2–1.
Tuesday's game against last-place Cal State San Bernardino quickly turned into an 18–1 offensive onslaught by Triton batters, who racked up a season-high 23 hits on the day. Junior outfielder Gradeigh Sanchez led the order for the 21st time this year and crossed the plate four times off of two hits and an RBI. Senior first baseman Michael Mann led the team in RBIs at three after going 2-for-3 at the plate and crossing home plate three times himself. Junior infielder and pitcher Troy Cruz gave a 3-for-3 performance, crossing home twice while redshirt freshman Tim White, freshman infielder Tyler Plantier, senior infielder Erik Lewis and sophomore outfielder Christian Leung all contributed two RBIs to the effort.
As the Tritons take the weekend off and conclude the regular season with a four-game, split location series against fourth-place Cal State Los Angeles on April 30 to May 2, it is clear UCSD is moving into the final stretch of the season while playing some of its best baseball.