Tritons lose their first series in the CCAA since 2013, but rebound to crush Azusa Pacific.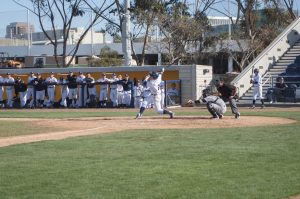 After a 3–1 series defeat against California  Collegiate Athletic Association rival No. 18 Cal Poly Pomona, the UCSD baseball team was able to snap its losing streak in a 19–2 standalone win against No. 20 Azusa Pacific University at home last Tuesday. This latest series dropped the Tritons to 23–12 overall and 19–8 in the CCAA. UCSD also fell to third place in the conference behind Cal Poly Pomona and Cal State Los Angeles, which are tied for first place at 17–7 each.
Game one of the Pomona series saw UCSD win in an epic walk-off one week ago today at Triton Ballpark. Junior outfielder Gradeigh Sanchez was sent home from third after stealing his first base of the year when redshirt freshman Justin Flatt found a seam late in the 11th inning. Junior right-hander Justin Donatella (6–1) threw the first seven for the Tritons but was ineligible for the decision after the extra innings. Donatella tallied nine more knockouts to bring his 2015 total to 70, and he still holds a conference-best 0.70 ERA.
"We're just in that mode right now of trying to grind-out wins, trying to grind out at-bats," UCSD head coach Eric Newman told the UCSD Athletics Department. "It's still early in the season. We're still only half way, but to the point of this game, this one was a good one to win — the way that game played out."
The following night, Cal Poly Pomona sent five runners home unanswered to chalk up a 5–1 win against the Tritons. This would mark the turning point in the series and ultimately served to knock the Tritons out of their coveted first-place spot in the CCAA. Sanchez struck again in the fourth with a two-run double to score UCSD's only runs of the game. Senior left-handed southpaw Trevor Scott (4–5) caught the losing decision following a fifth-inning offensive onslaught by the Broncos.
The series moved to Pomona on Saturday, where UCSD suffered a doubleheader sweep with the Broncos winning 8–3 and 11–7, respectively, on their turf. Junior right-handed pitcher Alon Leichman (5–1) was credited with five runs, four of them earned, across 4 1/3 innings pitched in the first game of the doubleheader and was given his first losing decision as a Triton pitcher. Junior right-hander all-purpose player Troy Cruz (5–3) received game two's losing decision after just over five innings pitched, six hits and four runs. Senior right-handed pitcher Dan Kolodin (2–1) had four hits and six runs, all of them earned in relief of Cruz.
UCSD hosted Azusa Pacific University the following Tuesday, April 7 , in what turned out to be a high-scoring standalone game to break the three-game losing streak. The Tritons delivered 19 runners across home plate off a season-best 19 hits to win in a one-sided 19–2 game. The win allowed UCSD to even Azusa's win back in February for a 1–1 stand against the Cougars this year. With 10 runs already in the eighth, UCSD sent nine more home in that frame alone to mark the highest-scoring inning of Triton baseball thus far in 2015. True freshman right-handed pitcher Jack Rupe (1–0) earned his first decision as a Triton against the Cougars with a perfect two-frame appearance to start the rotation of six pitchers in the win.
"This win is going to be pretty significant, I think," Newman said. "We really weren't worried about it; what we needed to do was to get back to playing our kind of baseball — being tougher, being more disciplined and just really buying into all the work that we've been putting in."
The Tritons will host fourth-place Cal State Monterey Bay for a four-game series at Triton Ballpark beginning Friday, April 10, at 6:15 p.m. after the official grand opening of the new Triton Ballpark and dedication of the Marye Anne Fox Clubhouse, which is scheduled for 30 minutes prior to the first pitch.