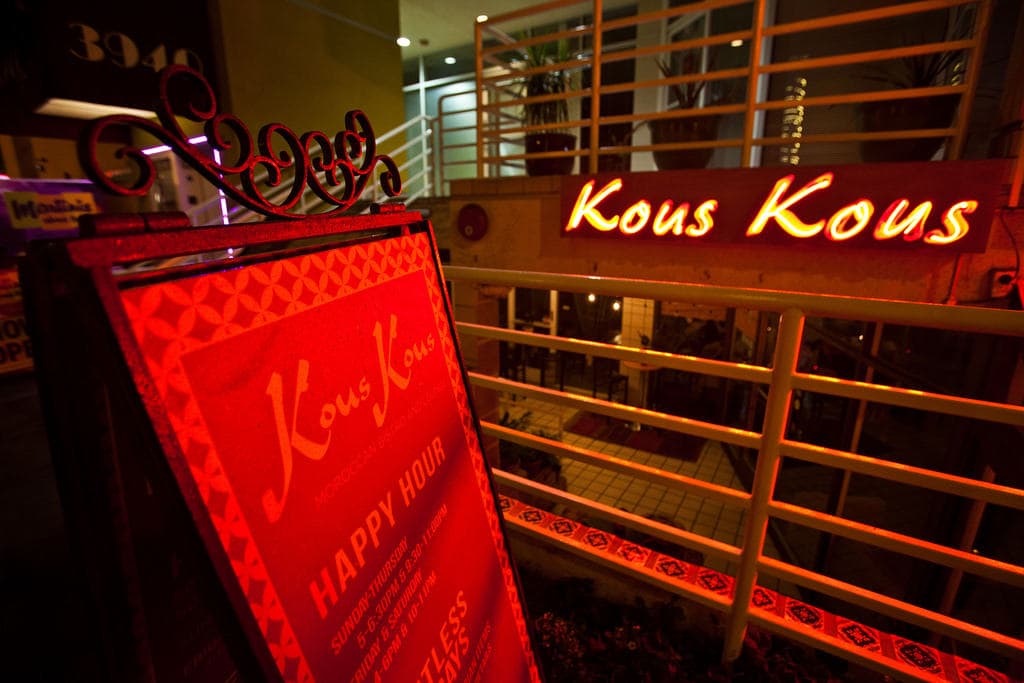 Location: 3940 4th Ave. 92103
Hours of Operation:
Sunday through Thursday, 5 p.m. to 11 p.m.
Friday through Saturday 4 p.m. to 11 p.m.
Price: $$
Overall Rating: 4/5
Hidden below the concrete pavements of Fourth Avenue is a small eatery that brings the meaning of an underground restaurant to a very literal sense. Beneath the buzzing Hillcrest nightlife lays Kous Kous, a quiet bistro and lounge you might miss if you're not looking too carefully. However, if you're lucky enough to stumble into Kous Kous, you will be instantly transported into a little niche that appears to be a crossover of an aisle at World Market and a scene out of "Aladdin."
Dimly lit by intricate lanterns and candles, with billowing fabrics to frame ornamental decor and plush Bohemian cushions, you are instantly greeted by a charming staff, the persistent yet pleasant scent of cumin and a large projector appropriately playing "Casablanca" to add to the excessively Moroccan atmosphere. While the environment is, in a sense, an assimilated perspective of Morocco, the food in no way strays far from the traditional.
The menu itself is quite overwhelming. From the wide array of cocktails, teas, tapas kabobs and tagines, you'll be tempted to eat a bit of everything — with Kous Kous being the only restaurant in San Diego to use the traditional method of cooking tagine in a souk, a Moroccan clay pot. They recommend you try one of the featured Moroccan feasts. However, it is worthy to note that it is just that — a feast. The waiter himself will warn you of the tremendous amount of takeout you'll receive at the end of your culinary experience. With that in mind, it is useful to come with an empty stomach and plenty of companions.
Casting all that aside, the food makes it well worth it. With a starting cost of about $24 per patron, you can sample a variety of Moroccan foods from baked, crispy pitas circling a mound of hummus or a refreshing, herbal cucumber and feta salad, to fluffy Saffron rice garnished with garbanzo beans and succulent lamb stews marinating in an exotic marriage of spices and sauces. If the communal eating style is not for you, try a few appetizers, like the noteworthy B'stila roll, a crispy phyllo pastry stuffed with tender chicken, orange blossom water, cinnamon glazed almonds and dusted with the perfect amount of powdered sugar to create a harmonious blend of sweet and savory. Or try the zaalouk, which is roasted eggplant marinated in cumin, lemon and olive oil.
While many of the items showcased at Kous Kous seem bizarre and daunting to the average eater, the well-informed staff will do more than help you navigate the menu by giving you an extensive look at the ingredients, as well as a detailed and historical account behind each Moroccan delicacy, rounding out your entire experience at Kous Kous. Moreover, the food itself will cast aside any previous doubt one may have about the unique flavors of Moroccan cuisine. The only downside might be the lack of authenticity in the actual eating process; instead of sticking to the traditional way of using hands, the restaurant sadly recommends the use of silverware. But even this trivial nod to Western eating in no way compromises the overall dining adventure one embarks at Kous Kous.
With its alluring ambiance and unfamiliar but enticing cuisine, it's a shame that Kous Kous is not placed on higher ground. An integral factor in San Diego's food scene, Kous Kous is a small but mighty force that deserves more recognition than its location can provide.